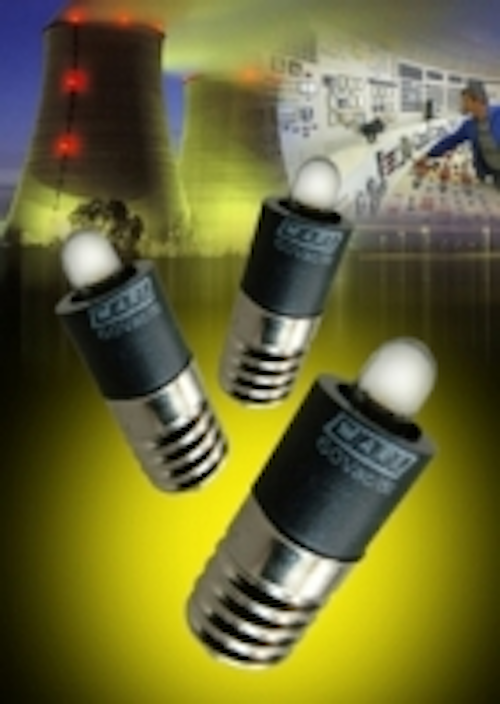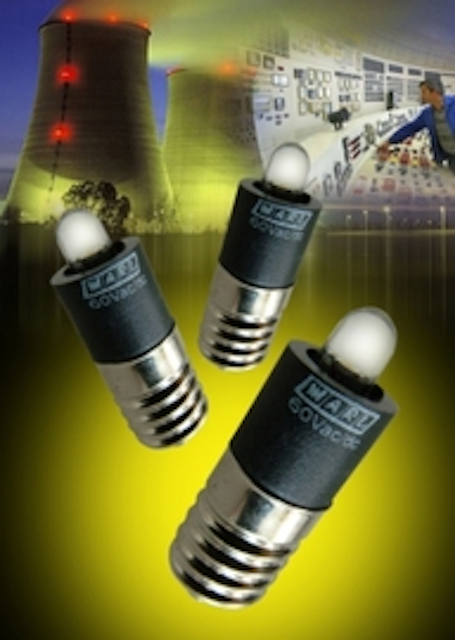 Date Announced: 04 Aug 2008
Ulverston, UK, 4 August 2008. A new Marl LED is an optical and electrical replacement for standard miniature Edison screw filament bulbs in control panels, but lasts 100 times longer and uses much less energy.
Based on a standard T3¾ bayonet cap, the new Marl 261 series is ideal for industrial control panels and annuniciator panels, offering a 100,000 hours service life, compared to 1,000 hours for a typical filament bulb. For many applications the service life of the LED exceeds the service life of the panel, making the component effectively maintenance free.
Marl 261 series LEDs feature full bridge rectification, and operate well from AC supplies as well as DC in either direction. The warm white version, when used with a coloured lens, offers a true optically matched replacement for a filament lamp. Marl is also offering a cool white alternative. Both colours are highly efficient, generating little or no heat.
Like many Marl LEDs, the new 261 series components are fully encapsulated for protection against shock and vibration. They draw just 10mA typically from a 60Vac/dc supply.
About Marl
Marl has specialised in the design and manufacture of visible LED indication and illumination components and systems for over 35 years, to customers in the electronic, power generation, defence and telecommunications industries. Its highly trained and experienced team of over 100 design and manufacturing specialists operate from a dedicated technology park in Ulverston, England and stand ready to offer its customers a solution to any requirement. They are able to offer a range of standard products, customised to suit individual projects, or even design a specific component from scratch. Marl is a quality company. It is registered to BS EN ISO 9001:2000 standard and fully RoHS and WEEE compliant.
Photo caption: The new 261 series from Marl is ideal for industrial panels, lasting 100 times longer and using much less energy than standard miniature Edison screw filaments bulbs.
r0406ml
Contact
For more information, please contact: Marl International Limited, Marl Business Park, Ulverston, Cumbria, LA12 9BN, UK. Tel: +44 (0)1229 582430; Fax: +44 (0)1229 585155; Email: marketing@marl.co.uk; Website: www.marl.co.uk Press Contact: Peter van der Sluijs Neesham Public Relations Tel: +44 (0) 1296 628180 Email: peterv@neesham.co.uk
E-mail:elaineh@neesham.co.uk
Web Site:www.marl.co.uk