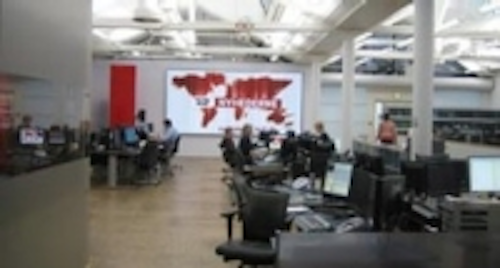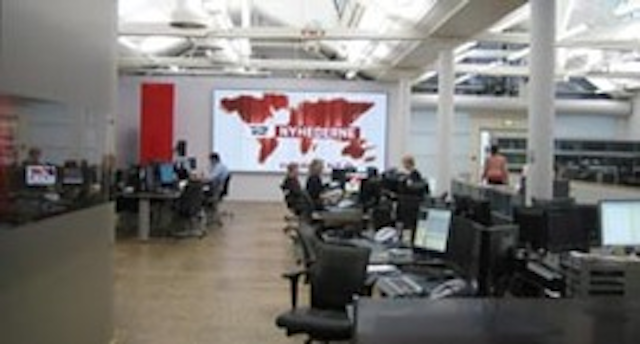 Date Announced: 18 Aug 2008
TV2, the second highest profile terrestrial television network in Denmark, has recently added a Lighthouse LED screen to its news studio, bringing a new visual dimension to its news broadcasts.
Installed by Odense-based Billed & Lyd ApS, the 8 x 5 panels (5.12m (w) x 2.40m (h)) P10-FA screen is used as a background for the channel's newscasters and shows graphics relevant to the particular story being covered.
This is the first LED screen to be used as a backdrop by any Danish TV station. The installation followed a highly successful test last year, in which TV2 used a similar Lighthouse screen as a backdrop to its coverage of the country's parliamentary elections.
Billed & Lyd ApS has been using Lighthouse screens for two years and specified the P10-FA panels for their visual quality and super-quiet, fanless design, as well as the ease of front panel access.
"They are very good panels, and very well-constructed," says Billed & Lyd director Peter Moresco. "They are ideal for this application - with the camera being situated about 30 metres in front of the screen, the brightness, colour and image quality are perfect for television viewers."
With control by a Lighthouse LIP-DX processor and a Snell and Willcox image scaler, the HD-SDI formatted content has added a different dimension to TV2's news and sport bulletins. "The customer is very happy," says Peter Moresco.
"The installation at TV2 clearly demonstrates the suitability of Lighthouse P10-FA panels for broadcast applications," says Jens Schelde, Lighthouse sales manager for Western Central Europe.
"With main news and sport bulletins having a large television audience, it has provided an opportunity to show the quality of our LED screens to the most, if not all, of the Danish population."
Contact
Sarah James Gasoline Media Limited
E-mail:sarahj@gasolinemedia.com
Web Site:www.lighthouse-tech.com