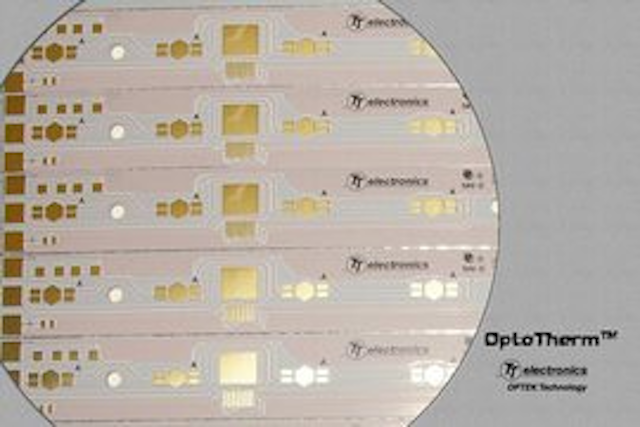 Date Announced: 12 Mar 2008
-- Heat-spreader substrate creates excellent thermal path, provides superior electrical isolation.
CARROLLTON, TX -- Providing solid state lighting design engineers with a means of dissipating heat in visible LED applications, TT electronics OPTEK Technology has developed a thermally conductive aluminum substrate.
Designated the OptoTherm(TM) OCB201 Series, the heat spreader substrates feature high thermal conductivity, creating a superior means of efficient thermal management for visible LED assemblies.
"Not only do OptoTherm substrates offer an excellent thermal path for removing heat from visible LEDs, but the dielectric is 0.004 inches thick, providing improved isolation between the copper circuit and aluminum cladding," said Alan Bennett, vice president of sales and marketing for OPTEK Technology.
"The enhanced specifications and availability of the substrates in multiple configurations allows us to meet our customers' assembly requirements for any optical, electronic, thermal management, packaging and reliability specifications."
The substrates feature a high isolation voltage, with a dielectric breakdown of 4KVDC. Copper and aluminum thicknesses are 0.0042" and 0.062", respectively. Thermal conductivity is 1.1W/mK and thermal resistance is 1.8°C/W. The substrate meets UL-94 V0 flammability specifications.
With their in-house testing and third party validation, OPTEK will also verify that the substrate characteristics meet or exceed industry standards.
Maximum substrate panel size for the OptoTherm(TM) OCB201 Series is 18 x 16.5 inches, with available thicknesses of 0.038" (0.97mm), 0.070" (1.78mm), and 0.133" (3.38mm).
OPTEK Technology is a leading manufacturer of standard and application-specific sensors using infrared, visible, magnetic and fiber optic technologies focused on applications in office machines, industrial equipment, encoders, automotive electronics, military and high-reliability applications, and medical diagnostic equipment. Headquartered in Carrollton, TX, the company is ISO/TS16949:2002 and BS EN ISO 9001:2000 certified, as well as ITAR registered. OPTEK Technology was acquired by TT electronics in December 2003.
TT electronics plc is a global electronics company manufacturing a broad range of advanced electronic components, assemblies and sensor modules for the automotive, industrial, telecommunication, computer and aerospace markets.
Contact
TT electronics' OPTEK Technology Tel. +1 972-323-2200
E-mail:visibleLED@optekinc.com
Web Site:www.optekinc.com/products/vled.asp