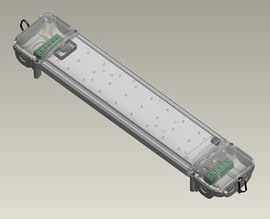 Date Announced: 12 Mar 2008
Dialight plc has selected Flomerics' EFD.Pro engineering fluid dynamics software, embedded in Pro/ENGINEER Wildfire, for the design of advanced lighting systems based on LED technology.
"Although power LEDs are becoming more efficient, a significant amount of input power translates into heat," said Gordon Routledge, VP of illumination products, Dialight plc. "Cooling of the electronics and LED devices is critical to long-term reliability and so thermal analysis -- including airflow analysis - is vital to help us meet our demanding development schedules.
"We solicited presentations from a number of analysis vendors. Some systems were either too simple or required a degree in math to produce any meaningful output. Unlike some of the lower cost options, EFD is a recognized leader with good support and the software handles all the thermal transfer mechanisms we require."
"We recognize the importance of the fast-growing market for LED lighting systems and are delighted that Dialight has chosen EFD.Pro for fluid flow and heat transfer simulation," said Gary Carter, CEO, Flomerics. "We look forward to supporting Dialight's design teams around the world."
Dialight plc is a world leader in applied LED technology, operating in two principal segments: Components, where low brightness LEDs are used for status indication in electronic equipment, and Signals/Illumination, utilizing the latest high brightness LED technology for traffic and rail signals, obstruction lighting, hazardous location lighting and developing applications in more general illumination markets.
Interested readers may watch a free EFD.Pro online demo at www.flomerics.com/products/efdpro/demo.php. To learn more about Dialight plc and their products, please visit www.dialight.com.
About Flomerics
Flomerics (www.flomerics.com) is a world-leading developer of engineering simulation software and services for analysis of fluid flow and heat transfer. Flomerics' business model, called "Design-Class Analysis" is drastically different from traditional analysis because its software is designed to be embedded deeply into the design process for use by mainstream design engineers, not just by analysis specialists.
About Dialight PLC
Dialight (www.dialight.com) is the recognized industry leader in applying LED technology to the entire spectrum of visual applications. In business since 1938, Dialight has been pioneering some of the most innovative applications in LED technology since the early 1970s.
Contact
Flomerics
E-mail:info@flomerics.com
Web Site:www.flomerics.com