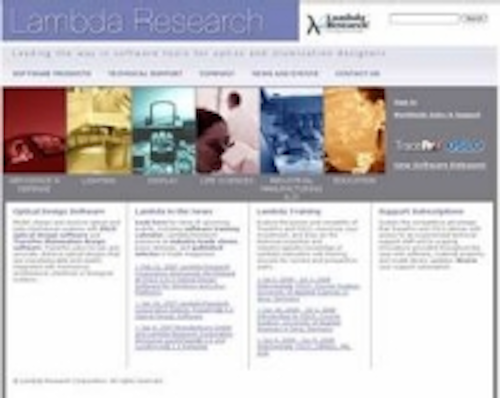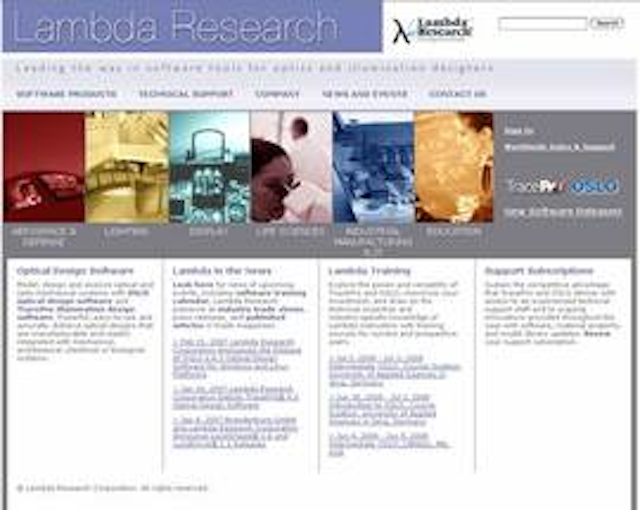 Date Announced: 27 Mar 2008
Littleton, MA -– Lambda Research Corporation, a market leading developer and supplier of optical design software, today announced a new customer support web site www.lambdares.com/technical_support/ available to TracePro and OSLO users. Simultaneously, Lambda Research's new corporate web site www.lambdares.com has been launched.
The new Lambda Research's customer support site features extensive technical resources accessible by TracePro and OSLO customers who have a current M&S subscription and includes general support information and technical support by product, such as:
• Software downloads of current and past releases
• Early Access software downloads and documentation
• Example files and models demonstrating software capabilities
• Libraries of files/models of generally available catalog products for use in the software
• Properties -- files of detailed optical property data, ready for import into the software
• Tutorials –- pictorial demonstrations of how to perform specific operations with the software
• New and updated wizards and macros
• Knowledge Base -- searchable database of specific technical problems answered by technical support
Customers are able to gain access to this technical support site by clicking Sign-in link on Lambda Research's homepage, filling out a new user registration form and establishing user name and password. Lambda Research's support site will be continuously updated and expanded with additional materials in the future.
Lambda Research Corporation's new corporate web site homepage www.lambdares.com
Based in Littleton, Mass., Lambda Research Corporation was founded in 1992 and is a privately held company. Lambda is an industry leader in stray light analysis, illumination system design and analysis, and custom software development. Lambda Research publishes TracePro software for optomechanical modeling and OSLO software for optical design. The company's mission statement is to establish a technology bridge between optical engineers and mechanical engineers by providing state-of-the-art optomechanical design and analysis software, services and technical support to the optics industry worldwide. For more information, please visit the company's web site at www.lambdares.com.
Contact
Lambda Research Corporation
E-mail:info@lambdares.com
Web Site:www.lambdares.com