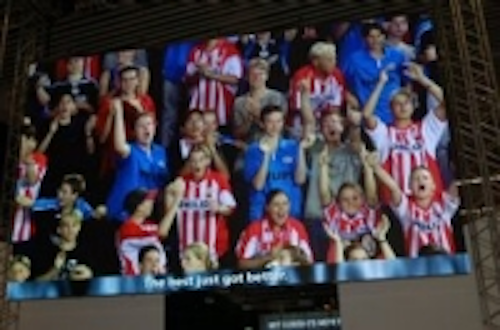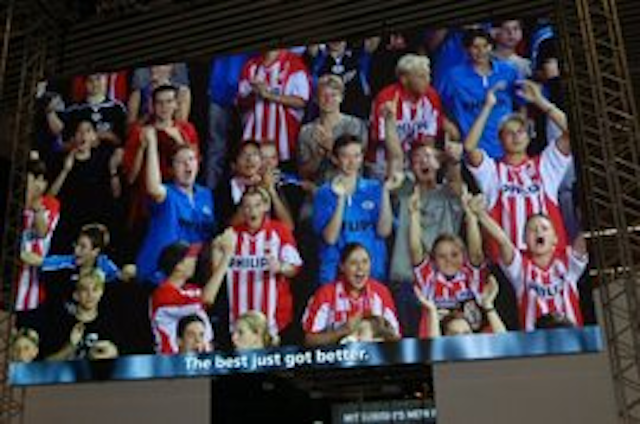 Date Announced: 11 Mar 2008
Mitsubishi Electric has announced a major upgrade to its flagship indoor LED screen range. Widely recognised for their stunning picture quality, all new IDT series Diamond Vision screens will now feature 14-bit sampling and 20-bit processing for even more faithful colour reproduction. In addition to which, a new louvre option on Mitsubishi's 4mm IDT4 screen now means this unrivalled colour performance can be delivered over a vastly superior viewing arc than many of its alternatives.
Since their introduction last year, Mitsubishi Electric's IDT 4mm and 6mm Black Package screens have enjoyed tremendous success in the rental market, both in Europe and the US. The screen's credibility was decisively established last Autumn with its selection as the main video technology for numerous stands at the prestigious Frankfurt Motor Show, including Audi, Dodge, Honda and Bentley. Its phenomenal contrast, outstanding mechanical design and build quality delivers superb performance in terms of picture quality and the ease by which it can be rigged and operated.
Along with unsurpassed contrast and luminance, the ingenious LED package design means that colour integrity is maintained across the entire viewing arc, making it uniquely versatile in rental applications like exhibitions, and earning Mitsubishi's Black Package technology a place as a finalist in this year's InAVate Awards for best new technology.
The new processing adds further refinement to a screen system which many in the rental market have already hailed as the best all-round 4mm and 6mm technology available. Russell Hartwell, sales manager for Diamond Vision in Europe, said, "We reached the point last year where issues such as light output and black levels were pretty much as good as they need to be in absolute terms. Our efforts to further improve image quality are now being directed towards more accurate processing and more screen surface options to allow performance to be optimised in particular applications."
Mitsubishi Electric is the only screen manufacturer to offer different louvre options for its LED screens, allowing users to achieve the best possible balance between contrast performance and viewing angles. The new "short louvre" option for the IDT4 further improves vertical viewing angles, while still delivering market leading contrast and black levels. The new processing and louvre options will be available Spring 2008 and will be compatible with existing IDT series rental screens.
Contact
Russell Hartwell, European sales manager – Diamond Vision Mitsubishi Electric Europe B.V. AL10 8XB, England Tel: +44 (0) 1707 276100 Fax: +44 (0) 1707 278693
E-mail:news.release@eido-pr.eu
Web Site:www.eido-pr.eu