LED Ltd turns Westminster news studio Sky blue
Mar 20th, 2008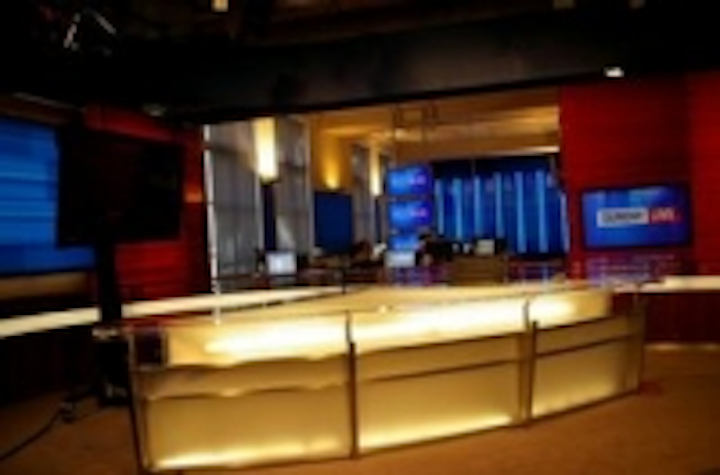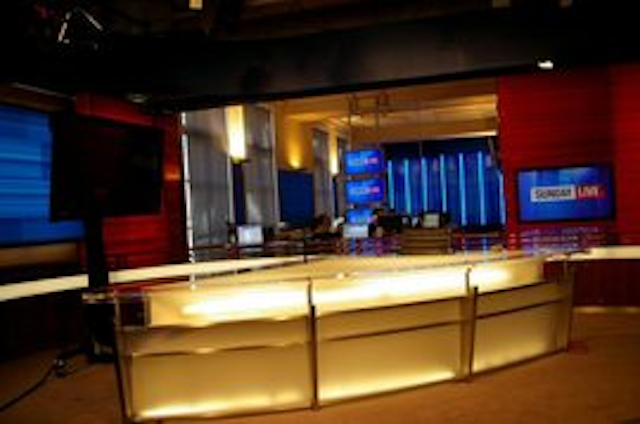 Date Announced: 20 Mar 2008
When Sky News was looking to create a new visual dynamic at the end of their Westminster studio, it was suggested that a wall of LED strips would not only be a modern replacement for their ageing projection video cube system but would also be low on maintenance and power requirement. In short it would radically reduce the studio's carbon footprint.
The broadcaster has occupied the Millbank Media Centre (No. 4 Millbank) since 1993, since when it has carried out systematic technology upgrades. In addition to presenting down-the-line interviews to its main studio in Osterley, the studio houses a weekly PMQs show … and covers breaking news from around Westminster.
Sky has an open policy when it comes to third party vendors, but during a visit to last year's PLASA Show at Earl's Court, Mark Fowler, who manages Sky TV's lighting department, saw the LED strips on the stand of L.E.D. Ltd. He knew it would fulfil the visual idea — jointly conceived by concept designer Toby Kalitowski and Jon Bennett, Sky News' Head of Studio Output — to establish continuity with Sky News' main studio in Osterley.
"In addition to the products I was impressed by L.E.D. Ltd's track record in the broadcast studio world," said Mark. "We needed the assurance that we would be buying fixtures that would operate 24/7 — 365 days of the year — and that we would have reliable back-up."
"We also needed a solution that would draw minimal power — unlike the decommissioned system. This certainly reduces the loading problem we had with the old set-up."
The company ordered 21 x 1-metre RGB strips butted together, and three TV-rated drivers (with a local DMX control). With the studio fully operational throughout, these were installed by builders Scott Fleary Ltd over a weekend — in time for the resumption of Parliament in the new year. The diffused strips front a graphic perspex backdrop, backlit with neons, which covers the entire back wall of the studio.
The RGB light box enables Sky News to carry out a full colour mix, and while they mainly run blue, the station will switch to red for Breaking News.
Mark Fowler says that operated at 60% intensity the LED effects read superbly to the studio's Thomson LDK 200 cameras. "We carried out camera tests prior to acquisition and they were perfect. Because of the cameras' depth-of-field the wall looks a lot closer on screen than it actually is — and it is particularly effective on tight shots."
Furthermore, the strips are frosted so that the light source is concealed — and thanks to the TV-spec drivers, the wall runs completely flicker-free.
In fact, he says that everyone is delighted with the studio's new look.
Contact
Ian Kirby LED Ltd Tel: +44 (0)1233 636688
E-mail:ian@led-lites.co.uk
Web Site:www.led-lites.co.uk