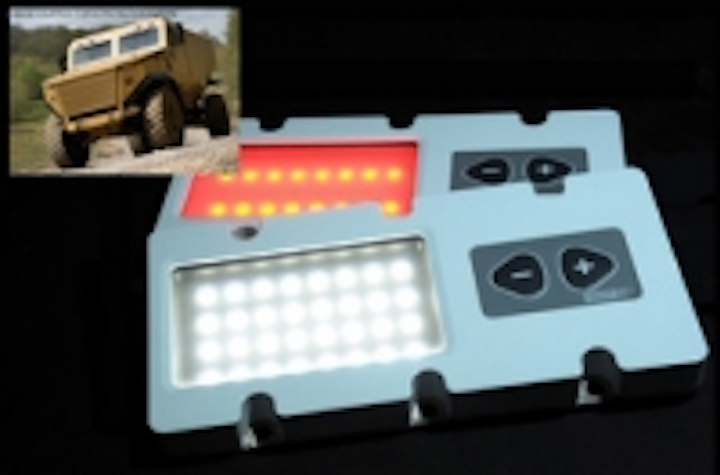 Date Announced: 28 Feb 2011
OXLEY Developments has been selected to supply its innovative, dual-mode LED lighting to illuminate the crew quarters in Foxhound, the new British Armed Forces patrol vehicle.
Foxhound is the British Army name for Ocelot, the Light Protected Patrol Vehicle (LPPV) designed and developed by survivability specialists Force Protection Europe. Force Protection Europe has won a contract to supply 200 of the British-designed vehicles to the Ministry of Defence LPPV Programme.
Oxley supplied LED DC Combi Lights for the first phase of vehicles to be manufactured, and has now been awarded the contract for all 200 Foxhounds. These unique lights operate in normal and blackout/emergency modes and are a far superior alternative to traditional filament lighting. They are low profile (16mm), lightweight (300g), resist shock and vibration, use a third of the power requirement for equivalent incandescent lights and have a mean time between failure of 50,000 hours. The requirement for surplus space to store new and used bulbs is eliminated whilst the absence of mercury satisfies the environmental issue, providing a non-hazardous solution. The DC Combi is available with or without dimming control and the blackout mode is available in red, green or blue.
Oxley Business Development Manager Marcus Goad said: "It's great to be working with Force Protection Europe, supplying the lighting solution for such a unique and innovative military vehicle.
"The DC Combi is a robust, reliable high specification light, making it the perfect fit for the Foxhound."
Contact
Will Taylor Communications Officer Oxley Developments Co Ltd +44 (0)1229 483268
E-mail:w.taylor@oxleygroup.com
Web Site:www.oxleygroup.com