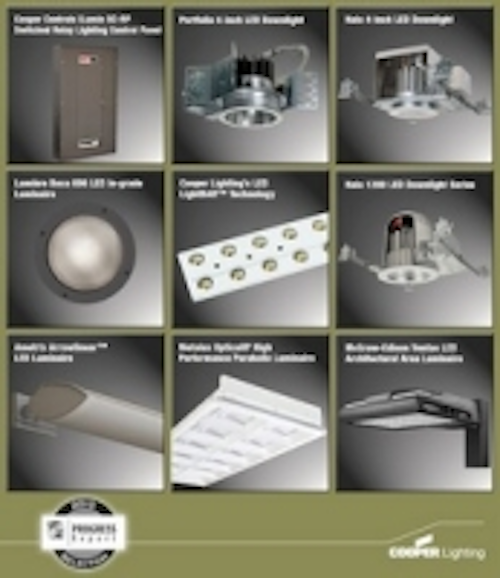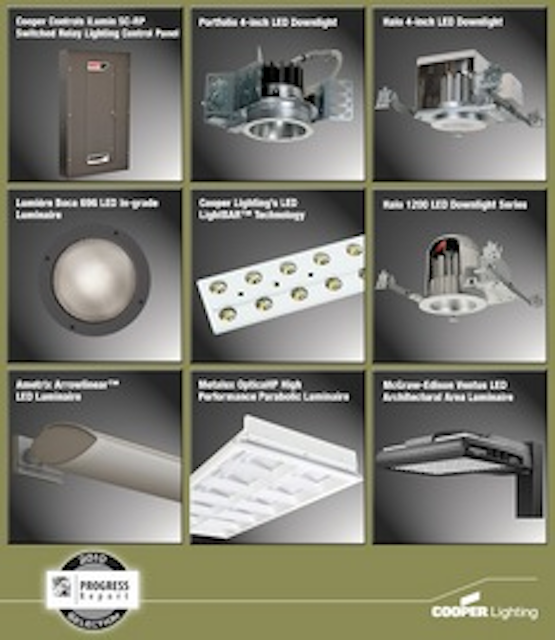 Date Announced: 17 Feb 2011
Nine innovative products are honored for technical advancement.
Cooper Lighting, a division of Cooper Industries plc (NYSE: CBE), announces that nine of its Cooper Lighting and Cooper Controls products have been recognized by the Illuminating Engineering Society (IES) Progress Committee as providing "an advancement in the art and science of lighting." The accepted products are part of the 2010 IES Progress Report, which presents significant developments and improvements in the lighting industry over the past year.
The accepted products include:
•Cooper Lighting's LED LightBAR™ Technology featuring the patented AccuLED Optics™ system offers an unprecedented variety of photometric options to fulfill the exact needs of an outdoor space.
•The McGraw-Edison Ventus LED Architectural Area Luminaire utilizes the AccuLED Optics™ system and is offered in two to twelve IP66 rated LightBAR™ configurations with a choice of 15 unique optical distributions delivering uniform and energy-conscious illumination.
•The 6-inch Halo 1200 LED Downlight Series features retrofitable high-lumen LED dimmable modules available in four color temperatures and designed for use with air-tight housings for sustainable performance.
•The Halo 4-inch LED Downlight is designed for minimal ceiling presence, while offering the same features as the 6-inch series including the industry's widest offering of color temperatures, and multiple LED trim options/styles and finishes.
•The Portfolio 4-inch LED Downlight delivers more than 1300 lumens from a small aperture with efficiencies as high as 57 lumens per watt, accomplished in an industry-leading shallow housing of 5-5/8 inches deep.
•The Lumière Boca 696 LED In-grade Luminaire uses a 12W LED source available in three color temperatures and three beam spreads with an innovative design allowing 360-degree rotation and
+/- 22.5-degree tilt.
•The Metalux OpticaHP High Performance Parabolic Luminaire features a highly reflective White Optics material and yields a 92.5 percent fixture efficacy, one of the highest in the industry for a 2-foot by
4-foot T8 luminaire of this type.
•The Ametrix Arrowlinear™ LED Luminaire features an asymmetric linear LED source, available in two light levels, that rivals the output of a T5 fluorescent lamp source (level 1) or that of a T5HO lamp (level 2). Luminaires are available in different single unit lengths, or can be combined to form continuous rows for use indoors or outdoors.
•The Cooper Controls iLumin SC-RP Switched Relay lighting control panel, which incorporates dimming and switching capabilities in conjunction with real-time power monitoring of each circuit, is the first to use variable relay timing technology that self-adjusts to minimize load inrush current, resulting in extended relay life.
The Progress Report submittals, which consist of new products, applications, research, publications and design tools, are reviewed by the IES Progress Committee, whose mission is to keep in touch with developments in the art and science of lighting throughout the world and prepare a yearly review of achievements for the Society. The committee is made up of industry experts from all different aspects of the lighting industry. Each submittal goes through a judging process and is evaluated for its uniqueness, innovativeness and significance to the lighting industry. Judging is not based on aesthetics, but focuses on and honors technical advancements.
The accepted products were presented at the IES Annual Conference in Toronto, Canada, this past November. The 2010 IES Progress Report is featured this month in the January issue of Lighting Design + Application (LD+A), the Society's monthly magazine. The Report is also posted on the IES website and is presented by IES Sections throughout the year at section meetings. For additional information on the accepted product, visit www.ies.org to view the Report.
For additional information on Cooper Lighting, please email TalkToUs@CooperIndustries.com or visit www.cooperlighting.com.
About Cooper Lighting
Cooper Lighting, a subsidiary of Cooper Industries plc (NYSE: CBE), is the leading provider of innovative, high quality interior and exterior lighting fixtures and related products to worldwide commercial, industrial, retail, institutional, residential and utility markets. As lighting technologies have advanced over the years, Cooper Lighting has been at the forefront of the industry in helping businesses and communities leverage the latest technologies to improve efficiency, reduce costs and enrich the quality of the environment. For more information, visit www.cooperlighting.com.
About Cooper Controls
Cooper Controls is a market leader in energy management, architectural, and entertainment lighting controls. A subsidiary of global manufacturer Cooper Industries plc (NYSE: CBE), it was formed by its acquisition of Novitas Inc. in November 2005, Polaron plc in March 2007 and PCI Lighting Control Systems in August 2007. Cooper Controls includes leading brands such as iLumin (iLight – Europe), Greengate, and Zero 88. For more information, visit www.coopercontrol.com.
About Cooper Industries
Cooper Industries plc (NYSE: CBE) is a global electrical products manufacturer with 2010 revenues of $5.1 billion. Founded in 1833, Cooper's sustained success is attributable to a constant focus on innovation, evolving business practices while maintaining the highest ethical standards and meeting customer needs. The Company has seven operating divisions with leading market positions and world-class products and brands including: Bussmann electrical and electronic fuses; Crouse-Hinds and CEAG explosion-proof electrical equipment; Halo and Metalux lighting fixtures; and Kyle and McGraw-Edison power systems products. With this broad range of products, Cooper is uniquely positioned for several long-term growth trends including the global infrastructure build-out, the need to improve the reliability and productivity of the electric grid, the demand for higher energy-efficient products and the need for improved electrical safety. In 2010 fifty-nine percent of total sales were to customers in the industrial and utility end-markets and thirty-nine percent of total sales were to customers outside the United States. Cooper has manufacturing facilities in 21 countries as of 2010. For more information, visit the website at www.cooperindustries.com.
###
Contact
Karin Martin, Karin Martin Communications (630) 513-8625
E-mail:Kmartin41@aol.com
Web Site:www.cooperlighting.com