Modern solutions based on Osram LEDs put kitchens in a very special light
Feb 8th, 2011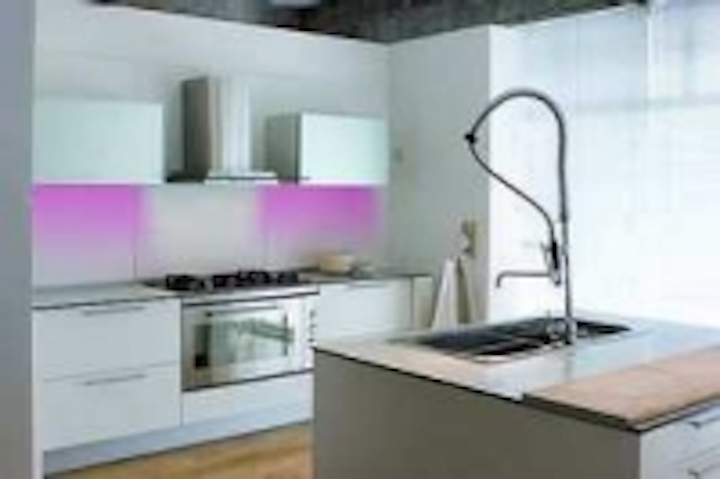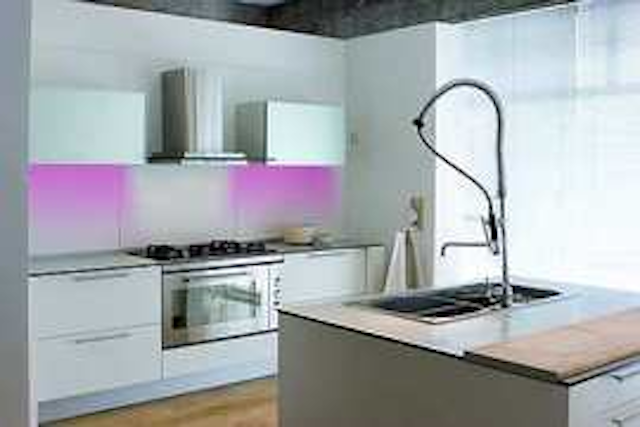 Date Announced: 08 Feb 2011
Cooking has not been a merely functional activity for some time but something to experience and enjoy. A kitchen which exudes a pleasant atmosphere and is a nice place to spend time in is what both – amateur and pro chefs – desire. Brilliant lighting plays a major role in creating this ambiance. OSRAM recently presented the effects that can be achieved with LED lighting solutions at the international LivingKitchen show for professionals and consumers in Cologne.
Lighting options in kitchens are multifaceted, ranging from workspace lighting over illumination of cabinets or shelves to spotlighting of distinct points. Intelligent and efficient LED-based lighting solutions are available for all requirements. They are distinguished not only by their compact size, which means they can be ideally included in various designs, but also by their brilliant white or coloured light – depending on what colour scheme is to be used for the kitchen. As LEDs only release a small amount of heat, only the bubbling pots and pans will cause cooks to break a sweat in the kitchen. The low energy consumption and extra long operating life of the LEDs make them a particularly economical solution.
Setting the trend in workspaces
Emphasising individual details of a workspace with white or coloured light installations gives a kitchen décor its particular character. In the model unit at LivingKitchen, OSRAM included a presentation of the Dragonpoint Vario Kit 3 and 1 LED luminaires, which were mounted on the baldachin. With a luminous colour of 5,400K they produce a light which is similar to daylight. They can be swivelled to emphasise
clear outlines of the desired objects. Dragonspot LED luminaires were directly mounted on the model kitchen workspace. With their compact dimensions and unobtrusive design they neither do interfere with what the cook is doing nor do they cast obstructive shadows on the workspace.
Cove lighting provides striking touches in kitchens; LED modules are appropriate here such as the Linearlight Powerflex Protect, currently OSRAM's brightest flexible LED lighting solution. Easy to install with double-sided adhesive tape, they can be flexibly tailored to customer demands. The modules can be divided into their smallest unit without any loss of function for the remaining LED board. The LED
Deco Flex modules, which as in the model kitchen can be affixed to the wall, can be tailored to the appropriate length. Plus, each lighting scenario can be operated by remote control. All the LED modules are protected from dust and moisture by the protection standard IP67 and their silicon jacket offers protection from touch. This makes them extra robust and long-lasting.
Lighting cabinets, cases and drawers from inside out
With modern LED lighting, cabinets and drawers have their own kind of inner life, which adds to the aesthetic appeal of kitchen furniture. It is especially important that light installations do not take up any extra space. For display case lighting, such as the Linearlight Dragon Slim with a dimmer, LED strips are therefore quite suitable. With its flat design and special accessories they are easy to mount in confined conditions and save space themselves when installed. The LEDvance Downlight S recessed furniture luminaire is also a winner. Thanks to its small dimensions – installed in bottom shelves, for example – the tops of kitchen shelves are still completely usable due to its low installation depth.
ABOUT OSRAM
OSRAM (Munich, Germany) is part of the Industry Sector of Siemens and one of the two leading lighting manufacturers in the world. Sales for OSRAM worldwide totalled to €4.7 billion in fiscal year 2010. OSRAM is a high-tech company in the lighting industry. Over 70 percent of sales come from energy-efficient products. This global player employs around 40,000 people worldwide, supplies customers in some 150 countries and has 46 production facilities in 17 countries (September 30).
Contact
Christian Bölling Tel. +49 89 6213-2597 Fax +49 89 6213-3457
E-mail:c.boelling@osram.com
Web Site:www.osram.com