Sharp introduces MegaZeni series of 15W & 25W LED modules with high light quality
Feb 9th, 2011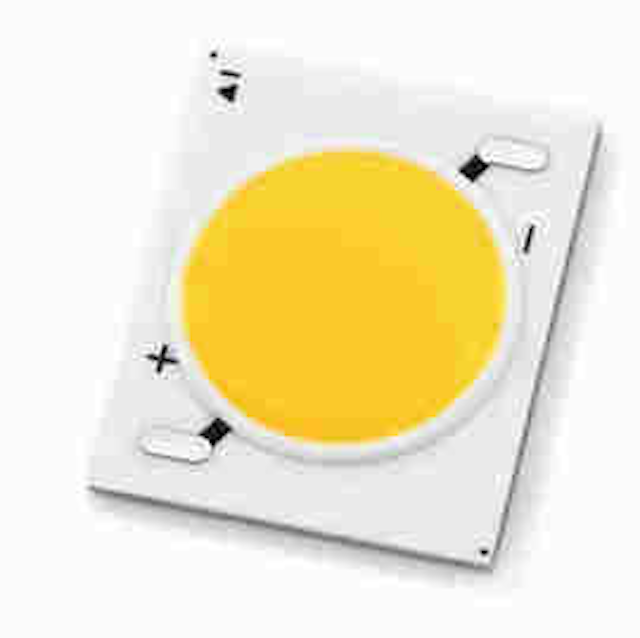 Date Announced: 09 Feb 2011
Sharp's 15 and 25 W LED modules from the new Mega Zeni series radiate with an efficiency of up to 102 lm/W, a luminous flux of up to 2550 lm and are available with a CRI value of up to 83 (typical), respectively.
Hamburg, 09 February 2011 – The new 15 and 25 W Mega Zeni models from Sharp are compact, lightweight, economical and extremely bright, whilst still providing a very high level of light quality. The new models produce a light output of up to 2550 lumen (depending on the module), a luminous flux of up to 102 lm/W and a long service life of 40,000 operating hours at a service temperature of 80°C. Sharp is thus setting new standards in light technol-ogy. Measuring 24 x 20 x 1.8 millimetres and with an aluminium ceramic plate as the carrier material, the 15 and 25 W variants offer the perfect solution to a whole range of lighting ap-plications.
The 15 W Mega Zeni modules are operated using a forward voltage of 37 V and a forward current of 400 mA. With the 15 W Sharp Mega Zeni series, the round LED matrix consists of a total of 96 LEDs that are arranged in eight parallel-switched series of twelves. The luminous flux is between 1350 and 1520 lm (4000K 102 lm/W).
The 25 W Mega Zeni modules also have a forward voltage of 37 V but are operated using a forward current of 700 mA. With the 25 W series the round LED matrix consists of a total of 168 LEDs that are arranged in fourteen parallel-switched series of twelves. The luminous flux is between 2300 and 2550 lm (4000K 98 lm/W).
The serial and parallel array of the LED matrix ensures fail-proof operation while offering the lowest possible thermal emission. The flat surface of the ceramic plate and the soldering points already in place make it possible to attach the modules to a suitable heat sink without too much effort or additional connecting material, thus guaranteeing excellent heat dissipa-tion.
The colour temperature of the new white light LED lighting modules lies in the range of 2700 to 4000 Kelvin. With regard to the CRI values and the colour temperatures, the Mega Zeni LED modules correspond to the requirements of the international Energy Star programme. They can be fitted in new LED lighting systems as well as in places where light sources were previously used.
Until now it was difficult to make energy consumption savings in lighting without compro-mising on light quality in the process. Furthermore, in many challenging applications it was not enough to install just one LED as a source of lighting. In cases such as these, several LEDs were used, with the drawback that the light source took up more space, thus making it more difficult to control and adjust the individual LEDs. The Mega Zeni models will provide the per-fect solution to these problems in the future. High intensity Mega Zeni LED modules from Sharp are suitable for use in street and object lighting as well as for applications indoors such as, for example, spot lighting, down lights and recessed ceiling light fixtures, etc.
Availability
Sample models are now available from Sharp sales offices and distribution partners across Europe.
Contact
Contact: Sharp Microelectronics Europe Service hotline: +49 (0)180 507 35 07 (€0.14/min from the DTAG landline network)
E-mail:info.sme@sharp.eu
Web Site:www.sharpleds.eu