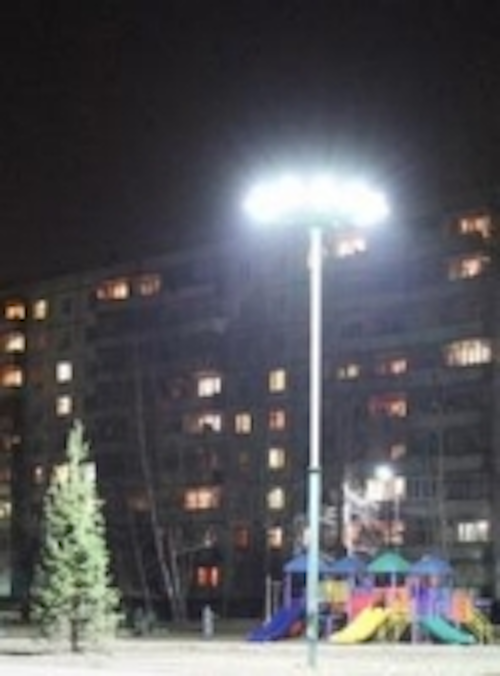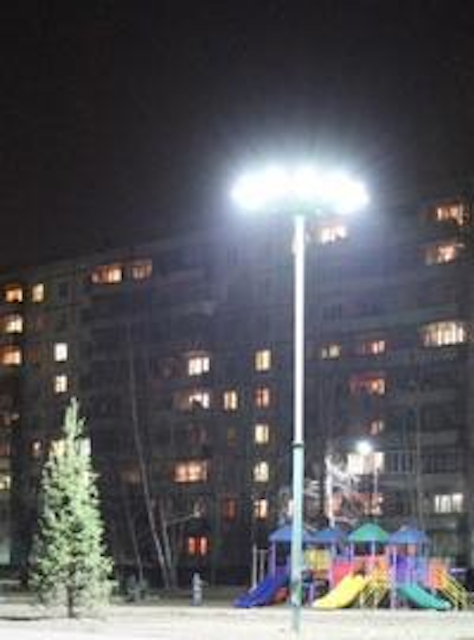 Date Announced: 14 Feb 2011
Reducing Russia's primary energy consumption by 40 per cent by 2020 is one of the country's core concerns. To help reach this goal the Republic of Tatarstan is tackling street lighting and has initiated a pilot project in its capital Kazan – a ward with around 25,000 households already benefits from the superior light quality of LED street lighting made by the LEDEL company. They have already installed 500 "Sveteco-48" luminaires with energy-efficient Golden Dragon Plus LEDs by OSRAM Opto Semiconductors.
According to the German-Russian Business Association the Republic of Tatarstan west of the Urals is currently among the most active regions in the Russian Federation when it comes to government-imposed energy-saving initiatives. A project in ward 38 of the Novo-Savinsky district in Kazan, the million-strong city on the Volga, kicks off by replacing the out-dated 150W sodium halide lamps with new LED streetlamps produced by LEDEL with a power input of only 48W. It is a scheme that is worthwhile in this project particularly by saving around two-thirds of their original energy requirement after only a short time and far exceeds the goals of Russia's energy saving plans.
Efficient lighting in focus
The city's 500 streetlamps use Golden Dragon Plus LEDs by OSRAM Opto Semiconductors – these LEDs have been developed specifically and meet the particular requirements for efficient lighting solutions. They enable brighter and more evenly spread lighting without scattered light or glare and with significantly lower power consumption. There is also the favourable colour-rendering index of LED light sources – it provides a natural colour impression and improves safety by outlining the surroundings more clearly. "Using LEDs is a sustainable solution for Kazan. With their long operating life and reduced maintenance costs compared with the previously installed sodium halide lamps the city is saving extra money and protecting the environment", says LEDEL CEO Artur Kogdaning. The investment will have paid for itself in about three years.
Increasing demand for LED street lighting
But this is just the beginning – after these positive results Kazan is already planning to convert two other city wards to energy-efficient LED street lighting. "OSRAM Opto Semiconductors LEDs are the first choice solution for this job – their years of experience and understanding of street lighting requirements characterise our longstanding association", says Artur Kogdaning.
Street lighting with LED is not only in demand in Russia – increasing numbers of German cities and towns recognise the energy-saving potential of LED lighting solutions – especially as their quite often out-dated public lighting has imposed high costs on regional and local government in Germany. Street lighting based on LED technology is the ideal alternative to conventional solutions for the switch – no matter how far east or west of the Volga it is.
About Osram Opto Semiconductors
OSRAM is part of the Industry sector of Siemens and one of the two leading lighting manufacturers in the world. Its subsidiary, OSRAM Opto Semiconductors GmbH in Regensburg (Germany), offers its customers solutions based on semiconductor technology for lighting, sensor and visualization applications. OSRAM Opto Semiconductors has production sites in Regensburg (Germany) and Penang (Malaysia). Its headquarters for North America is in Sunnyvale (USA), and for Asia in Hong Kong. OSRAM Opto Semiconductors also has sales offices throughout the world. For more information go to www.osram-os.com. OSRAM, the parent company, offers its customers a complete supply chain in the LED sector including components, modules and solutions. More than 50% of annual outlay on research and development is devoted to these technologies.
Contact
Marion Reichl Tel. +49 941 850 1693 Fax +49 941 850 444 1693
E-mail:marion.reichl@osram-os.com