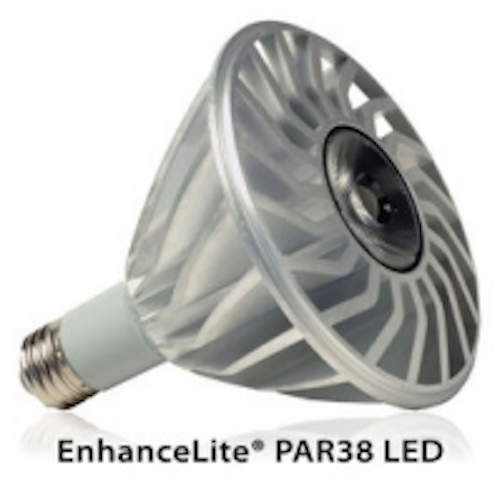 Date Announced: 08 Feb 2011
LEDnovation, a leading innovator in LED lighting and replacement lamp technology, today announced production availability of additional color temperatures and a new beam angle for its popular EnhanceLite® line of LED PAR lamps. With the addition of 2700K and 4000K color temperatures and 55° "wide flood" beam angle, LEDnovation's EnhanceLite® PAR line now offers the most flexible set of options available from any high-quality LED lighting producer. These new options add to the 3000K color temperature and 27° and 35° beam angle choices already available on the PAR20, PAR30 and PAR38 lamps bringing the PAR family to 72 SKU's.
Israel J. Morejon, CEO of LEDnovation, commented, "From the outset, LEDnovation has been very deliberate in its process of bringing to market LED replacement lamps that deliver change without compromise. The critical first step was to introduce models that delivered ample center beam candlepower to allow direct replacement for the most common halogen PAR lamps. The new 55° beam angle is a great choice for illuminating spaces with lower ceiling heights such as restaurants, hotel lobbies and common areas."
Greater flexibility for lighting design is further realized with the three color temperature options. While 3000K most closely replicates the look and feel of a halogen PAR-lamp, a warmer 2700K light is most desirable for restaurants. Similarly, 4000K light is desired in jewelry and retail to aid merchandise sparkle.
"New capabilities are a fundamental part of what the LED lighting revolution is supposed to be delivering to our customers, and it extends much further than simply offering the next step in efficiency improvements. It's about delivering better light," Morejon concluded.
The EnhanceLite® PAR-family additions further expand the Tampa, Florida based company's industry-leading portfolio of LED-based replacement lamps, including the recently introduced 100 lumen-per-watt A19 Generation-2 and high performance MR16 replacement lamps. LED lighting continues to gain acceptance for a growing number of applications by providing superior performance, higher efficiency and longer lifetimes. Directional applications, such as those currently served by LEDnovation PAR lamps are providing the newest solid business case for LED-based replacement lamps.
EnhanceLite® LED PAR Lamp Family Details:
EnhanceLite® PAR20 LED to replaces 50W incandescent PARs
Warm white: 5.9W, 372lm, 1300 CBCP@27°
Cool white: 5.9W, 432lm, 1508 CBCP@27°
EnhanceLite® PAR30 LED to replaces 75W incandescent PARs
Warm white: 14.3W, 750lm, 2600 CBCP@27°
Cool white: 14.3W, 870lm, 3016 CBCP@27°
Available in both short and long neck versions
EnhanceLite® PAR38 LED to replaces 90W incandescent PARs
Warm white: 19W, 950lm, 3550 CBCP@27°
Cool white: 19W, 1102lm, 4118 CBCP@27°
All specifications are average values
LEDnovation lamp models are tested for photometric performance in accredited third-party labs according to IES LM-79 requirements, with reports available online. All lamps meet UL 1993, UL 8750 and CSA 84 safety standards. These commercial grade models are rated for a 50,000-hour lifetime, carry an industry-leading 5-year warranty and unlike many CFL and LED offerings, fully conform to ANSI standard form factors to assure compatibility with existing fixtures.
About LEDnovation - Change without compromise
Offering a full complement of LED-based replacement lamps, LEDnovation is leading innovation in the field of solid state lighting. Solid state, or LED lighting generates light from complex semiconductor materials, eliminating much of the wasted energy that has been inherent to electric light-generation for over a century. By combining multi-disciplinary strengths in electronic systems, power supplies, thermal and optics design, LEDnovation has succeeded in developing one of the highest efficacy LED replacement lamp lines available, offering a winning business case and rapid return on investment to commercial clients and property operators. The company is headquartered in Tampa, Florida and manufactures its products in the US. For more information, visit
http://www.LEDnovation.com
or call +1 (813) 891-9665.
Contact
Michael Eckert Director of Marketing tel (704) 787-5469
E-mail:michael.eckert@lednovation.com
Web Site:www.lednovation.com/