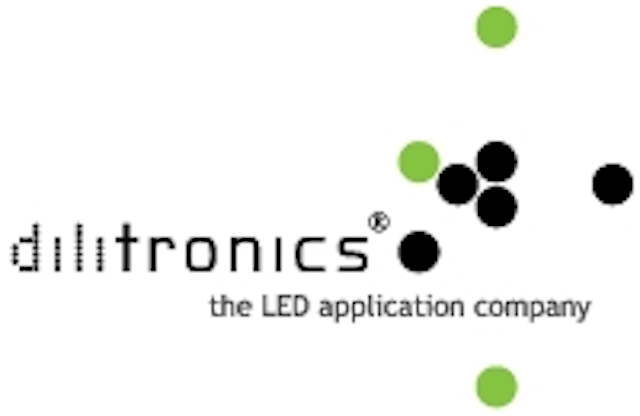 Date Announced: 28 Feb 2011
Jena, Germany -- dilitronics GmbH presents an innovative driver for controlling LEDs. The MCC16 with ground-breaking characteristics has been specially developed for interior applications. The compact design in combination with DMX, TCP/IP or DALI interfaces and a capability of separately controlling up to 16 LED modules is revolutionary, and opens up completely new concepts for the use of LEDs in interior lighting. Whether workplace lighting, accent lighting for hotels and bars, or flexible area lighting for conference and seminar rooms, demanding individual lighting concepts based on LEDs are now feasible.
Not only since the 2009 ban on conventional light bulbs have LEDs increased in importance for interior lighting. Their light characteristics and the ability to control them individually make them a better alternative. As Meinrad Braun, Sales Director at dilitronics, explains: "What was missing up to now was an efficient driver that reduces the still high installation costs, to make LED lighting more economical and thus to open up new applications. With the MCC16 we are presenting a driver that significantly reduces the number of components required and that sets new standards in terms of efficiency."
At the heart of the MCC16 is the innovative DIL16CL01 LED driver. This LED chip, developed by dilitronics, enables a space-saving design and direct access to each individual LED channel via the integrated communications interface. As Braun explains: "The main feature of the MCC16 is a TCP/IP interface. The use of TCP/IP in lighting technology is not entirely new, but only a few lighting technology products have been developed up to now on the basis of this protocol. Its advantages, however, are obvious: The transfer of large amounts of information thanks to the extremely high bandwidth, and the control of large numbers of light sources thanks to the almost unlimited address range." Using TCP/IP in combination with a 16-channel high-power LED driver is an enormous evolutionary step in lighting technology.
Application areas for the MCC16 are all lighting systems that use LEDs as the light source: Offices, shops and boutiques, public buildings, private homes and apartments, hotels, bars, restaurants, spa and wellness facilities, exhibitions, trade fairs, museums, stage lighting, entertainment lighting, media facades, media installations, cruise ships, yachts, industrial buildings, warehouses, leisure parks. In Braun's words: "Primarily wherever a large number of light sources have to be controllable and energy-efficient."
The innovative company presented the DIL16CL01 LED driver for the first time at the "Light and Building 2010" trade fair. Smaller than a 2 cent coin, the chip can boast an ability to control 16 high-power LEDs or LED modules in parallel, and with extremely high power levels per channel. "The MCC16 is the logical next step of the DIL16CL01 for exploiting the advantages of the controLED technology for lighting applications". And to quote Braun on further development projects: "The MCC16 product range will be further expanded to further simplify the installation and operation of LED lighting."
For Downloads please visit: www.tower-pr.com/en/dilitronics
About dilitronics:
dilitronics GmbH was founded in Jena, Germany in spring 2008. The company develops innovative driver components for triggering high brightness LEDs. In the business areas LED driver ASICs, LED driver modules and Engineering Services dilitronics GmbH acts as a fully integrated development partner and OEM supplier on the side of its customers. The development of electronic, optical and mechanical components based on the dilitronics controLED technology ensures a very short time to market for the customer's application.
For more information please look at: www.dilitronics.com or http://tower-pr.com/en/dilitronics
Contact
Media contact: dilitronics GmbH Meinrad Braun Felsbachstraße 5 D-07745 Jena Tel.: +49 (0) 3641-875757 1 Fax: +49 (0) 3641-875757 9 m.braun@dilitronics.com www.dilitronics.com PR agency: Tower PR Leutragraben 1 (Tower) D-07743 Jena Germany Tel.: +49 (0) 3641-50 70-82 pr@dilitronics.com www.tower-pr.com
E-mail:pr@dilitronics.com
Web Site:www.dilitronics.com