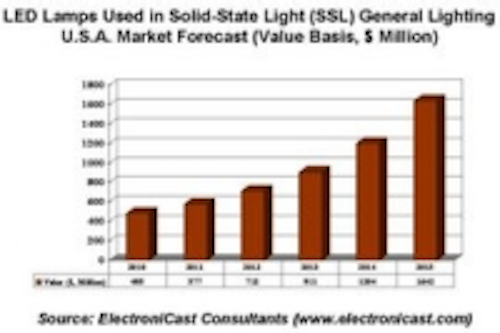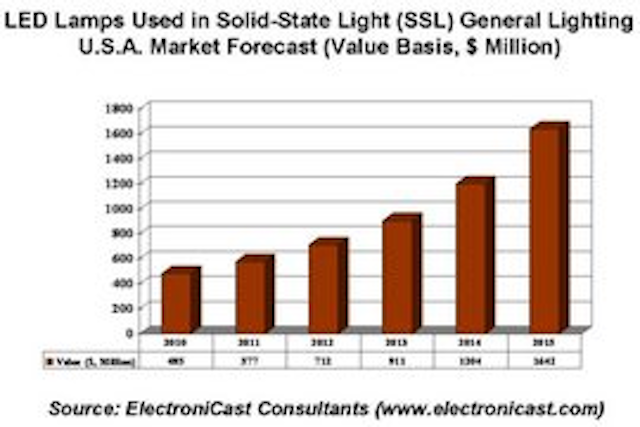 Date Announced: 14 Feb 2011
Upper Lake, CA (USA) -- ElectroniCast Consultants, a leading market research consultancy, today announced the release of a just-completed market review and forecast of the consumption of Light Emitting Diode lamps used is solid-state lighting (SSL) general lighting applications in the United States of America.
According to ElectroniCast Consultants, the consumption of LED lamps was $485 million in 2010 in the United States. The firm forecasts the consumption value will reach $1.64 billion in lamps installed in the year 2015 representing an average annual growth rate of 27.6 percent (2010-2015). Market forecast data in this study report refers to consumption (use) for a particular calendar year; therefore, this data is not cumulative data.
"This study of the United States consumption of LED lamps (also known as "consumer-level bulbs"), which are used in luminaires in stationary/fixed location (non-vehicle/non-portable) solid-state lighting (SSL) General Lighting applications. The lamps are lamps are used in new construction, as well as retrofitting/replacement of existing (installed-based) lamps," said Stephen Montgomery, Principal Analyst- LED Practice at the consultancy.
The US market is segmented into the following major application categories: Government, Commercial/Industrial and Residential/Non-Specific. The report also breaks-out the forecast by six major lamp types: Parabolic aluminized reflector (PAR), General Service (A-Type), Decorative, Multifaceted reflector (MR) Compatible, Linear / Tube, and lamps used in Street-lights/Exterior lighting.
"The PAR lamps are currently the market leader with over 40 percent market share; however, the MR- lamp type (especially the MR-16 lamps) used in recessed ceiling/down lighting and track lighting is on a fast pace to catch-up, pushed by the commercial/industrial sector. The general service (especially the A-19 lamp) also is a stand out in the forecast, especially in potential residential applications, later in the forecast period," Montgomery added.
The increased use of LED-based lamps in SSL General lighting is strongly driven by promised savings in maintenance/ labor, as well as "Green-Tech" (ecology-oriented) issues, and several other dynamics. The Total Cost of Ownership (TCO) is a key marketing dynamic relative to LED Lamps, which typically have a premium price point versus other lighting solutions.
"The decorative lamps, such as candle-shapes and globes is a smaller market segment; however it is forecast to be a great opportunity for niche-players. The linear (tube) lamp, which is eyeing the fluorescent tube market segment, is forecast with the fastest annual growth of over 70 percent (2010-2015). Finally, the street-lamp segment, which also covers parks/campus, tunnels, walkways, and parking lots, is poised for 40.5 percent (value) growth per year, spear-headed by the government sector," Montgomery added.
This 557-page market forecast report, along with an extensive database (Excel spreadsheets) and PowerPoint slides is available immediately from ElectroniCast Consultants. For detailed information on this or other services provided by ElectroniCast, please contact Theresa Hosking, Marketing/Sales; thosking@electronicastconsultants.com
(Telephone/USA: 707/275-9397)
ElectroniCast Consultants – www.electronicast.com specializes in forecasting trends in technology forecasting, markets and applications forecasting, strategic planning and consulting. ElectroniCast Consultants, as a technology-based independent forecasting firm, serves industrial companies, trade associations, government agencies, communication and data network companies and the financial community. Reduction of the risk of major investment decisions is the main benefit provided. ElectroniCast Consultants' goal is to understand the challenges and opportunities facing clients and to provide timely, accurate information for strategic planning.
In 2010, the United States consumption value of specified LED lamps, which are used in SSL General Lighting, was $485 million, as shown in the Figure below. ElectroniCast forecasts the consumption value will reach $1.64 billion in lamps installed in the year 2015 representing an average annual growth rate of 27.6 percent (2010-2015).
Contact
Theresa Hosking, VP, Sales & Marketing ElectroniCast Consultants 9959 Old Orchard Lane Upper Lake, CA 95485 USA TEL: 707-275-9397 FAX: 707-275-9502
E-mail:thosking@electronicastconsultants.com
Web Site:www.electronicastconsultants.com