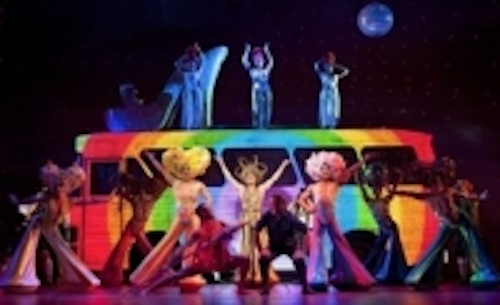 Date Announced: 28 Feb 2011
-- LED lighting from Traxon & e:cue adds magic and excitement to show's Broadway debut
NEW YORK, New York and EAST RUTHERFORD, New Jersey– Traxon Technologies & e:cue lighting control is putting LED lighting at center stage with Priscilla Queen of the Desert, The Musical, the awarding winning stage adaptation of the popular cult movie. Directed by Simon Phillips, Priscilla Queen of the Desert, The Musical will make its Broadway debut on February 28, 2011.
While lighting is always an important element of any stage production, Priscilla Queen of the Desert has brought Traxon & e:cue's LED systems on stage to personify one of the show's most prominent figures, Priscilla. Arguably the most flamboyant character on stage in this musical, Priscilla is a pink bus that transports three friends on an exciting adventure through the Australian outback.
To portray Priscilla's spectacular persona on stage, 219 customized Traxon String RGB fixtures were used to cover the entire surface of a city bus-sized roving set piece. Behind it all, 44 custom String RGB systems are woven together into an automated flitter drop. Fifteen e:cue Video Micro Converters (VMCs) are required to control the 126,240 channels, with e:cue's Lighting Application Suite (LAS) 5.2, making simple the task of displaying two-dimensional video on a three-dimensional object. Additionally, the software suite acts as a liaison with the house lighting console, seamlessly integrating the installation with the rest of the show's lighting and controls.
Traxon's String RGB was the perfect solution to bring Priscilla to life. String RGB is a flexible, multipurpose LED lighting solution designed to achieve exceptional lighting performance in challenging installations. String RGB is divided into five elements, each with 32 individually controllable high-performance LEDs on a semi-transparent cable, resulting in 160 pixels per String set. Featuring DMX and e:pix/DVI capability, the versatile lighting fixture allows for the display of individual effects, graphics, and video.
The versatility of Traxon's String RGB, combined with the advanced capabilities of e:cue lighting control, creates a spectacular and eye catching effect, delivering the personification and animation necessary for Priscilla. The Traxon & e:cue LED systems help Priscilla's dynamic character shine and add another level of thrill and amazement to the musical.
Contact Information:
Amy Meredith
Director of Marketing
Traxon Technologies Ltd,
Tel: 201.508.1574
Email: amy.meredith@traxontechnologies.com
Lauren Dibble,
Weber Shandwick
Tel: 617.520.7099
Email: ldibble@webershandwick.com
About Traxon
Traxon Technologies, together with its control brand, e:cue, is a global leader in solid state lighting and control
systems providing complete, sustainable and intelligent lighting solutions. Working with our extensive partner
network, Traxon & e:cue transform creative visions into unforgettable lighting experiences, elevating architectural,
entertainment, hospitality, and retail environments around the world.
Flexibility, simplicity, and innovation are our guiding principles. From software and product development,
customization competence and cutting-edge integrated lighting and building material solutions, to worldwide
project management, planning and support services, to our dynamic and global team of outstanding professionals,
these values drive and shape us within our ever-evolving industry.
Our customers and partners are the leading international lighting design, architecture and engineering firms, as
well as the world's premier developers and brands. Together we have completed over 4,000 installations
worldwide, including renowned architectural landmarks such as Lincoln Center and WorldWide Plaza, New York;
The Yas Hotel, Abu Dhabi; International Commerce Center, Hong Kong; Tower Bridge, London and many other
prestigious entertainment, hospitality, and retail interiors and facades.
Traxon & e:cue's innovative, integrated control, software, product and project portfolios have won many awards
and accolades for their pioneering technologies and dynamic solutions, including LFI Innovation, iF Design, Red
Dot Design, DDC, POPAI, and MELDA.
In 2009, Traxon Technologies entered into a joint venture with OSRAM, strengthening our position in the market
by combining knowledge and experience in technology, and building on synergies with OSRAM's global presence.
For more information, visit www.traxontechnologies.com or www.ecue.com.
Contact
Amy Meredith Director of Marketing Traxon Technologies Ltd, Tel: 201.508.1574 Email: amy.meredith@traxontechnologies.com Lauren Dibble, Weber Shandwick Tel: 617.520.7099 Email: ldibble@webershandwick.com
E-mail:ldibble@webershandwick.com