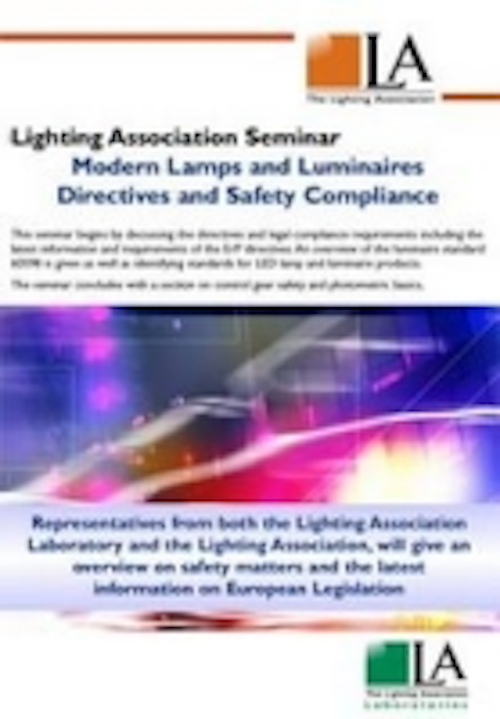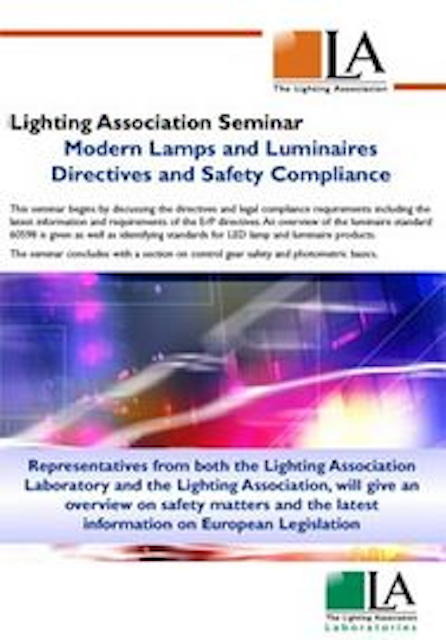 Date Announced: 02 Feb 2011
The Lighting Association will be presenting a Modern Lamps and Luminaires, Directive and Safety Compliance Seminar on Tuesday 15th March 2011.
Representatives from both the Lighting Association Laboratory and the Lighting Association will give an intense overview on safety matters and the latest information on forthcoming European Legislation.
Aimed to provide an introduction to legal compliance, by explaining how Legislation is generated in Brussels and then describes how directives such as the LVD and ERP are converted into UK law. Explaining how this relates to standards which offer a presumption of conformance and CE Marking. We will then run through BS EN 60598 the safety standard for luminaires and give an overview of the requirements contained within it.
The lighting industry is moving rapidly so we will look at LEDs and safety giving a guide to LED related standards for both safety and performance, we also discuss control gear safety BS EN 61347 and Light emissions safety BS EN 62471
This seminar will be suitable for those new to the lighting industry as well as those looking to update their knowledge.
Date: Tuesday 15th March 2011
Venue: The Lighting Association, Telford, Shropshire
Cost:
LA Members £145.00 + VAT
Non LA Members £285.00 + VAT
Contact
For more information or to reserve your place contact Janet Lee on 01952 290905 or email janetl@lightingassociation.com
E-mail:enquiries@lightingassociation.com
Web Site:www.lightingassociation.com