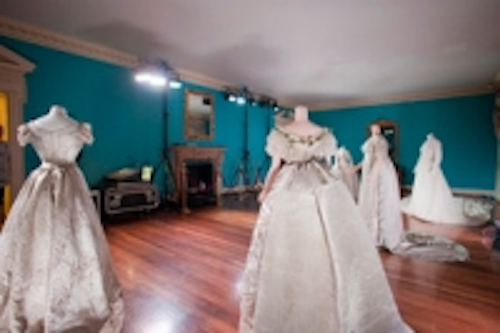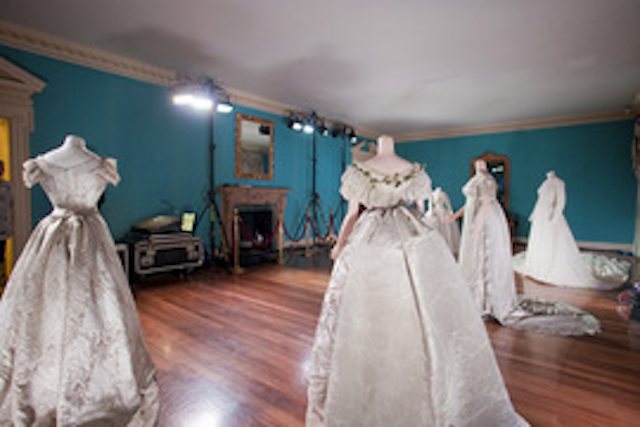 Date Announced: 09 May 2011
An exhibition of historic bridal dresses just got the royal treatment – lit by ETC's Selador® Lustr LED luminaires. The priceless dresses date to 1816 and were recently on display in Kensington Palace, London, ahead of the wedding of Prince William and Kate Middleton.
Historic Royal Palaces (HRP) chose London-based production company Entec Sound & Light to supply the lighting design and equipment for the limited-time showing, opened briefly to leading news media for global coverage. Entec's Richard Lambert employed the Lustr® white-light specialty luminaires as the "perfect" solution for the project's unique challenges.
The six delicate dresses could not be exposed to over 200 lux (less than 20 foot candles) at any point -- calculated on elements like room temperature, age and nature of dress materials, as well as dress-storage methods. Says Mark White, ETC's Regional Manager for the UK and Ireland, "Lustr illuminated the dresses at just the right levels, with the correct tints in the right color temperatures, providing a heat-free environment that would not damage any of the fragile fabrics and materials."
Each dress required the surrounding illumination of at least three light sources, and everything had to feed off the limited power supply in the drawing room of the late Princess Margaret's apartments. This was viable because the Selador fixtures draw only 1.05 amps each. Tim Powell, press officer for Historic Royal Palaces commented, "The use of ETC's low temperature and power-conscious LED lights meant that protecting the dresses didn't have to compromise the appearance of the display."
Each wedding dress also required its own tints of color, warmth and coolness to accentuate details like embroidery, beading, or cloth texture. TV and still cameras had to be able to get optimum shots. Lustr luminaires render white pigments naturally and accurately -- ideal for broadcast applications. With Lustr, Lambert was able to access an almost imperceptible range of beige-whites and creams, which, despite their extreme subtlety, had stunning impact. He was also able to dial in subtle blue or red hues to lift areas on some of the dresses.
For the exhibition Lambert specified 18 Lustrs rigged on stands. The display was top secret until the week before the Royal Wedding and then filmed by the BBC, NBC, ABC, CBS, CNN, as well as Australian, Canadian, French, German, and Japanese broadcasters.
Contact
ETC Press Room
E-mail:mail@etcconnect.com
Web Site:www.etcconnect.com