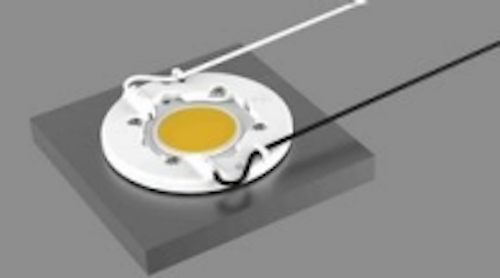 Date Announced: 16 May 2011
HARRISBURG, PA -– TE Connectivity (TE) announces a new addition to its line of solderless LED sockets: the RoHS-compliant Type BR socket for quick termination of Bridgelux RS LEDs. This new offering eliminates the need to design, manufacture and integrate a complex metal clad printed circuit board assembly into a lighting fixture. Additionally, it provides lighting designers with a broad range of LED mounting options as it can be easily positioned and assembled anywhere in a fixture using simple hand tools.
This one-piece connector assembly features TE's poke-in wire termination method for 18 through 22 AWG solid wires, 18 through 20 AWG pre-bonded wires and 18 AWG stranded wires. Included standoff posts properly position the solderless LED socket assembly onto the heat sink and only four M3 or #4 screws are required to secure and complete the assembly. The LED is retained in the socket housing with a slight press fit prior to mounting the assembly into the light fixture.
For enhanced integration capabilities, the socket design accepts the commercially-available LEDIL Britney series of optics. Alternatively, ample space is available for use with other custom optical solutions.
Additional product features include:
• a cleared area designated for reflector mounting that accepts custom or commercially-available optics,
• integral wire strain reliefs to prevent inadvertent wire pull out after assembly, and
• UV-resistant housing material for outdoor use to prevent housing discoloration.
The socket is UL-recognized to UL 1977 for use in UL 8750 applications.
For more product information, contact the TE Product Information Center at 800-522-6752, or visit http://www.te.com/lighting.
About TE Connectivity
TE Connectivity is a global, $12.1 billion company that designs and manufactures over 500,000 products that connect and protect the flow of power and data inside the products that touch every aspect of our lives. Our nearly 100,000 employees partner with customers in virtually every industry—from consumer electronics, energy and healthcare, to automotive, aerospace and communication networks—enabling smarter, faster, better technologies to connect products to possibilities. More information on TE Connectivity can be found at http://www.te.com/.
# # #
TE Connectivity and TE connectivity (logo) are trademarks. Other logos, product and/or Company names might be trademarks of their respective owners.
Contact
Media Relations: Rachel A. Sigamony (1) 717 986-7761 Product Communications: Alexander Hunt III (1) 717 986-5911 ahunt@te.com
E-mail:rachel.sigamony@te.com
Web Site:www.te.com/lighting