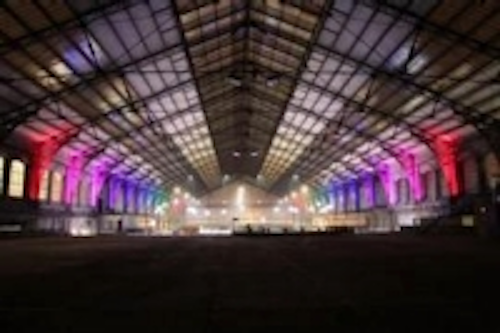 Date Announced: 06 May 2011
The French National Railway Company (SNCF) has instituted an important change aimed at improving its position in the face of stiff competition from other European transport companies. The first element that SNCF has put significant effort into is renovation of its many key railway stations.
At the Austerlitz Railway Station in Paris, the process has just begun and will last until 2025. An important part of the new look is illumination of the lattice structure of the main hall in order to visually bring it in step with the 21st century.
During initial contact with the Austerlitz managers, the frame of the project was already well developed: to bring animation to the station without disturbing the daily activity or altering the architecture. Starting from this brief, Martin France was able to propose several ideas, including the decision to use the main structure as a support for light and to avoid as much as possible the projection of light onto the roof.
François Guillet, CEO of Lumières Utiles, recreated the complete station in Martin's lighting and set design software, Martin ShowDesigner (MSD), and tested several types of Martin projectors. In order to fine-tune the concept, Martin France set up a working session on site and the Exterior 200 LED™ with its very narrow beam (13°), ample power and excellent color uniformity was chosen as the best option. The Exterior 200 LED is a long-life programmable luminaire offering full RGB + Amber and White color mixing. It can bring up to 1400 lm for 139 W and is available in several angles from 13° to 32°.
Martin France then worked with technical partner Equipscène on system integration and with François Guillet on the controller and network aspects. A Martin M-PC™, a PC-based version of the Martin Maxxyz™ and M-Series consoles, linked to a Martin Ether2DMX8™ router with a Martin MaxModule Programmer was used for programming.
In total, 26 Exterior 200 LED luminaires were installed, four luminaires per arch: one on each side lighting the piles. Programming was completed by Mr. Pitet, project manager of SNCF, and reflects several scenarios that can be recalled for special events:
SNCF special: red to magenta
Gay pride: rainbow flag
Station anniversary: blue and violet wave
French national day: red/orange wave
Nuit Blanche: blue wave
Mexico: red, white and green
For day-to-day illumination, a static blue/green color was chosen to bring a soft and calm atmosphere to the station while wave effects were added for five minutes every hour. The installation automatically follows the natural sunset and sunrise thanks to the Maxxyz Manager plugin included with the M-PC.
Client: SNCF
Installer: ETDE
Technical Partner: Equipscène
Lighting Designer/Programmer/Network: Lumières Utiles
Martin Professional
Founded in 1987 and headquartered in Aarhus, Denmark, Martin Professional is a world leader in the creation of dynamic lighting solutions for the entertainment, architectural, and commercial sectors. Martin lighting solutions are industry standard on top tours and events, grace prestigious theatres, energize nightclubs, and decorate major television studios around the globe. Other important areas of application are indoor and outdoor architecture and commercial applications where Martin products are increasingly being used to transform spaces through dynamic light. Martin also offers a range of advanced lighting controllers and media servers, as well as a complete line of smoke machines as a complement to intelligent lighting. The company operates the industry's most complete and capable distributor network with local partners in nearly 100 countries. For more information please visit
www.martin.com
.
Contact
Larry Beck Martin Professional Telephone: +45 40 80 57 03 Fax: +45 87 40 00 10
E-mail:larry.beck@martin.dk