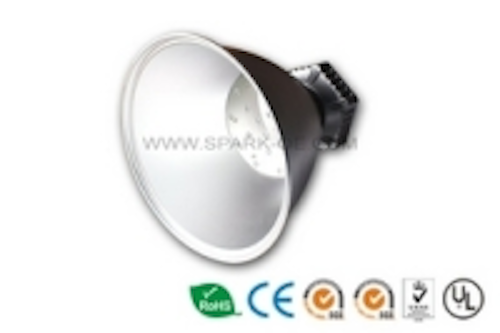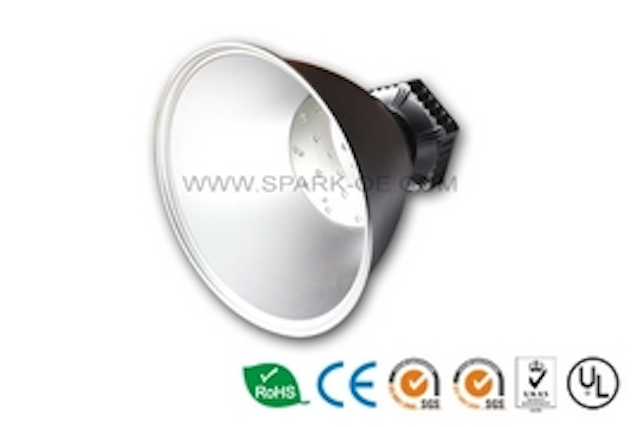 Date Announced: 19 May 2011
In the upcoming 2011 Guangzhou International Lighting Exhibition, Spark will continuously adhere to the innovation culture to exhibit new series of products at Booth 5.1 A01. In addition to the new outdoor and indoor commercial lighting, new models of Industrial LED High Bay for the industrial lighting applications will also be promoted.
LED Lighting takes over 19% in the global power consumption and industry power consumption takes over almost 70%. The proportion can be even higher for China because of the coal-based Energy Structure. As a leading industry country, there are quantities of factories and mines in China, under which unique condition the traditional lights can hardly meet the demands.
SPARK Industrial LED High Bay performs outstanding in terms of the energy-saving and maintains efficient and stable working by using US original CREE LED and high quality power supply. The unique heat-sink structure and good combination to power supply shield realize the effective heat release conduction and diffusion to reduce the internal lamp temperature and make sure the long lifetime of Industrial LED High Bay source & power supply. SPARK Industrial LED High Bay has an excellent luminous efficiency and more than 65% energy will be saved comparing with traditional High Bay lights.
SPARK Industrial LED High Bay use special finish process and looks nice and elegant. With easy installation and convenient in installation, there are more applications. With unique reflection coating inside, the reflection rate is kept high and light maintains high level uniform. The high color rendering index makes the presentation of objects more real in effect. Various color temperatures are available enable to meet requirement of different environments by eliminating or reducing the depress moods because of the color temperature too high or too low from the traditional lamp, making the lights to be more comfortable and therefore improve the efficiency.
In addition, SPARK Industrial LED High Bay try to provide the best LED lights for industry application by driven at constant current and voltage and applicable for wide range voltage condition from 100V AC to 240V AC, which overcome the problems of power grid, noise pollution and instability light because of the ballast and avoid workers' eyes to be tired or irritated during work.
The No. 1 Lighting Exhibition globally --Guangzhou International Lighting Exhibition will be held in China Import and Export Pazhou Complex from Jun.6th to 9th, 2011. As one of the renowned exhibitors and LED lighting industry pioneers in China, with 11 years of continuous research and development experience, wide range of LED lighting products and creditable quality, Spark gain the preference and confidence from domestic and overseas customers and market has extended to over 150 countries and regions.
With strong and professional R & D team, Spark people devote themselves to the lighting career and keep continuous innovation. Lots of honors such as "Shenzhen Top Brand", "Shenzhen Independent Innovation Products", "Guangdong Independent Innovation Products", "Guangdong Hi-tech Products" and "Guangdong Innovation Enterprise" etc have been awarded by Chinese Government to Spark in 2011.
In 2011, the great milestones also include Spark has been selected by Chinese Government to become one of "National LED Lighting Demonstration Project Enterprise", "Register EMC Enterprise" authorized by National Development and Reform Commission and Spark products have been displayed in Shanghai World Expo to demonstrate the innovation achievement by Chinese private enterprises.
As one of global LED lighting experts, with the independently innovated LED lights taking the leading position in the industry and reliability proved by hundreds of projects and customers experience from over 150 counties and regions, Spark will continuous to pursuit the goal of producing the "Very High Quality LED Lighting Products for People's Green Life".
Contact
Contact Aileen Huang Spark Marketing Director Tel: (86 755) 8390 4366 Fax: (86 755) 8390 4766
E-mail:sales@spark-oe.com
Web Site:www.spark-oe.com