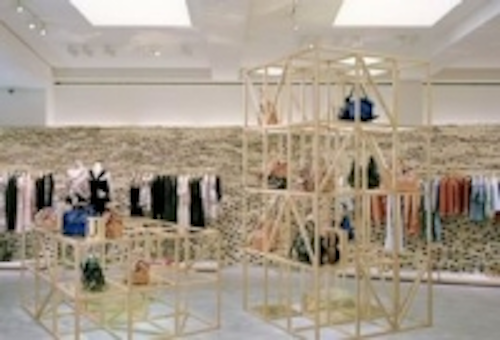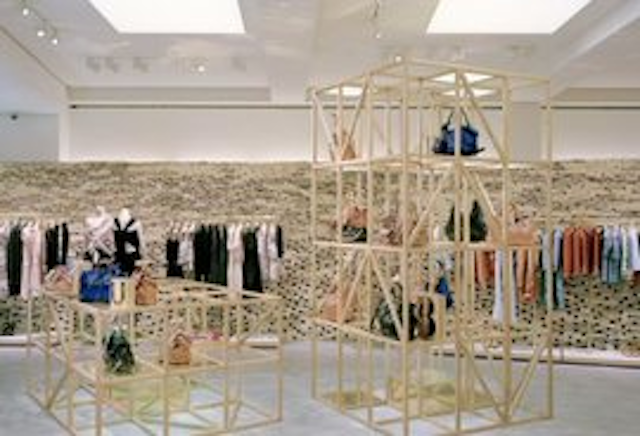 Date Announced: 19 Apr 2011
Applelec's LED Light Sheet has been used to display Mulberry's famous luxury leather goods at the newly relocated flagship boutique on London's New Bond Street. The store design was conceived by Universal Design Studio, whilst DPA Lighting provided a lighting design solution which was mindful of energy saving criteria. Conceptually the space suggests a modern art gallery, creating a unique experience for those browsing within the boutique and highlighting the connection between fashion and art.
Throughout the boutique British craftsmanship is celebrated by authentic features such as flexible, freestanding oak 'follies' and a dry stone wall which runs the length of the store. All elements of the store's design and functionality have been calculated to minimise environmental impact and have longevity; thus the dry stone wall retains heat in winter and aids the store's cooling throughout warmer months. With such systems in place, the store is expected to receive a BREEAM rating of 'excellent', a rare achievement for a retail space. LED Light Sheet's selection for this beautiful but environmentally conscious boutique is a pertinent accolade for a product which has been developed with energy efficiency as a core characteristic.
Along with low energy consumption, LED Light Sheet delivers an LED lifespan of over 50,000 hours, achieved in part by the thermal management of the LEDs embedded within the sheet. This LED management enables the luminaire to run cool to the touch, ensuring it does not interfere with the temperature systems of the Mulberry boutique, and in particular does not contribute to the overheating of the store in summer months. Furthermore, the cool running of LED Light Sheet ensures it is suitable for a variety of retail applications as products may be displayed on or near the unit without harm or depreciation. Light brightness meanwhile is not compromised, and in the Mulberry project the unit was fitted to the underside of shelves within two of the oak follies allowing light to be cast downwards onto the displayed products. In the construction of the follies, LED Light Sheet's slim profile ensures it is discreetly integrated into the exposed oak shelves.
Jorg Seemann, Lighting Designer at DPA explains: 'Functionally, LED Light Sheet serves as downward illumination to products in two oak folly units within the boutique. By diffusing the LED Sheets, their appearance in the follies resembles daylight simulating light boxes in the ceiling. In this sense, the follies work as rooms within rooms, giving the products displayed within them a higher presence as though presented on a stage within a stage.'
Referencing an art gallery's reorganisation with each coming exhibition, the Mulberry store's display areas, including the oak follies, have been designed to be moveable in order to continually redefine the space. The LED Light Sheet panels used in two of the follies can be placed at different positions, depending on the orientation of these rotatable display units, which have been designed to be modular. Allowing the space to change and reconfigure without waste, LED Light Sheet's lightweight construction ensures this system is incredibly flexible and easily changed.
Following the opening of the 50 New Bond Street boutique, LED Light Sheet has been employed in a second Mulberry project and continues to offer flexible application possibilities for the retail environment.
LED Light Sheet from Applelec
LED Light Sheet is an 8mm thick backlighting unit which is manufactured in the UK by Applelec. Suitable for internal and external solutions and created to bespoke sizes and shapes, LED Light Sheet can be integrated into display and exhibition systems, signage, architectural and design features. A choice of warm white, cool white or RGB LEDs with dimmable controllers ensures project aesthetics are met.
www.ledlightsheet.co.uk
Applelec
Established in 1998, Applelec began life as a confidential trade supplier to the signage industry and are recognised today as one of the largest UK companies in this industry sector. The integrating of lighting products into the core range, in particular those which employ LED technology, led to the development of LED Light Sheet in 2008.
Mulberry
Inspired by the cool of the city and the craft of the countryside, Mulberry is proud of its fashion duality. Established in the 1970s in rural Somerset, the company produces luxury leather goods and ready-to-wear clothes that are presenting twice-yearly as part of the Fashion Week schedule. We are proud to have been producing luxury products of the highest quality for forty years, and because of this history Mulberry's name is now recognised around the world as synonymous with heritage and craftsmanship as well as with high-fashion trends and style.
Universal Design Studio
Now established as two of the leading names in British design, Edward Barber and Jay Osgerby set-up BarberOsgerby together in 1996 and Universal Design Studio in 2001. Universal Design Studio is a multidisciplinary team of architects, interior designers and industrial designers specialising in the creation of unique built environments. The studio takes a consistent, holistic approach to spatial design and interior architecture and offers a profound understanding and interpretation of a full range of creative possibilities.
www.universaldesignstudio.com
DPA
DPA founded by architect Derek Phillips pioneered the discipline of professional lighting consultancy in the United Kingdom. The independent practice enters its 53rd year, having produced lighting design solutions for over 5,500 projects in 60 different countries from the lighting of a single picture in someone's home to the masterplanning of a city. Our offices in Canada, Dubai, Japan, London and Oxfordshire and a team of over 50 designers of an immense multidisciplinary skill base allows us to resource each and every project with the very best team to ensure an appropriate response for each and every client.
Contact
Keri Stephenson PR & Marketing, Applelec Tel: + 44 (0) 1274 768343 Fax: + 44 (0) 1274 774477
E-mail:keri.stephenson@applelecsign.co.uk