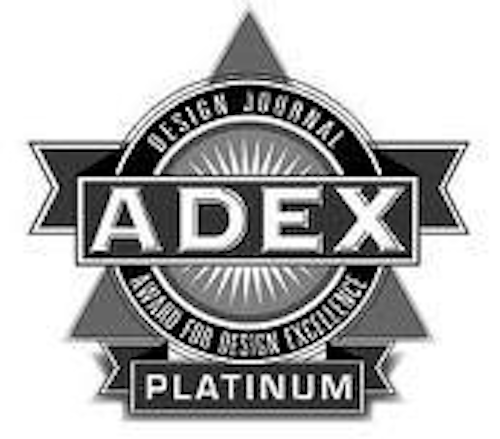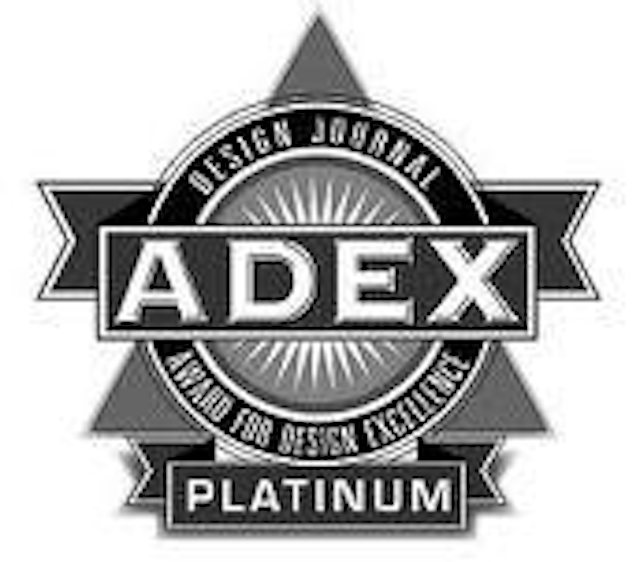 Date Announced: 12 Apr 2011
Redwood City, Calif. – Lunera® Lighting, Inc., a Silicon Valley company that designs, manufactures, and markets next-generation LED lighting, is pleased to announce its 5400 SERIES has won a platinum ADEX 2011 award. Lunera partnered with Armstrong Ceiling and Wall Systems to deliver the 5400 SERIES, an edge-lit LED lighting fixture compatible with Armstrong TechZone Ceiling Systems. The sleek, energy efficient, linear fixture creates a clean, elegant ceiling visual and provides voluminous light when installed in the six-inch-wide technical zone.
"Lunera Lighting is delighted to receive the prestigious Design Journal Platinum ADEX 2011 award for its 5400 SERIES luminaire. The 5400 SERIES is the first LED luminaire available for installation in premium Armstrong TechZone ceilings. Its sleek design, daylight quality light, and precision engineering beautifully enhance the elegant TechZone ceiling experience. Unlike typical fluorescent solutions, the 5400 SERIES is energy efficient and provides a mercury-free, recyclable light source. Lunera is honored to be recognized by Design Journal for the second consecutive year, for our commitment to both excellence and leadership in LED luminaire design," said Rich Warmke, Lunera Director of Marketing.
Manufactured in the U.S.A., Lunera's 5400 SERIES of digital LED fixtures combined with the Armstrong TechZone Ceiling System creates a clean, linear visual appearance that greatly enhances the aesthetics of a room. By using Lunera's truLITE™ Color Consistency Process, the light fixtures maintain uniformity of light across an entire installation creating a more productive and appealing interior environment. The Lunera 5400 SERIES fixture is available in 9/16" tegular and 9/16" and 15/16" lay-in form factors.
"Armstrong is pleased to be a part of Lunera's success with the 5400 SERIES. When combined with our ceiling system, the LED fixture helps organize the 'clutter' in a grid ceiling. The result is a cost-effective, clean, linear ceiling aesthetic using standardized components. Easy access to the fixture adds to the benefits of this noteworthy, energy saving combination by minimizing installation time and panel damage, since the technical zone houses all technical services," said Gregg Maberry, Manager of Sales Integration for Armstrong Building Products.
Similar to other Lunera products, the 5400 SERIES can reduce energy consumption by up to 50 percent compared to traditional installed lighting solutions, and offers a 12 to 15 year (50,000 hour) maintenance –free life in typical office applications. A hallmark of Lunera's fixtures is the beautiful full-spectrum daylight quality light emitted through optics that volumetrically fills a room.
Contact
About Lunera Lighting Lunera® Lighting, Inc. is an award-winning technology innovator leading the transformation from analog to energy-efficient digital LED lighting. The company's lighting solutions, known for elegant design, precision engineering, and beautiful light, are designed from the work plane up. Engineered for an optimum balance of low power, high efficacy, and full spectrum light, Lunera's solutions reduce energy consumption, eliminate maintenance costs, and deliver daylight quality light while reducing facility operating costs and carbon footprint. Since introducing its first products in late 2009, Lunera has installed lighting in over three million square feet of commercial real estate. Manufactured in the USA, Lunera's premium lighting fixtures are UL listed, LM-79 tested, RoHS compliant, and backed by a 5-year warranty. Visit http://www.lunera.com for more information or contact the company at 650-241-3875 or by email at info@lunera.com. Follow Lunera on Twitter at http://twitter.com/luneralighting. ### © 2010 Lunera Lighting, Inc. All rights reserved. Specifications are subject to change without notice. Lunera® is a registered trademark of Lunera Lighting, Inc. The Lunera logo and Life in a New Light are trademarks of Lunera Lighting, Inc. All other trademarks are the property of their respective companies.
E-mail:cwarren@antarra.com
Web Site:www.lunera.com