Robe ROBIN 600 LEDWashes for Sohne Mannheims tour
Apr 27th, 2011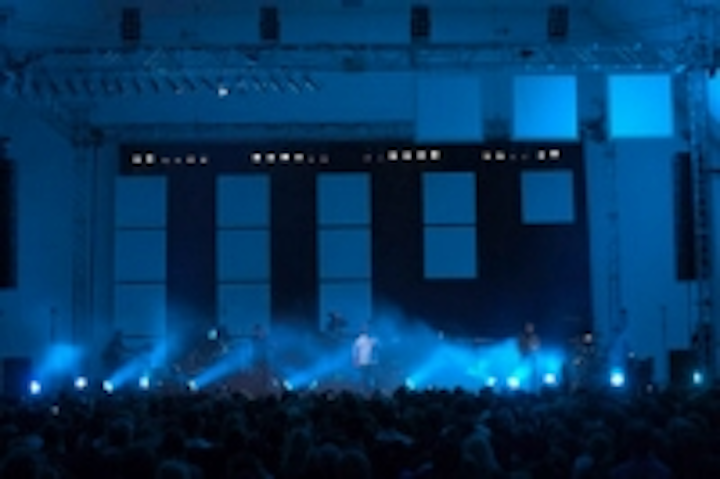 Date Announced: 27 Apr 2011
Leading German lighting designer Gunther Hecker used 22 Robe LEDWash 600s as his key fixtures for the just finished Die Söhne Mannheims European tour, an opportunity seized by the band to preview material for their forthcoming new album to be released in the autumn.
Söhne Mannheims is a popular German music band with massive energy and dynamics, featuring up to 17 members (with 13 on this tour) encompassing several musical genres including rap, R 'n' B, soul, hip hop and rock all fused into a unique and very distinctive style, achieving considerable commercial and critical acclaim. It is also one of the many ongoing projects of Xavier Naidoo, one of Germany's highest profile and most prolific singer/songwriter/musicians.
Hecker's lighting design studio is based in Werne. He started his lighting career in the theatre 20 years ago, and now works on a host of cutting-edge live events, TV shows and bands - also including LD'ing the Die Fantastischen Vier and Tokio Hotel. He has designed several impressive architectural and buildings installations, and enjoys the variety of work and the opportunity of crossing-over his substantial lighting and visual skills between all these different disciplines.
He has worked with Söhne Mannheims since 1999, during which time they have grown and developed into the phenomenon they are today. He has been a Robe fan since first using the 2500 series soon after its launch in 2006.
Robe's Stage Banner was also his original idea ... Developed initially as a custom product for a show he created for German pop singer Nena ... After which Robe thought it was such a great idea that they decided to make it a production item!
Hecker had been wanting to try out the new Robe ROBIN LEDWash 600 since its launch at the end of 2010, and when the itinerary for this Söhne Mannheims tour was revealed .... It presented the perfect opportunity!
The gigs varied from 200 to 6,500 capacities, and so for the smaller clubs and venues, he wanted a small, bright low power solution ..... for which LEDWash 600 ticked all the boxes!
He needed his rig to be very flexible, and that's also why he chose LEDWash as the main fixture. They were all floor based for ultimate versatility and adaptability. This enabled at least some of his key fixtures to be fitted into whatever space was available onstage!
For the full size stage format, all 22 of the LEDWashes were located along the back just forward of the backline, around the sides and across the front of stage. Where there was the space, an expedient overhead rig - 6 bars of 6 PARs - and the PA was flown from a 6-legged ground support system.
Other than the LEDWashes and the PARs he used 4 x 8-lite Moles, an 2 Atomic strobes.....and that was it!
The set was equally minimal - 21 panels (in full size configuration) of white canvas squares flown off the back and front trusses to add some architectural definition and depth to the stage.
So, it really was all down to the LEDWash 600s to bring the set alive visually.
With 13 people onstage to light and a two and a half hour set, it was a bold move to rely on 22 moving lights, but Hecker's experience and the huge functionality of the LEDWashes made him confident that it was the right decision.
Matching the hard driving action and massive energy of the band, a lot of the lighting looks were straightforward single and duo colour mixes - where the richness, intensity and pureness of the LEDWash palette really had impact.
With the LEDWashes located on the floor, it enabled a myriad of moody shadows to be projected onto the back wall and the upstage canvas squares and for the front line band to be crisply silhouetted, all adding to the excitement of the performance.
"It's a very good, highly cost effective product with excellent colour mixing and a great quality of light," states Hecker.
He also used a lot of white light. Several songs were lit solely in different colour temperature whites - emphasizing the seriously raw, edgy harshness of the music - and an effect that can only have been achieved so easily using the LEDWash 600 with its range of "real" whites from 2700 - 8000°K.
All lighting equipment for the Söhne Mannheims tour was supplied out of Satis & Fy's Werne office, including the Road Hog console that Hecker used to run the show. He worked alongside his two crew - Hanna List and Ralph Hackstedt.
Die Söhne Mannheims will be embarking on a full German arena tour in November following the release of the new album. Hecker already has an elaborate set design planned which will involve lots more LEDWashes …… and other Robe fixtures.
Contact
For more press info. on Robe Lighting, please contact Louise Stickland on +44 (0)1865 202679/+44 (0)7831 329888 or Email 'louise@loosplat.com'. For more product and general info, check www.robe.cz or call + 420 571 751 510.
E-mail:louise@loosplat.com
Web Site:www.robe.cz