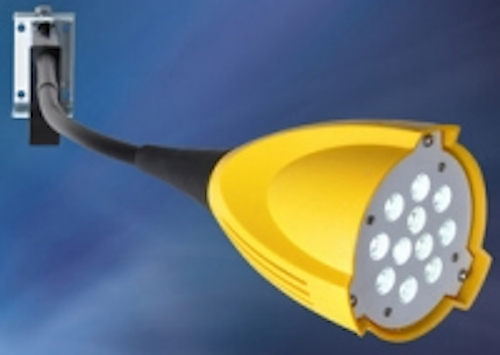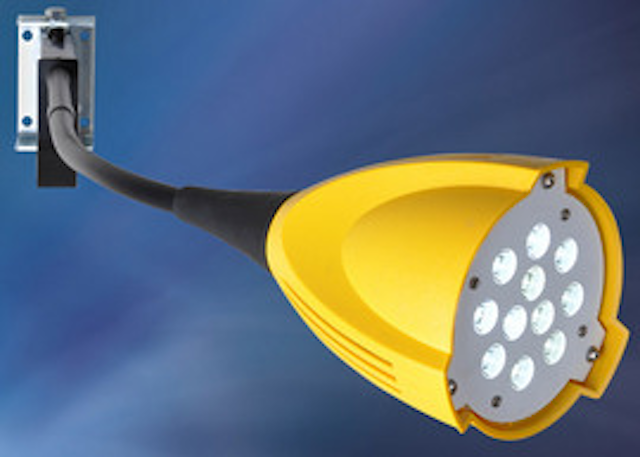 Date Announced: 26 Apr 2011
Milwaukee, WI USA – Phoenix Products Company, Inc. is excited to announce the release of the new Phoenix FLEX LED docklite®. The Phoenix FLEX LED docklite® provides light comparable to an incandescent dock light with a 150W PAR38 lamp. The FLEX LED is designed for the general illumination of a truck trailer. With a minimalist construction and sleek profile, the Phoenix FLEX LED exudes style in an often otherwise utilitarian environment. Using light emitting diodes (LEDs) with an average rated life of 50,000 hours and a 12º beam angle, this fixture is energy efficient and relatively maintenance free. Operating on only 16W, the LED head offers an 84% energy savings over an incandescent dock light with a 150W lamp.
Designed to be mounted next to overhead doors on loading docks, its size minimizes the potential for unintended impact with overhead doors or fork trucks. In the event of impact, the flexible arm and hinged bracket allow the fixture to easily swing out of the way. With no filament to break, the solid state light source readily withstands impact.
Vented to maintain the longevity of the LEDs, the FLEX LED housing is made from a high-temperature polymer and is designed to resist denting, deflection and wear. All hardware and mounting bracket are made from zinc-plated steel to resist corrosion. The fixture is also designed to fit any standard electrical outlet with a 3-prong plug.
Phoenix Products Company, Inc. invented dock lighting in 1961. Since then, Phoenix has developed one of the broadest lines of dock lights and has emerged as the industry leader. The line offers extreme durability, with corrosion-resistant construction. In addition to the traditional dock lighting, Phoenix offers a wide variety of lamp choices, mounting methods, accessories, and special application dock lights. For more information on Phoenix Products Company, visit
www.phoenixproducts.com
.
Contact
Liz Goltz Product Manager Phoenix Products Company, Inc. 8711 W. Port Avenue Milwaukee, WI 53224 USA Telephone 414-973-3351 FAX 414-973-3251
E-mail:egoltz@phoenixproducts.com
Web Site:www.phoenixproducts.com