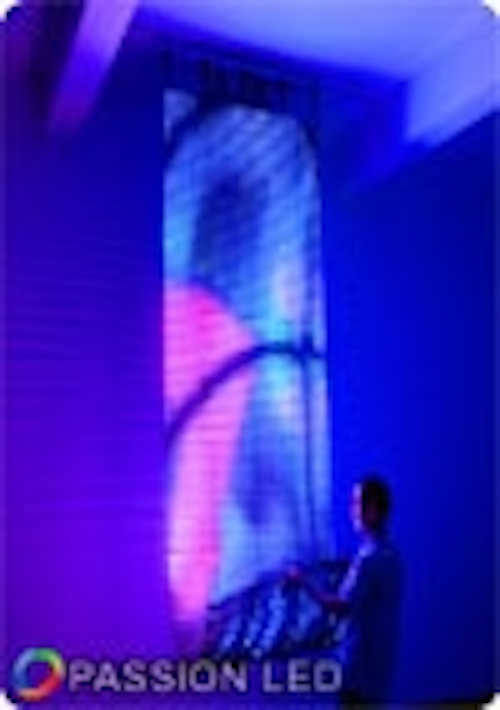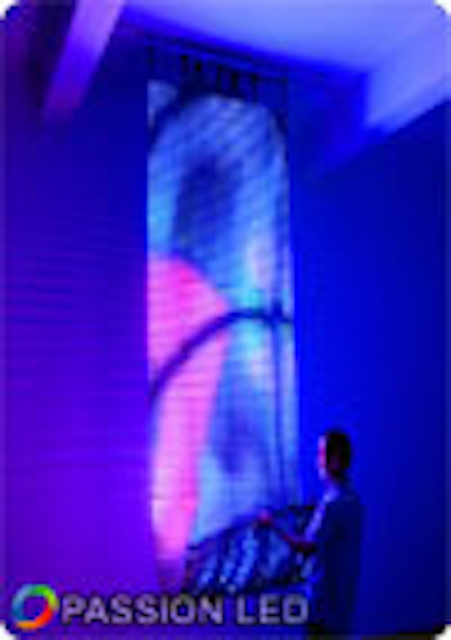 Date Announced: 16 Apr 2011
LED display is used in many areas since it came to the market. But most of them are clumsy and complicated to install. Thus, they can not meet requirements in some applications. Passion LED Lighting puts a lot of efforts and time to research, test and improve. Now PASSION presents the creative design of flexible display to market.
The novelest super thin, super light, flexible LED screen with high resolution,PASSION soft LED screen - LEDDER™ is ultra-lightweight, semi-transparent, rollable, LED video display suitable for both indoor and outdoor applications. It's specially designed for both backdrop applications and creative LED designs.
Flexibility:
Soft LEDDER's ultra-slim, flexible mesh construction offers the perfect combination of design flexibility and speed of deployment. The curve LEDDER™ only only can be formed into any shape or molded over any object, but also can equally be deployed as a flat LED video screen.
The flexible ultra-thin grid construction gives curtian-like flexibility.
Transparency:
With its 20mm pixel pitch, 45% transparency, 4,000 NIT light output and rugged IP65 rating, the flexible screen LEDDER™ is the ideal solution for applications with relatively long viewing distances.
Creative design:
Benefited from special design of structure, the visual curtain can be rolled out and rolled up at will, opening up abundant and creative design ideas for lighting designers. Meanwhile, The light-weight curtain is cost-effective, greatly reduce the budget even for massive backdrops, and the installation speed is rapid and phenomenal.
Quick:
Soft LED screen-LEDDER™ can be quickly rolled up for shipping and unroll for rapid deployment. Multiple rigging options adapt LED flexible curtain screen for permanent or temporary installations.
Popular:
In the market of entertainment display, there are quite a lot of requests from customers for 20mm pitch LED screen, because 20mm pitch offers high transparency, can creat fantastic stage effects by smoke, back lights passing through. This pitched equipment is very good for large screen and also can be used for dynamic video effect displaying systems. With this new model of semi-transparent LED display, we, Passion LED Lighting, are engraved again onto all the customers.
High refresh frequency:
The curved flexible curtain LEDDER™ adopts high quality LED and chip, the refresh frequency is super high as above 5000Hz, which ensures no flicker or black strip and no image distortion.
Light-weight:
The flexible LED curtain screen - LEDDER™ measures 32cm wide x 128cm high x 3cm deep and each panel weighs 4.54 kg. The LED flexible curtain panel is ultra-slim and ultra-lightweight, and increased design opportunities and lowered transportation costs
Passion soft flexible LED curtain screen - LEDDER™ is providing an innovative quality screen solution and dramatic and dynamic video effects.
Features:
Quick roll-out design– Funcitonal and stunning when quickly rolled out flat to create an even video display
Can bend, wrap, drape, and fold to conform to even the most unusual shape and size
Flexible strip construction - Enables ultra fast installation/breakdown with minimal manpower
4,000 NIT light output - Delivers bright, high-impact, full-color video images
Slim and ultra-lightweight - Increased design opportunities and lower transportation costs
High transparency factor - Layer video and lighting effects
Ultra lightweight curtain has flexible configuration and easy installation and maintenance.
rain proof design and quality.
Durable and lightweight
Ideal for:
Product launchesFashion showsTrade showsTheme parksMedia FacadesMusic concertsFlying screenDance cafe visual stageBe available to be combination between back ground and screen
Contact
A D D: No. 2 industrial park, Xiaobian,Changan,Dongguan city, China T E L :+86 769-82386680 (10 lines) F A X :+86 769-82386681
E-mail:sales@passion-ledlighting.com
Web Site:www.passion-ledlighting.com