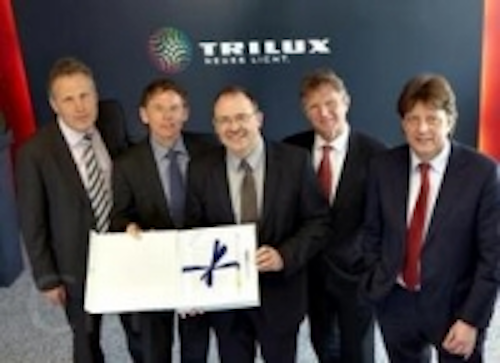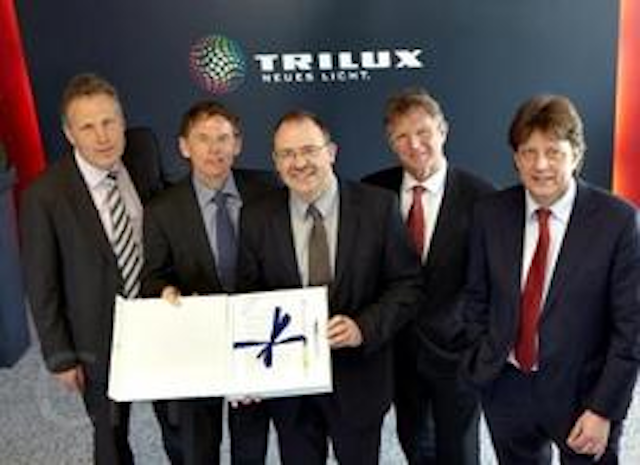 Date Announced: 21 Apr 2011
Eindhoven, The Netherlands – Philips (NYSE:PHG, AEX: PHI) and Trilux GmbH announced today that they have entered into a license agreement allowing Trilux to access Philips' patent portfolio as made available in the Philips LED Luminaire licensing program.
"We are very pleased that Trilux has joined our licensing program. Philips believes that sharing its LED lighting solutions through licensing will accelerate the adoption of LED lighting and foster the growth of the LED industry", said Arian Duijvestijn, General Manager Lighting at Philips Intellectual Property & Standards.
"As a top European luminaire supplier in the general illumination field, Trilux is very pleased to have found a renowned partner in Philips for constantly developing the LED technology. We believe this agreement will enable us to further strengthen our offering of advanced LED lighting solutions to our customers", said Dietmar Zembrot, Managing Director at Trilux.
This license agreement with Trilux follows earlier agreements between Philips and other key lighting players like Zumtobel, Osram and Siteco. Philips' licensing program includes many LED luminaire-related inventions of Philips. Philips aims to speed up market adoption and growth by making available its market-leading patented technologies to third parties. Additional information is available at
www.ip.philips.com/licensing/ssl
.
About Royal Philips Electronics
Royal Philips Electronics of the Netherlands (NYSE: PHG, AEX: PHI) is a diversified health and well-being company, focused on improving people's lives through timely innovations. As a world leader in healthcare, lifestyle and lighting, Philips integrates technologies and design into people-centric solutions, based on fundamental customer insights and the brand promise of "sense and simplicity." Headquartered in the Netherlands, Philips employs about 117,000 employees with sales and services in more than 100 countries worldwide. With sales of EUR 22.3 billion in 2010, the company is a market leader in cardiac care, acute care and home healthcare, energy efficient lighting solutions and new lighting applications, as well as lifestyle products for personal well-being and pleasure with strong leadership positions in male shaving and grooming, portable entertainment and oral healthcare. News from Philips is located at
www.philips.com/newscenter
.
Contact
Björn Teuwsen Philips Intellectual Property & Standards Tel. +31 40 27 40588
E-mail:bjorn.teuwsen@philips.com