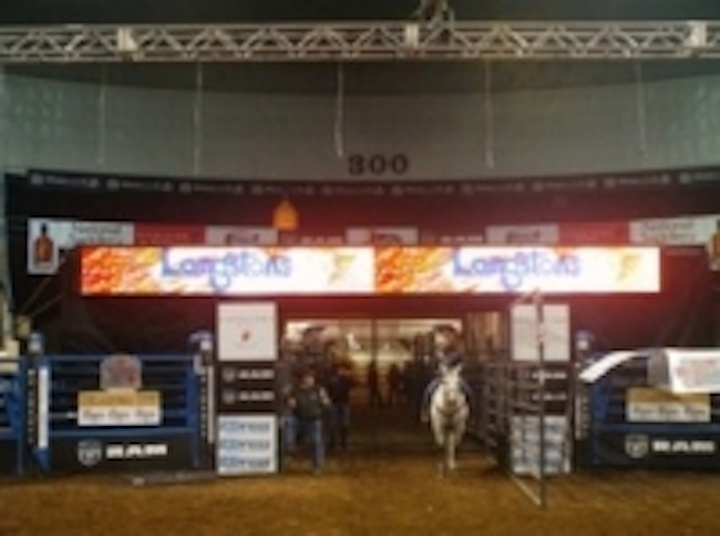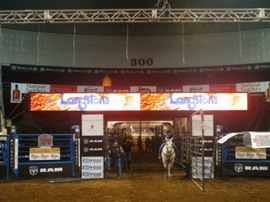 Date Announced: 19 Apr 2011
Purchase, NY - ANC Sports Enterprises partnered with the Oklahoma State Fair Arena to feature full motion light emitting diode (LED) signage on top of the "bucking" and "roping" chutes from March 31st through April 3rd during the Dodge National Circuit Finals Rodeo (DNCFR).
ANC installed, operated and created content for the company's Diamond Vision® LED Event Perimeter Signage for the DNCFR, a Professional Rodeo Cowboys Association event. Measuring approximately 36 feet long by 3 feet high, the signage was broadcast on Great American Country (GAC) on Sunday, April 17th and will re-air Sunday, May 1st at 9:30 p.m. and Monday, May 2nd at 1:30 a.m. (all times eastern).
"Utilizing ANC Sports' state-of-the-art technology generates new revenue opportunities, while enhancing the benefits for our current partners," said Bob Funk Jr., chief executive officer of Prodigal LLC, one of the DNCFR's producers. "The digital signage provides greater flexibility to deliver brand messages to rodeo fans around the chutes, which is the most visible piece of marketing inventory in the sport."
The roping chute is a term used to describe a three-sided fenced area at one end of a rodeo arena where calves and steers are loaded for the steer wrestling, tie-down and team roping events. The bucking chute is the stock pens in a rodeo arena where the wild horses and bulls are placed and mounted. Both chute areas are featured extensively prior to and immediately when the gates are opened, while appearing in the background during the action in the rodeo rink.
"We are excited to partner with the Dodge National Circuit Finals Rodeo to introduce this new advertising platform to rodeo events," said Greg Terlizzi, manager of sales services at ANC Sports Enterprises. "Our technology will enhance the event experience for fans with full motion animations right next to the live action, while also providing corporate partners with new activation opportunities."
Driven by ANC Sports' patent-pending VisionSOFT™ operating system, the signage above the chutes presented corporate partners with new creative opportunities, such as congratulating winners, messaging connected directly to the action surrounding the gates opening, among an unlimited amount of promotions. In addition, the signage is capable of synchronizing to feature one dynamic full motion visual which can provide moments of exclusivity or segmenting into individual images for various sponsors.
The partnership with the DNCFR is one of several new events to feature digital signage designed specifically for both television and in-venue viewing. Over the past four months, ANC has also introduced event side LED signage systems to professional tennis in the United States and ice skating performances. Additional events which feature ANC's LED Perimeter Signage System include the ESPN X Games, Dew Tour, United Football League, and Major League Soccer.
About ANC Sports
ANC Sports Enterprises, LLC, is the industry leader in team and venue services, providing integrated signage, design, and marketing solutions for sports and commercial facilities. ANC Sports and its divisions: ANC Technologies, ANC Design, and ANC Marketing, offer Light Emitting Diode (LED), rotational and fixed visual displays; advanced media control systems; signage operation and maintenance; advertising sales and marketing consultation; graphic design; and printing production. ANC Sports provides signage solutions for 200 plus venues/stadiums in North America. For more information on ANC Sports, please visit its web site at
www.ancsports.com
.
Contact
ANC Sports Enterprises Michael Hopkins 914-696-2100 ext. 139
E-mail:mhopkins@ancsports.com
Web Site:www.ancsports.com