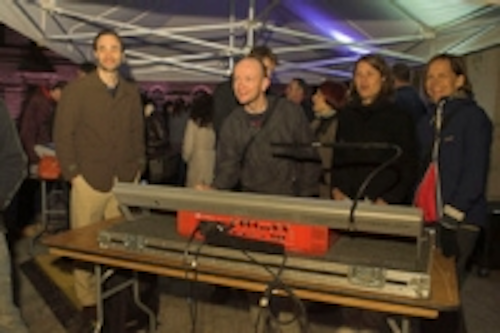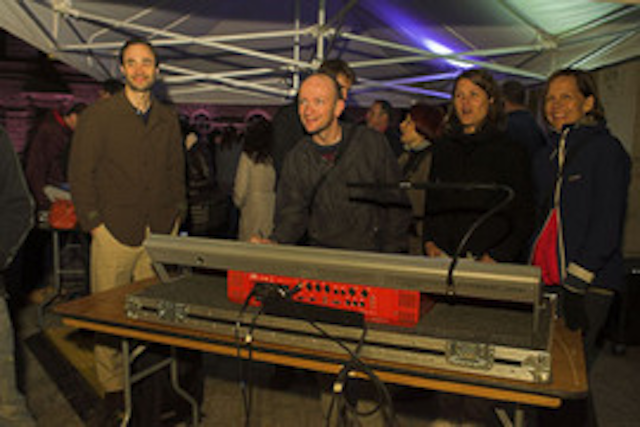 Date Announced: 06 Apr 2011
A.C. Special Projects Ltd hosted a very successful "Control of Colour Changing LEDs" Lighting Workshop at Somerset House in London in conjunction with the Professional Lighting Designers' Association (PLDA).
PLDA UK co-ordinator Sarah Adams approached ACSP's managing director Peter Keiderling to ask if the company would be willing to stage a Workshop for its members. After consulting PLDA member and former president, Paul Traynor of Light Bureau, who suggested that control would be a topic of much interest to the members, this set the theme for what turned out to be a somewhat cold but enjoyable evening at Somerset House.
Peter contacted Somerset House director Gwyn Miles and lighting designer Patrick Woodroffe - who the company had worked with on providing the architectural lighting scheme for the venue's Edmond J Safra Fountain Court - to request permission to use the installation for the event. Prior to this, ACSP had also collaborated with Gwyn and Patrick on lighting the grand architecture of the John Madejski Garden at the Victoria and Albert Museum.
Normally running in a stylish classic warm white on three of the impressive neoclassical building facades, the idea was to illustrate the different control options for the scheme, and show how the application of colour can transform the look and feel of an environment.
The Somerset House lighting scheme comprises of over 150 Anolis LED fixtures and Patrick's use of RGBA lightsources with their potential for colour mixing, brings a theatrical dimension if required, for the various public, corporate and themed events for which the space is utilised all year round. He also wanted the completed scheme to be programmed on a full size lighting console and then transferred to a compact PC system for playback and day-to-day running. For this task, a Jands Vista T4 console and Vista PC controller were chosen.
Using the very same Jands Vista control platform, attendees were able to take control of the venue's architectural lighting scheme - which was supplied, installed and programmed by A.C. Special Projects in 2009.
Says Peter Keiderling, "It was a great opportunity for all the LDs present to gain an insight into the potential creativity and flexibility offered by lighting control solutions such as the Jands Vista for architectural schemes."
A.C.'s technical product manager, Neil Vann, set up three Vista consoles for the PLDA Workshop, each of which was controlling lighting fixtures on a different facade of the Fountain Court.
The Workshop started with a brief overview and 'walk-through' of the console's core features and functions by Neil, after which the designers were split into three groups. Each was given a series of tasks involving changing the colours and creating different looks for the building. "We wanted to make it fun, informative, interactive and a proper practical exercise" explains Neil.
He adds that it was the first time the majority of attendees had ever directly used this type of console, "Even I was impressed that all of the exercises proved how straightforward and intuitive the Jands Vista platform is to set up and programme on a first time basis! By the end of the evening, the majority of designers were really comfortable with the basics of the consoles and how to create, programme and edit cues."
Architectural lighting designers will produce an aesthetic concept and often specify the fixtures to be used for a scheme, however the control and programming elements of a project are frequently undertaken by other practitioners. This Workshop was an ideal opportunity for them to experience the flexibility and power of using a live console for 'direct access' to fixtures, and see absolutely first-hand how control and using specific lightsources can add long term flexibility to any lighting scheme.
Places on the Workshop were initially limited to 18 to ensure that everyone received the best attention when learning the Vista consoles, however such was the buzz about the event that some extras were also welcomed and accommodated.
Says Ela Keen from The Light Bureau, "It was great to be able to learn how the large consoles work and see the effects immediately right there on the building."
Rachel Nichols, studying an MSc in Light & Lighting at UCL comments, "It was an excellent opportunity to get hands-on with the control of such a large scale scheme."
Alistair Scott, from Designs For Lighting and president of the Institute of Lighting Professionals enthused, "It was a really valuable experience all round. Every lighting designer should have a rig like this to experiment with!"
For Victor Garcia of SMA, the Workshop was "Very interesting. Being hands-on with the kit and seeing the effect of controlling and changing the lights immediately was brilliant."
Vicky Malakasi of Arup Lighting said, "It was great to play with the lights. It's amazing how many ideas you can get when actually seeing some colours together in situ for the first time, combinations that you might never have imagined! It's also good to see close up the effects of different colours in a real context like illuminating a building."
Paul Traynor of The Light Bureau (and past president of the PLDA) elucidated, "Control is sometimes considered a 'dark art,' and we will collaborate with control specialists in our work, but being able to actually do it for ourselves in this sort of an environment, then you realise what a powerful - and ultimately accessible - creative tool it really is."
The rights and ownership of all trademarks are recognised.
The information contained herein is correct at the time of printing, however as we are constantly refining our product range we reserve the right to change the specification without notice. E&OE.
_________________________________________________________________________________
Editor's Note
A.C. Special Projects Ltd. is part of the worldwide "A.C. Group" of companies, which has its origins in the early 1970's.
The Group also includes A.C. Entertainment Technologies Ltd. (UK headquarters & International sales), A.C. Lighting Inc. (North American sales) and A.C. Lighting Asia KK (Asian sales).
A.C. Special Projects Ltd. provide supply and installation services for specialist lighting, audio and AV projects, from the initial design and build concept through to a finished system. The company has extensive knowledge and experience, as well as access to A.C. Entertainment Technologies' vast stockholding of leading brands. As a result, it is superbly suited to act as a supplier of all equipment and manage delivery according to your schedule.
UK-based A.C. Entertainment Technologies Ltd. is a leading one stop provider of professional equipment and related services to the entertainment industry. Operating from modern facilities located in High Wycombe and Leeds, the company supplies dealers, distributors and end users in over 80 countries worldwide. A.C. Entertainment Technologies Ltd. has a multi-million pound stock holding covering a vast range of products, accessories and consumables all available for same-day dispatch, and access to over 200 leading industry brands. Dedicated Lighting, Audio, Rigging and Video sales divisions mean customers can now enjoy all the benefits of purchasing their equipment from just one supplier, whilst still receiving the added service level that comes from dealing with specialist sales teams.
Contact
For more press information on A.C. Entertainment Technologies, please contact Louise Stickland on +44 7831 329888 or +44 1865 202679 or EMail ; louise@loosplat.com. For more information about A.C. Special Projects Ltd., please contact: A.C. Special Projects Ltd. +44 (0)1494 838392 info@acspecialprojects.com www.acspecialprojects.com
E-mail:louise@loosplat.com
Web Site:www.acspecialprojects.com