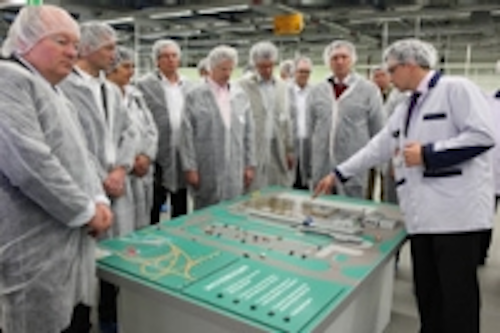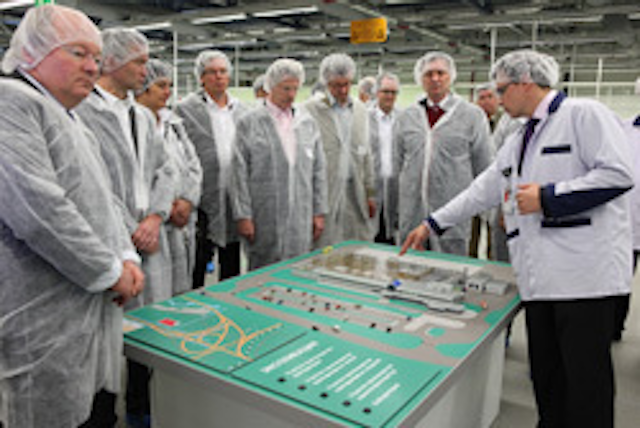 Date Announced: 19 Apr 2011
St. Petersburg, Russia -- Representatives of politics and business visited on Friday Optogan´s plant in St. Petersburg.
The delegation of the Bavarian Ministry of Economic Affairs with focus on sustainable power generation and supply, was also attended by the Bavarian Prime Minister Horst Seehofer and his Deputy Minister of State Martin Zeil. The aim of the delegation was the expansion and intensification of the existing economic ties between Bavaria and Russia. Russia is the largest and most important trading partner for Bavaria in Eastern Europe. This year Bavaria is partner country in the so called "German Week" in St. Petersburg.
One of the program points of the delegation was a factory tour of the LED lighting manufacturer Optogan in St. Petersburg.
During the tour, the founders of the Optogan group described the recent developments in the field of LED lighting and reported on their development aims for the Russian and global market.
A convincing bilateral business strategy: " Optogan is a prime example of a Bavarian-Russian high tech company. The manufacturing plants in Landshut, Bavaria and St. Petersburg, Russia, are through Optogan's presence, economically and technologically connected. " stated Dr. Hans Schleicher, Permanent Secretary of the Bavarian Ministry of Economic Affairs, Infrastructure, Transport and Technology.
The Optogan Group has office locations, among others, in Landshut and St. Petersburg. The plant in Landshut produces high performance LED chips, conducts and directs the international business. St. Petersburg is responsible for the LED housing and packaging along with the end assembly of luminants and luminaires.
"Our offices complement each other perfectly. Due to a Russian modernisation offensive, the primary energy consumption should be reduced by 40 percent by the end of 2020. With the introduction of LED technology Optogan is able to make a decisive contribution, " said Hans Peter Ehweiner, CEO of Optogan GmbH
About Optogan Group:
The Optogan Group is one of the technology leaders in the manufacturing of light-emitting diodes (LEDs). With proven innovative and cost-efficient solutions in the fields of high brightness chips, LED components, LED lamps and LED luminaires the company focuses on the needs of its customers. Optogan was founded in 2004 by three Russian scientists and entrepreneurs in Helsinki (Finland). Since 2005 Optogan GmbH has been developing chip technologies in Dortmund (Germany) and chip production in Landshut (Germany) and is currently ramping up its new production facility in St. Petersburg (Russia). The Optogan Group has sites at Landshut (Germany), Dortmund (Germany), Helsinki (Finland) and St. Petersburg (Russia).
Contact
Optogan GmbH Judith Gebhart de Ginsberg Jenaer Strasse 1 84034 Landshut Phone +49 871 684 808 Fax +49 871 684 892
E-mail:press@optogan.com
Web Site:www.optogan.com