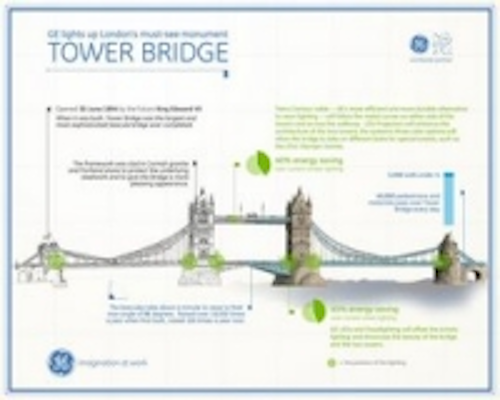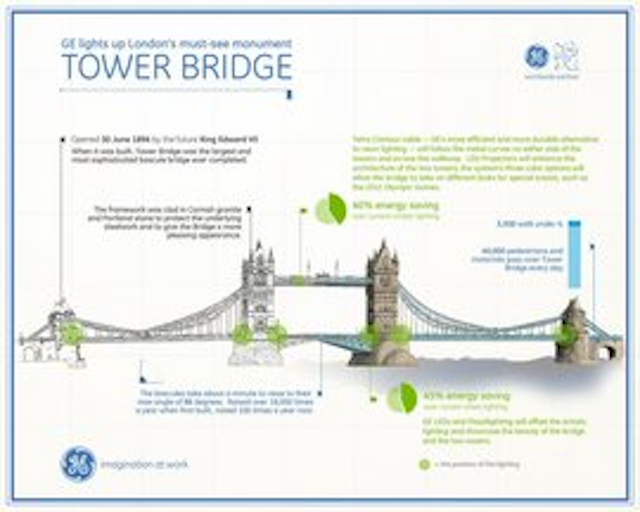 Date Announced: 26 Apr 2011
GE has joined forces with EDF, City Hall and the City of London Corporation, to install a state-of-the-art energy efficient lighting system on Tower Bridge. As well as reducing the bridge's carbon footprint and energy costs, the initiative would significantly enhance this global icon's architectural features at night.
Tower Bridge is one of the world's most instantly recognisable landmarks and has recently undergone a major refurbishment of re-painting and stone cleaning. A funding deal has now been brokered by the Mayor, Boris Johnson, between the bridge owners City of London Corporation, GE and EDF to upgrade the famous structure's 25-year old lighting system.
If given planning permission, the lighting design will feature GE's LEDs and a new cabling system to significantly enhance the listed building's striking features - such as its gothic turrets, central aerial walkway and suspension chains - in colours sensitive to its listed status. The lighting system would be flexible allowing for both varying colours and intensity of light, enabling Tower Bridge to respond to special events in a unique and spectacular manner.
Currently Tower Bridge has traditional, static flood-lighting which can flatten the architecture. The use of energy efficient LED technology will reduce the energy consumption of the existing lighting system by an estimated average of 40%.
The project must now undergo planning permissions but if successful would result in the work starting by September 2011 to be completed by spring 2012 in time for the Diamond Jubilee and the Olympic and Paralympic Games. Commercial agreements have now been signed between all relevant parties and a detailed planning application is being drawn up.
Mark Elborne, President and CEO of GE in the UK said: "The spotlight is going to be firmly on London in 2012 so it is the perfect time to be able to highlight one of London's most iconic global landmarks. We are very proud that our LED technology will be used to enhance Tower Bridge, helping to create a sustainable and flexible legacy."
The Mayor of London, Boris Johnson, said: "I want London to look her very best in 2012 as the eyes of the world are upon us. Tower Bridge is one this city's most stunning landmarks recognised the world over and therefore deserving of a star role in these year-long celebrations. I am thrilled to have brokered this deal – at no cost to the taxpayer - to bathe Tower Bridge in eco-friendly light to create a fresh perspective of this wonderful icon. This is another great legacy for London stretching for decades beyond the Olympic year."
In the first step of this exciting project, global lighting experts Citelum has been appointed to design and subject to planning approvals, begin installation works. Citelum has a worldwide reputation for ambitious lighting projects on historic buildings including the Valley of the Kings in Egypt, Petronas Tower in Kuala Lumpur and the Eiffel Tower.
Stuart Fraser, chairman of the Policy and Resources Committee of the City of London, said: "The founders of the ancient Bridge House Estates charity that pays for the five City bridges would be amazed to see how the world has changed since 1097. But I am sure they would want London to be as smart as possible for next year and this partnership achieves that at no cost to taxpayers, a fact that will surely double everyone's pleasure at Tower Bridge's elegant new look."
EDF Energy, the UK subsidiary of EDF and a leading electricity supplier in London, will also become the lighting electricity supplier for Tower Bridge and will match every unit of electricity that it supplies to Tower Bridge with power generated from low carbon sources.
Vincent de Rivaz, Chief Executive at EDF Energy, the UK subsidiary of EDF Group, said: "Following our partnership with the London Eye, EDF is delighted to be involved in this exciting project to help reduce the carbon footprint of another iconic London landmark ahead of the Games. As the first sustainability partner of London 2012, EDF is making real its low carbon vision for the capital. We hope that the new energy efficient lighting will make Tower Bridge a shining symbol of sustainability, encouraging visitors and residents to think about how they can live a lower carbon lifestyle."
About GE in the UK
GE has been operating in the UK since the 1930s. Today our 18,000 employees serve the energy, oil & gas, healthcare, aerospace, financial and media industries. We have a strong and continuing commitment to the UK economy, having invested £13bn in our British businesses since 2001. Our 2009 UK revenues were £4bn. From our 60 major locations, including 25 world-class manufacturing and R&D facilities, we deliver high-tech innovative solutions to the global marketplace. Our locations include London, Aberdeen, Amersham, Cardiff, Cheltenham, Leicester, Nailsea and Southampton.
Contact
Sara Cruz APCO Worldwide +44 20 7526 3657
E-mail:scruz@apcoworldwide.com