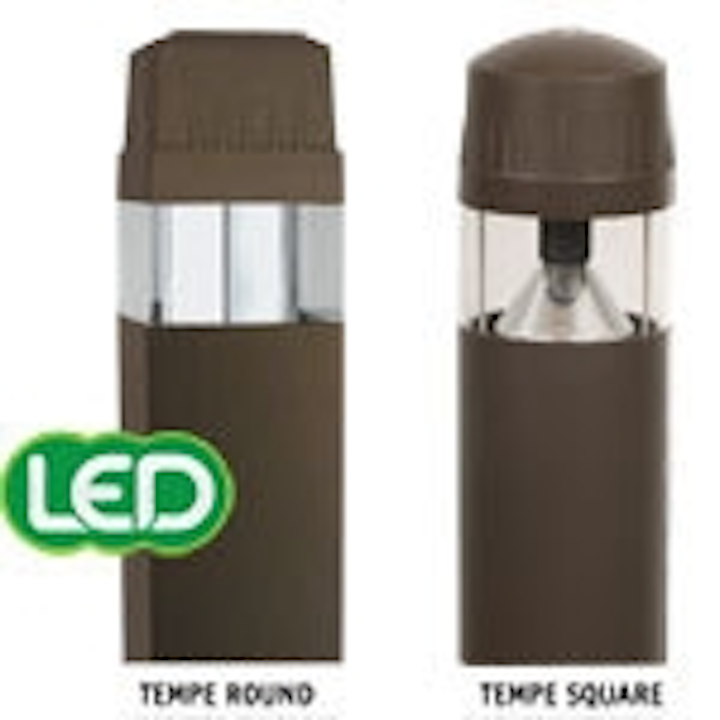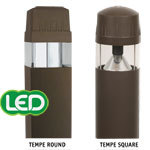 Date Announced: 26 Jul 2011
Greenville, SC – Spaulding Lighting, a Hubbell Lighting Inc. brand, is proud to announce that two of their popular bollard series, Fresno and Tempe, are now available with LED Lamp technology. Both bollard series feature a rotatable LED assembly that allows for easy adjustment to deliver both symmetric and asymmetric distributions. At 40 watts of power, the energy-saving solid state lighting system delivers a superior walkway, courtyard or low level pedestrian lighting solution vs. a typical 100w PSMH bollard.
The stylish Tempe bollard features distinct cast aluminum ribbed design tops complementing the Spaulding Laramie flood, Laredo wallpack, Medallion and Cimarron Area Lighters aesthetics, while the Fresno features a classic round and square look. Both series are constructed to withstand the elements with extruded aluminum housings and include tamper resistant hardware and a single screw access for relamping.
As a leader in the commercial outdoor market, Spaulding continues to expand its presence with innovative outdoor solutions. In addition to the LED expansion of the Fresno and Tempe bollard series, Spaulding has also developed a versatile LED Retrofit Kit to upgrade existing Fresno, Tempe or Modesto bollards.
RETROFIT KIT ALSO AVAILABLE.
Designed for a quick and easy installation process, customers can retrofit existing HID or CFL systems in 10 minutes or less. This kit enables customers for both retrofit and expansion projects to benefit from the energy-savings and low maintenance of LED lamp technology.
FRESNO and TEMPE LED BOLLARD Key Features:
• Features 12 or 24 high brightness, energy-efficient LEDs
• 31w and 62w energy-efficient LED systems
• Long life 50,000 hr rated LEDs
• Available in two different color correlated temperatures (3500K and 5100K)
• Available in round or square decorative tops in two different series styles
• Extruded aluminum square or round housing, with tamper resistant hardware.
• Sealed one-piece, clear acrylic lens
• Specular, anodized aluminum optical systems
• Optional continuous dimming to 10% (0-10V)
• UL , CSA, Wet location listed
For additional information on the Fresno and Tempe LED Bollards and the Retrofit Kit, visit www.spauldinglighting.com.
About Hubbell Lighting:
From its inception in 1963, Hubbell Lighting established its position in the lighting industry by producing outdoor lighting of the highest quality. Through an in-depth knowledge of the electrical distributor and contractor markets, Hubbell Lighting has been consistently able to combine innovative technology with practical lighting brand solutions and service oriented performance. Hubbell Lighting provides a full range of indoor and outdoor lighting products for commercial, industrial, institutional, sports lighting, landscape and residential markets, including green initiatives for vacancy sensors and daylight harvesting controls.
Contact
Spaulding Lighting
E-mail:cindy@cfwevents.com
Web Site:www.spauldinglighting.com