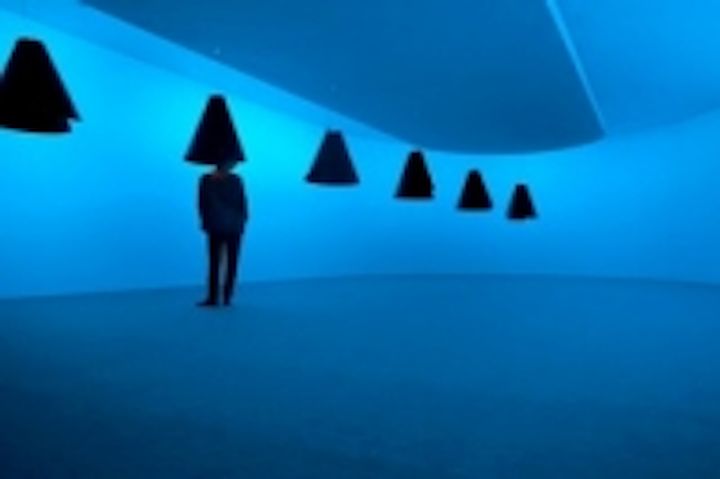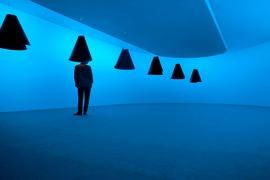 Date Announced: 11 Jul 2011
Creating a celebration of light, lighting designer Paul Cocksedge used 80 ETC Selador® Classic Ice™ LED fixtures in an exhibition space as part of the Salone del Mobile home furnishing exhibition in Milan, Italy.
The project involved projecting light from the blue part of the color spectrum from concealed Selador fixtures onto an 82-foot-long, curved white wall extension of a lighting showroom in the heart of Milan's design district. When visitors viewed the wall through a red light shade, a previously hidden video of a car appeared to the viewer.
Cocksedge says: "I was very ambitious about what I was proposing; we were really pushing the boundaries of what is achievable. I wanted a lot of light and a very certain, precise light. Only the Selador Ice unit gave that precision: Other manufacturers gave what the eye perceived was the same, but when you look closely at it, wasn't exactly right. When I first came up with the idea to use light in this way, I was put in touch with Adam Bennette at ETC, who became our color consultant. I've known and worked with him for many years, and ETC is often one of my first points of contact for brainstorming ideas."
Adam Bennette, technical director at ETC, says: "The car is invisible until you view it from inside a shade. For this effect to work, we needed to have a very specific cyan blue. ETC Selador fixtures, with their x7 Color System, have three different shades of blue LEDs in them – cyan, blue and indigo – which can create very specific and pure shades with a very high degree of saturation, whereas many other manufacturers' fixtures make intermediate shades by mixing only green, blue and red."
The fixtures were supplied by rental company Volume in Milan for the exhibition booth. Some 300,000 people attended the show from 154 countries. The Salone was established in 1961 to promote Italian furniture and furnishing accessories on the export market and has since become a benchmark for the country's furniture sector.
For more information on ETC and its products, please visit www.etcconnect.com
For more information on Paul Cocksedge Studio, please visit www.paulcocksedgestudio.com
Contact
pressroom@etcconnect.com
E-mail:mail@etcconnect.com
Web Site:www.etcconnect.com