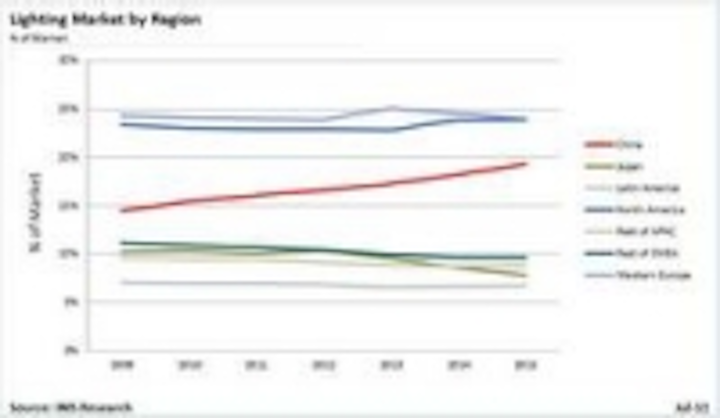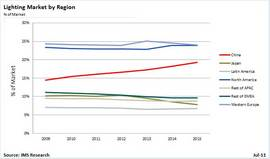 Date Announced: 20 Jul 2011
Austin, TX – The global lighting market is currently going through tremendous changes. Increased efficiency standards, a growing concern with energy efficiency and breakthroughs in the LED sector are all affecting a previously slow moving market that was extremely difficult for new entrants to penetrate.
According to the latest analysis from IMS Research, in 2010 the world lighting market was worth $83 billion, with lamps making up 24% of the total. By 2015, the value of the market will stand at $115 billion, with lamps making up 33%.
IMS Research Lighting Market Analyst, Philip Smallwood, states that "Growth is stemming from advancements in LEDs which are increasing their efficiency, while decreasing their overall price. Currently, LEDs make up 10% of the total lighting market ($US), but by 2015, this is expected to increase to 46%."
Much of the growth will occur in more developed regions of the world, such as North America and Western Europe, which comprise approximately 50% of the market ($US). As is usually the case, the big exception to the rule is China. In 2010, 14% of the lighting market belonged to China, by 2015 it is estimated that this will increase to 20%. Continued economic growth, a construction boom, concerns with increased electricity consumption and the increased purchasing power of the general public will all have an impact on the market in this region.
While the leading light suppliers have been dominant for decades, innovations in LED technologies have opened the door for emerging suppliers to fight for different niches within the lamp and luminaire markets. This is creating a race where early market entrants are expecting to see big gains.
For more information on the lamp and luminaire market, please visit http://ledmarketresearch.com.
About the current World Market for Lamps & Luminaires in General & Exterior Lighting Report
The report provides trends, detailed revenue, unit shipments and ASP analysis of 5 lamp and luminaire technologies (Incandescent, CFL, fluorescent, HID and LED) by region (North America, Latin America, Western Europe, Rest of EMEA, Japan, China, Rest of APAC). Analysis on the world installed base for lamps and luminaires, including a forecast through 2015, is broken down by region, technology and application (Hospitality, office, retail, healthcare, warehouse/storage, manufacturing/industrial, other, outdoor-street and residential).
For further information on this report please go to http://www.ledmarketresearch.com/product-details.php?pID=MTI=#top
About IMS Research
IMS Research is a leading independent supplier of market research and consultancy to the global electronics industry, offering syndicated market studies, custom research and consultancy services. Clients include most of the household names in the industry. IMS Research has offices in Europe, the US, China, Taiwan, South Korea, and Japan. To find out more, contact IMS Research: enquiries@imsresearch.com; T: +44 (0) 1933 402255; http://imsresearch.com
Contact
Philip Smallwood Lighting Market Analyst (512)302-1977
E-mail:Philip.smallwood@imsresearch.com
Web Site:www.imsresearch.com