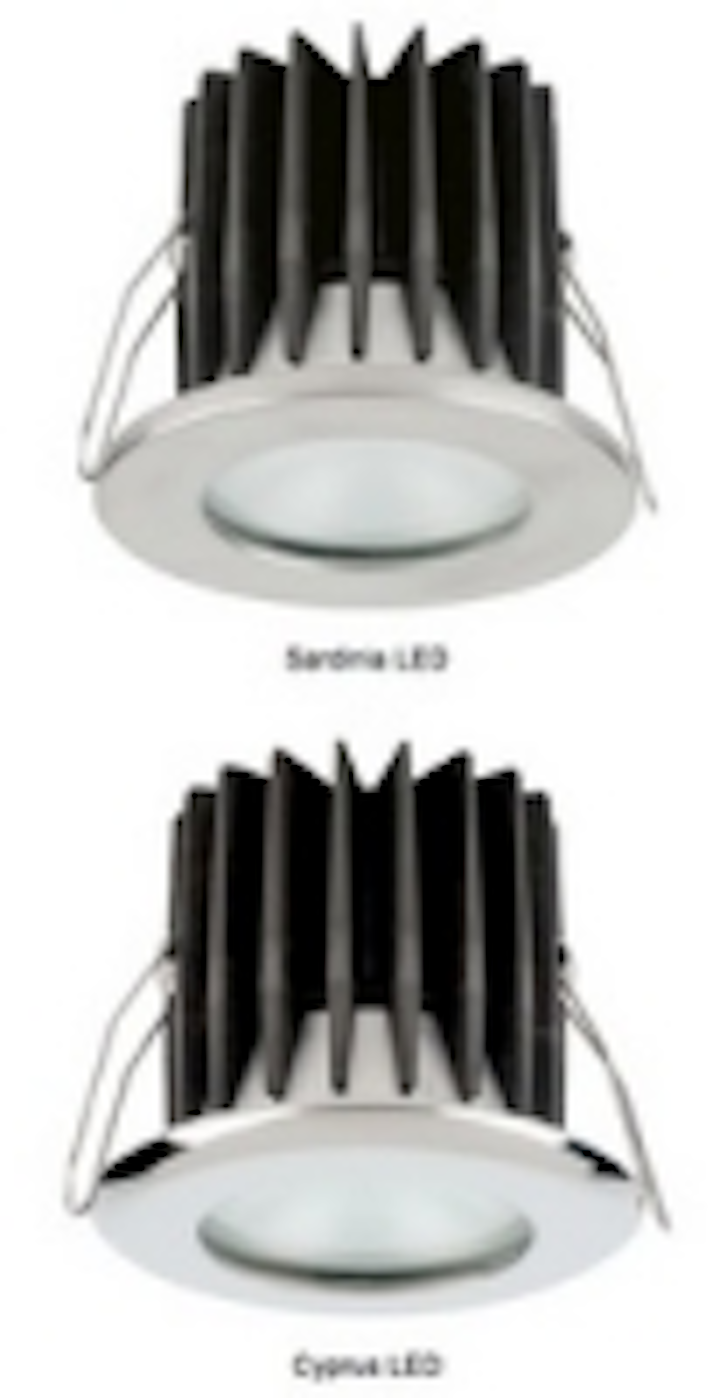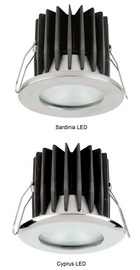 Date Announced: 26 Jul 2011
New Bedford, Mass. – IMTRA, a leading manufacturer of advanced LED Solutions, announced today the new Sardinia and Cyprus120V LED downlights. The energy saving flush-mount LED spots directly replace traditional power-hungry 120V-35W halogen spots, matching light output and color temperature with less than 1/3 of the power consumption and no radiated heat. Featuring integrated AC to DC current-regulated drive electronics that accept 120VAC line-voltage; the new IMTRA lights greatly simplify electrical hook-up, and eliminate the need for external drivers, step-down transformers or LED converters required by mainstream low-voltage LED and halogen products.
Consuming less than 11 Watts of power, the new IMTRA LED spot lights feature a 45-degree illumination angle that exceeds typical halogen reflector lamps used in traditional spots. Both fixtures' warm white, high brightness light output allow owners to capitalize on the power savings and safety benefits of LED technology without sacrificing the light color and output level they are accustomed to from traditional fixtures.
Perfectly suited for remodeling or new construction, at a low-profile 3-inch depth, the stylish Sardinia and Cyprus LEDs from IMTRA allow for easy installation in virtually any area and fit in recesses that are too shallow for typical 4-inch ceiling cans. Adding to their versatility, the IMTRA spots are equipped with an 18-inch Triplex power cable for direct hardwiring to the closest available junction box, and may either be screw-mounted or secured with spring traps for installation in almost any ceiling material including suspended panels, drywall, wood and plaster. These LED downlights are also rated IP65 dust and water ingress protected for installation in wet or dry areas such as bathrooms, showers, porch and patio overhangs, as well as sailing and motor vessels powered with AC voltage.
Compatible with common reverse-phase, trailing edge, ELV/SELV dimmers, the IMTRA 120VAC LED fixtures maintain their original color temperature and illumination throughout the entire dimming cycle. The Sardinia features a traditional raised square-edge bezel and the Cyprus has a low-profile tapered edge design. Bezels are constructed of AISI 316 stainless steel and available in polished, brushed or painted finishes. Maximizing the life of the LEDs, IMTRA's superior thermal management system includes an efficient heat sink design and a unique thermal compensation feature that powers down the unit in the event of high ambient heat conditions or overheating. Eliminating the emission of radiated heat, the LED spots help to keep temperatures comfortable and reduce the risk of fire associated with hot halogen bulbs. In addition, the LEDs' long-life and solid-state construction removes the cost and time associated with changing delicate bulbs.
"The energy efficient IMTRA Sardinia and Cyprus LED spots directly replace hot, power hungry 35W halogen lighting," said Kinder Woodcock, lighting product development manager, IMTRA. "Their shallow recess depth and installation versatility, using springs or screws, provide a convenient solution for challenging installations. These attributes make the Sardinia and Cyprus fixtures particularly attractive for domestic architectural lighting, retail display cases, museum exhibits and galleries, as well as general lighting for large yachts."
All IMTRA LED products combine proprietary drive electronics, advanced optics and efficient thermal management designs. The Sardinia and Cyprus LEDs' built-in electrical protection include spikes, transient and reverse polarity. Designed and manufactured in the United States, the LED downlights have a 50,000-hour illumination life rating (L70) certification and are FCC, CE-EMC and ETL approved for UL1598, UL8750 and UL1149, and ROHS compliant. The lights are registered with the Department of Energy's Lighting Facts Label Program and may qualify for certain incentives through local utilities. The Sardinia and Cyprus LED downlights are protected by a 5-year warranty on the electronics, and a 1-year warranty on the parts and finish.
Pricing and Availability:
The IMTRA Sardinia and Cyprus LED downlights have a suggested retail price of US $209.00, and are available at lighting retailers throughout the United States and Canada, as well as from the company's website. For more information on these fixtures, IMTRA's complete line of LED and PowerLED lights, IMTRA or its entire product line, please contact 508-995-7000 or visit www.imtra.com.
Contact
Andrew Golden Rushton Gregory Communications 617-413-6521
E-mail:agolden@rushtongregory.com
Web Site:www.imtra.com