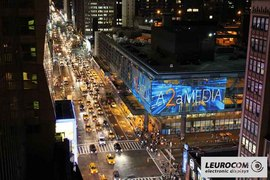 Date Announced: 25 Jul 2011
LEUROCOM® electronic displays GmbH provided highly-developped LED technology for the Mediamesh®, of the 61-year-old bus terminal´s facade. In cooperation with CreativeWEAVE, the architecture - and design-business range of "GKD – Gebr. Kufferath AG", the bus terminal has been transformed into a model of modern technology located in midtown Manhattan at the corner of 8th Avenue and 42nd Street.
The transparent Mediamesh®, a stainless steel mesh interwoven with rounded profiles with high-quality LEDs. 553m² display area containing 1.325 million LED diodes is installed on two sides of the building.
The transparent nature of the material, natural lighting and interior views will not be obstructed to occupants inside the building and provides proper ventilation .
The technology is more environmentally friendly than traditional digital signage, requires low maintenance, and is visible twenty-four hours a day.
Along with advertising, Mediamesh® will provide information during emergencies and periodecally promote charitable causes.
The Port Authority Bus Terminal is the largest bus station in the United State and busiest by volume in the world, with 7,200 buses arriving and more than 200,000 people passing through the terminal daily.
Contact
LEUROCOM electronic displays GmbH Jutta Konrad - Marketing Marie-Curie-Str. 10 D-71364 Winnenden-Hertmannsweiler Tel.: +49(0)7195 1031 32 Fax: +49(0)7195 1031 53
E-mail:info@leuro.com
Web Site:www.leuro.com