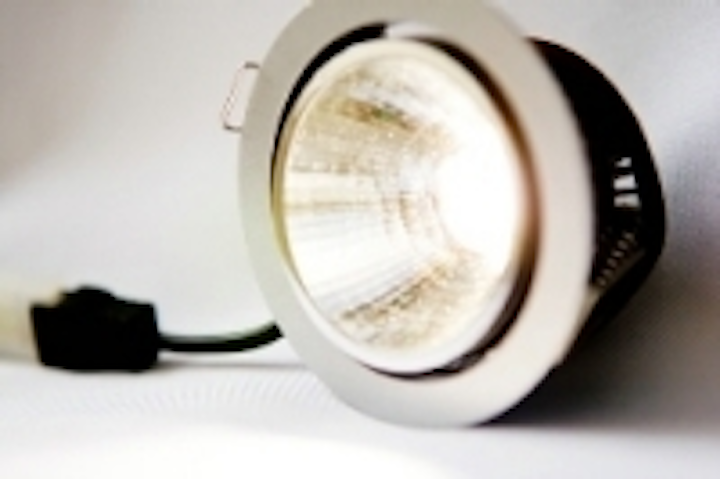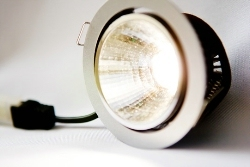 Date Announced: 11 Jul 2011
-- LED recessed accent lighting fixtures offer retail and hospitality users excellent light quality and color stability
East Cleveland, OH —- GE Lighting is bringing designers, retailers and other commercial users a fixture format of the company's efficient Vio™ LED technology, known for superb light quality and color stability. The new LED fixtures, available in July 2011, can be used in place of fixtures lamped with 50 mm halogen MR16s for excellent quality of light and substantial energy-saving possibilities. Since the Vio fixtures will have a footprint similar to an MR16 lamp, they also will enable additional design flexibility.
"Whether it's a new boutique hotel or a retail remodel, today's modern interiors are expected to look stunning and high-end while saving energy and being maintenance free," says Joshua Gildea, LED Indoor Lighting product manager, GE Lighting. "LED technology allows us to achieve all of those things, and our Vio products offer a quality and stability of light that discriminating designers will appreciate and embrace."
The Vio technology combines efficient violet chips with GE proprietary multi-phosphors, resulting in a stable, high-quality white light with minimal color variation. The color shift is less than 75 Kelvin over 50,000 hours, making Vio LEDs ideal for general illumination applications. Lighting designers will appreciate that the light is diffused for a pleasing, uniform light output similar in appearance to incandescent and halogen sources.
The Vio module can replace 20 watt MR16 lamps in down-light and spotlighting applications. It will be available in two models—Vio G4 and Vio G8. The G4 model will run at just 3.6 watts with components sold separately, while a completely assembled G8 model will offer a brighter light output at 7.2 watts. Both will feature a high color rendering index (CRI) and will be available in cool- and warm-white color temperatures.
The UL-qualified fixtures also will be compatible with a range of LED drivers and will be fitting for new construction and retrofit commercial applications, such as retail, hospitality and professional settings, as well as some residential applications. In most instances, the fixtures will be used for ceiling or cabinet recessed lighting, either for spotlighting displays or illuminating entire rooms.
About GE Appliances & Lighting
GE Appliances & Lighting spans the globe as an industry leader in major appliances, lighting, systems and services for commercial, industrial and residential use. Technology innovation and the company's ecomagination(SM) initiative enable GE Appliances & Lighting to aggressively bring to market products and solutions that help customers meet pressing environmental challenges. General Electric (NYSE: GE), imagination at work, sells products under the Monogram®, Profile™, GE®, Hotpoint®, Reveal® and Energy Smart® consumer brands, and Tetra®, Vio™ and Immersion® commercial brands.
Contact
David Schuellerman 216.266.9702
E-mail:david.schuellerman@ge.com
Web Site:www.ge.com