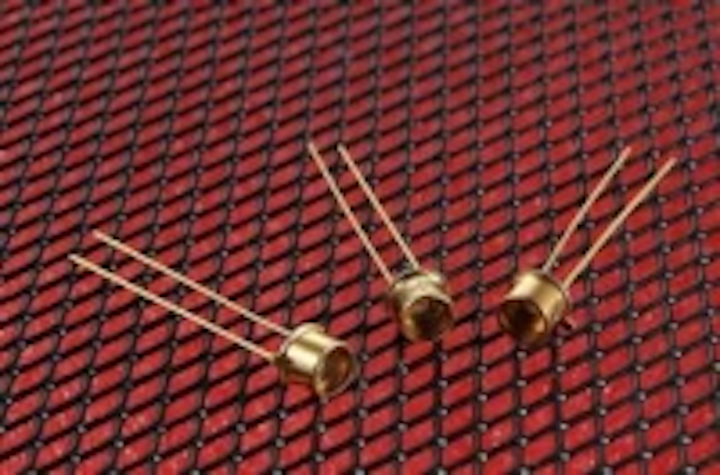 Date Announced: 19 Jul 2011
Palatine, IL – Lumex announces the global expansion of the QuasarBrite™ UV family of LED technologies to include three new standard wavelengths and also announces the availability of custom UV LED arrays. QuasarBrite UV LEDs provide up to 10 times longer lifespan, up to 50% cost savings , up to 70% energy consumption savings, and superior light performance compared to alternative technologies.
The RoHs compliant QuasarBrite UV LEDs are now available in standard 355nm, 365nm and 377nm wavelengths in a through-hole format. They are ideally suited for a wide range of applications including:
• security (counterfeit detection for currency, passports and other travel documents)
• forensic (applications related to forensic analysis of bodily fluids)
• photo catalyst (for air and water purifier applications in homes, offices and automobiles)
"Previously widespread use of UV LED technology, especially in the shorter UV wavelengths, was hindered because the materials used in the epoxy LED lens degraded the lifespan of UV LEDs to less than 5,000 hours," explained Kay Fernandez, Product Technology Manager at Lumex. "Recent technological developments have allowed the epoxy lenses to be replaced by a robust TO-46 package with a glass lens, making it possible for QuasarBrite UVs to last 10 times longer- with life spans of over than 50,000 hours."
In addition to enhanced life span, QuasarBrite UV LEDs provide several key benefits compared to alternative technologies like CCFLs. QuasarBrite UV LEDs provide a uniform beam pattern. To match this performance CCFLs would require a secondary lens resulting in additional cost and space investment. Additionally, QuasarBrite UV LEDs do not use the hazardous mercury material found in CCFL technology and are more durable in their design, thereby significantly reducing maintenance costs. Finally, Lumex's UV LEDs have up to 70% lower energy consumption than CCFLs. These factors combined allow Lumex's QuasarBrite UV LEDs to provide up to a 50% cost savings compared to CCFLs.
"Because of significant cost and performance benefits UV LEDs provide over alternative technologies such as CCFLs, there is a dramatic growth in demand for UV LED technology worldwide," explained Fernandez. "Lumex now offers a total of six standard UV wavelengths (355, 365, 377, 385, 405 and 415nm) as well as an almost limitless number of custom options to meet the needs of this growing market."
The new 355nm, 365nm and 377nm QuasarBrite UV LEDs feature a 80° viewing angle and operating temperature range from -40°C to 100°C. Samples of these devices are available immediately from stock. Standard and custom production lead times range from 18-20 weeks. Pricing is dependent on quantity ordered, and is approximately $20 to $28 per unit in production quantities dependent on size and quantity ordered.
About Lumex
For over 31 years Lumex has been a global leader in the optoelectronics industry, with the broadest range of high efficiency, high performance LEDs and LCDs in the industry. With thousands of standard products and a focus on semi-custom and custom designs, Lumex is a valuable resource for quality and innovation. Lumex's optical range encompasses a wide spectrum including UV, visible and infrared wavelengths. Lumex's team of Technical Design Specialists are experts in collaboratively developing effective, smart solutions from the most complex design dilemmas.
Lumex has a global footprint with the worldwide headquarters outside Chicago and the Asian headquarters in Taiwan. With manufacturing capabilities in the United States, China, Taiwan and Thailand, Lumex is able to support over 23 end markets with more than 80,000 customers both directly and through our distribution channel partners. Over the last 30 years, the name Lumex has become synonymous with quality and performance around the world.
About ITW Photonics Group
The ITW Photonics Group was created to bring together and build on the technical expertise of individual companies that specialize in photonics technology and span the full spectrum of wavelengths. The group consists of:
* Lumex - LED and LCD technology
* Cal Sensors - IR Detector and Emitter technology
* Opto Diode Corp - LED, Silicon Photodiodes and Electro-Optical Assembly technology
The synergy of these three industry front-runners provides an unsurpassed range of photonic capabilities within a broad spectrum of markets, including medical, military and industrial controls. The ITW Photonics Group provides integrated solutions that encompass the technology and experience from all three business units, offering design engineers higher performance with greater feature enhancements.
Contact
Americas and Europe Lumex's Sales Department 290 E. Helen Rd., Palatine, IL 60067 USA Phone: 1-800-278-5666 FAX: 1-847-359-8904 Asia Lumex's Asian Pacific Headquarters 3F, No. 972, Sec. 4, Chung Hsing Rd., Chu Dung, Hsin Chu County, Taiwan, ROC Phone: +886-3-582-1124 FAX: +886-3-582-1154 Web (in Chinese): www.lumex.com.tw
E-mail:lmxsales@lumex.com
Web Site:www.lumex.com