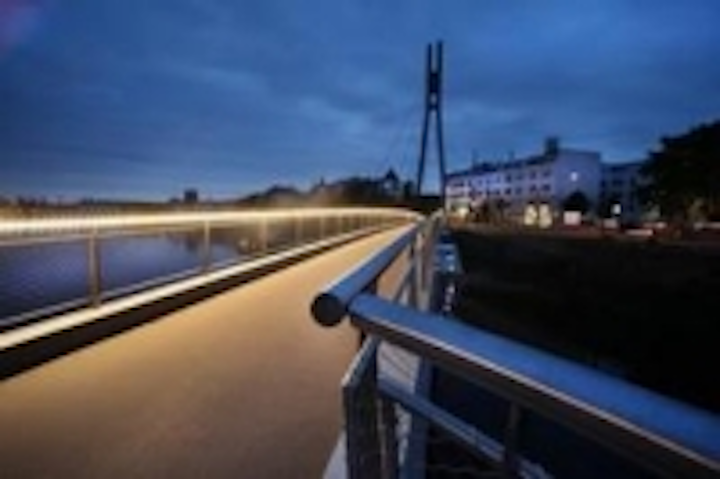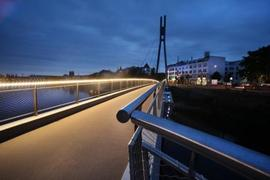 Date Announced: 20 Jul 2011
Cyclists are delighted with the new Molen Bridge in Dresden. With its recent completion, the bridge provides cyclists with a throughway between Übigau, a city section, and the city's centre along the right side of the Elbe River. Previously, pedestrians and cyclists had to share a single lane on the Leipziger Straße.
The filigree suspension bridge, constructed from steel with a 34-m pylon, blends harmoniously into its surroundings on the right side of the Elbe River. The lighting of the 80-m long and 3-m wide structure crossing the river is a novelty in Dresden. Instead of conventional pole and bollard luminaires, the project managers of the Straßen- und Tiefbauamt, Dresden's municipal engineering department, decided to go with Ledia GL handrail lighting fixtures, an innovative Hess LED product.
Designed by Hess AG for installation in standard stainless steel hand railing, the luminaires comply with lighting code standards for pedestrians and bicyclists and feature superb aesthetic quality and energy efficiency. Still another advantage offered by the lighting is its insect-friendliness, thanks to the UV-free light produced by the LEDs. For environmental and conservation reasons, the LED handrail fixtures are installed on just one side of the bridge.
The light diodes are encapsulated in a transparent plastic housing, which is square and fits flush into the underside of the handrail. During the day, the fixtures' presence goes virtually undetected, but beginning in the twilight hours, the luminaires produce an unbroken ribbon of light, uniformly illuminating the way. Thanks to their carefully planned positioning, glare is at an absolute minimum for pedestrians, cyclists and boats on the river.
Contact
Hess AG Peter Geilen Lantwattenstr. 22 78050 Villingen-Schwenningen Tel: +49 7721 920 0 Fax: +49 7721 920 250
E-mail:pr@hess.eu
Web Site:www.hess.eu