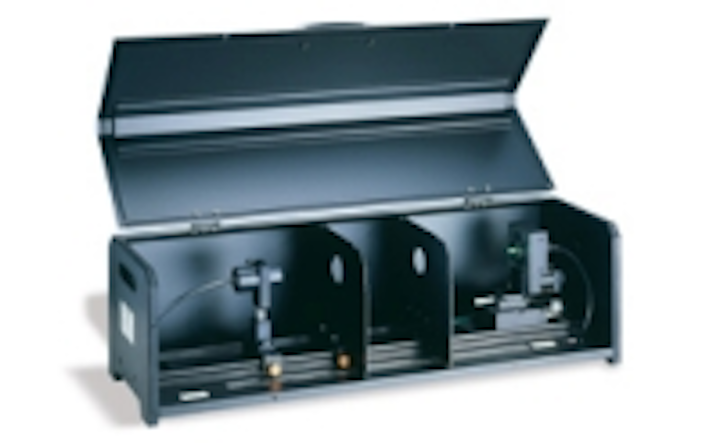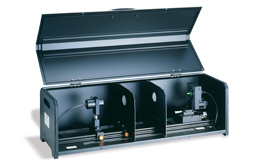 Date Announced: 29 Jul 2011
Munich – The compact LEDGON 100 Goniophotometer from Instrument Systems was specially developed for analysis of the spatial radiation patterns from individual LEDs and small LED modules. The entire hemisphere can be measured in the forward direction of the LED. The angular resolution of 0.1° means that exact measurement values can be obtained for narrow angled LEDs with excellent reproducibility.
Combined with a spectroradiometer from Instrument Systems, all spectral parameters, for example color coordinates or color temperature can be measured as a function of angle. This is particularly relevant for white LEDs where these parameters can undergo significant change depending on the radiation angle.
The LEDGON 100 setup is located in a light-tight enclosure with a folding lid which eliminates the need for a dark room. If larger measuring distances are required, an opening in the side wall also allows light to be measured from the outside. The goniometer unit is mounted on a small optical bench in type C configuration allowing the test specimen to be rotated in phi and theta axis. An optional sample
table also permits measurement of LED arrays and small modules. This sample table can be upgraded with an XY translation stage that allows the optical axis of an LED module to be positioned in the center of rotation. Optical probes with diffusers and a cosine corrected optical probe optimized for modules can be supplied.
The LEDGON 100 is operated using SpecWin Pro Software from Instrument
Systems. A graphics window is used to visualize the measurements in five different display modes. The measured data can be exported in the IES and EULUMDAT format for further processing in simulation programs. By integrating of the scanned measurement data the luminous flux of the test specimen can be determined automatically.
Company profile Instrument Systems GmbH
Instrument Systems was founded in 1986 and is based in Munich. The company develops, manufactures and markets turnkey solutions for light measurement. Instrument Systems delivers a comprehensive range of light measuring products for industrial and research applications. These include high-performance array and scanning spectrometers as well as imaging photometers and colorimeters. Key applications are LED and display measurement, as well as spectroradiometry and photometry. Instrument Systems is one of the leading manufacturers for spectral light measurement systems. The innovative measuring systems from the Munich company deliver accurate and reliable results for all optical parameters of light sources in conformity with CIE recommendations. Instrument Systems provides support for the global customer base with backup from a comprehensive network of representatives.
Contact
Melanie Sieber Instrument Systems GmbH Tel. +49 (0)89-45 49 43-23 Fax. +49 (0)89-45 49 43-11
E-mail:sieber@instrumentsystems.com
Web Site:www.instrumentsystems.com