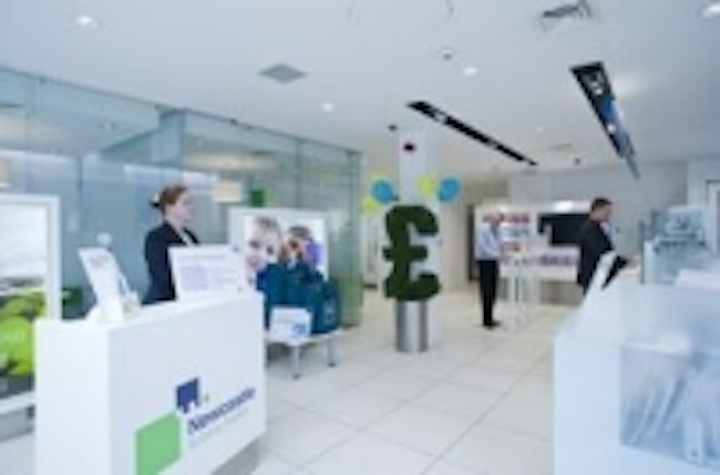 Date Announced: 11 Jul 2011
Newcastle Building Society, United Kingdom – Royal Philips Electronics (NYSE:PHG, AEX:PHI) has provided an LED lighting system as an alternative to the conventional halogen scheme proposed for a new branch of the Newcastle Building Society, the largest building society in the North East of the UK.
Philips' lighting alternative scheme was part of a larger project by Newcastle Building Society to design a brand new flagship branch office in Newcastle city centre using cutting-edge modern technology – making Newcastle Building Society one of the first organisations in the city to use all LED technology to illuminate the entire retail premises. The fully integrated lighting scheme from Philips used the Luxspace, Spot LED III, and eW Cove to offer Newcastle Building Society a cost effective LED alternative combined with beauty and design.
At the heart of the installation was the highly energy-efficient LuxSpace, a product that makes it possible to achieve extremely low power consumption without sacrificing on light quality. LuxSpace offers a compact look and feel making it perfect for hospitality, office and retail lighting settings. Philips also introduced the Spot LED III, an innovative, stylish downlight that is able to add a touch of sparkle to retail and hospitality settings. Spot LED III features Philips' advanced high-power LED technology, maximizing light output and efficiency and eliminating the need for relamping. With the eW Cove the new lighting system brought tuneable white lighting effects to alcoves, accent areas and other tight spaces. Its high-intensity LED lighting fixtures afford virtually limitless options for filling indoor alcoves and accent spaces with vibrant light.
The new LED lighting system introduced by Philips means Newcastle Building Society is now able to increase its overall energy efficiency at the branch, and therefore lower overall energy costs. The Spot LED III alone consumes only 10W, allowing for up to 80% energy savings compared with traditional halogen solutions. This scheme offers Newcastle Building Society a total energy consumption of 2028W, compared to 6736W under the traditional halogen system, that's a total energy saving of 4708W an hour. Combine these energy savings with the ease of installation of LED lighting systems and Philips offers greater operational efficiency and simple installation.
Philips' LED technology is an outstanding alternative to halogen solutions. The advanced high-power LED technology maximizes light output and efficiency and eliminates the need for regular relamping. This translates into very substantial energy and maintenance savings for Newcastle Building Society compared with traditional halogen fixtures. LED's long lifetime makes it a true 'fit and forget' solution and further lowers operating costs – making LED a truly sustainable solution.
The highly energy-efficient LED technology introduced by Philips makes it possible to achieve extremely low power consumption without sacrificing on light quality. This gives Newcastle Building Society significant energy savings, compared with traditional CFL downlights, and consequently reduced CO2 consumption. Newcastle Building Society has estimated that as a result of the new lighting system they will reduce their CO2 emissions by 6073kg or 6 tonnes per year; equivalent to 6 hot air balloons!
Claire Phillips, Office Segment Manager for Philips Lighting "LED technology delivers huge energy savings, reduces CO2 consumption and minimises maintenance costs without any compromise on light quality. This enables Newcastle Building Society to achieve a return on their investment within one year."
About Royal Philips Electronics
Royal Philips Electronics of the Netherlands (NYSE: PHG, AEX: PHI) is a diversified health and well-being company, focused on improving people's lives through timely innovations. As a world leader in healthcare, lifestyle and lighting, Philips integrates technologies and design into people-centric solutions, based on fundamental customer insights and the brand promise of "sense and simplicity." Headquartered in the Netherlands, Philips employs about 117,000 employees with sales and services in more than 100 countries worldwide. With sales of EUR 22.3 billion in 2010, the company is a market leader in cardiac care, acute care and home healthcare, energy efficient lighting solutions and new lighting applications, as well as lifestyle products for personal well-being and pleasure with strong leadership positions in male shaving and grooming, portable entertainment and oral healthcare. News from Philips is located at www.philips.com/newscenter.
Contact
Media Relations Manager Philips Electronics, Corporate Communications UK Barbara Neate Tel; +44 1483 293 071
E-mail:barbara.neate@philips.com
Web Site:www.philips.com