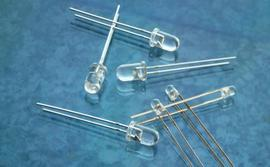 Date Announced: 07 Jul 2011
EPIGAP Optronic GmbH is specialized in the LED Chip and LED market with highly professional sales team and services in Berlin.
We bring to market standard, special and custom designed High Brightness & High Power LED-Chips, thru-hole packages & SMD-LEDs and CoB modules in various colors as well as infrared and UV for lower volume and high demanding applications.
The latest generation of LED in the range from 970nm to 1060nm appears with higher efficiency and more than twice of output power attended by less degradation. The MQW wafer material is a reliable and excellent source of high quality and exceptional performance products and allows standard and high power applications. Especially for high power applications a new chip design was created which is in XL chip size (960 x 960µm) designed for continuous currents up to 350mA. Selected parameters are output power with 5mW (at 50mA) and radiant intensity of 8.5mW/sr (at 350mA) measured at bare chip.
The MQW structured chips come along with well-known high power and standard chips in the infrared range from 700nm up to 940nm and are followed by infrequently used wavelengths of InGaAs material as 1200nm and 1300nm, up to 1550nm and 1720nm.
Our clients work in all areas of industry, with main market application in industrial measurement and sensor technology, automation and safety technology as well as medical and biotech technology. We work in a reliable and flexible way and always keep our focus on our customers.
Please feel free to contact us.
Contact
Mrs. Antje Thamm EPIGAP Optronic GmbH Koepenicker Str. 325b, Haus 41 12555 Berlin Germany
E-mail:sales@epigap-optronic.de
Web Site:www.epigap-optronic.de