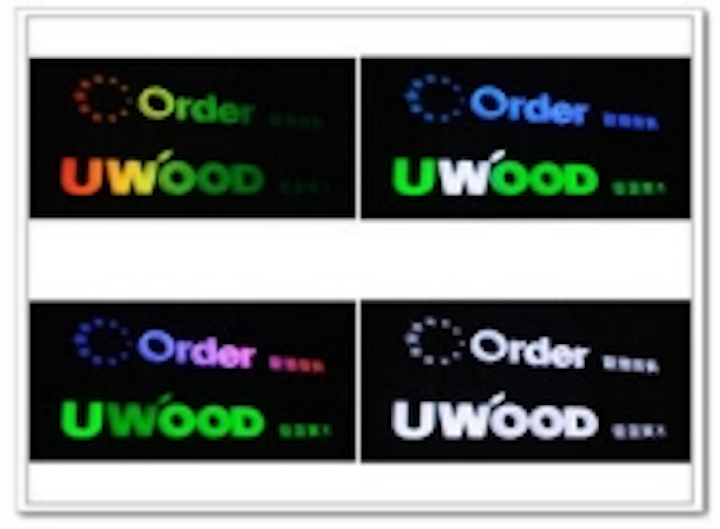 Date Announced: 28 Jul 2011
Founded in Linkou Dist., New Taipei City, Taiwan in 2011, UWOOD is a solid wood furniture provider to offer high quality and stylish furniture, which is part of Order System Furniture group.
Opening their biggest store in Taiwan, the flagship store in Lingou, UWOOD desired a lighting scenario as eye-catching and sophisticated, elegant as its brand. ARC provided the ideal solution: a total of 130 pcs of 5cm cluster installed at the signage displaying sparkling and glitter lighting effects created by the software. With its individually addressable LEDs, and a pixel pitch of 400mm ARC's 5cm cluster is a high performance and brightness LED lighting fixture offering the most efficient solutions for the signage. The 3.6x1.8 meter signage is controlled by ARC's system lighting solution ensuring an easy-to-operate, user-friendly thus sophisticated lighting scenario attracting the attention of all people passing by.
Project Details:
Category : Retail
Client : UWWOD
System & Lighting Design : ARC SSL.
Exterior Restoration: TYAD Co., Ltd.
Location : Lingou District, New Taipei City, Taiwan
Date : July, 2011
Product Used:
1. DMX lighting controller ARC3010-B0
2. DMX Multi-Channel Converter ARC3730-W0
3. Lighting Effect Software: LightShow_P
4. 5cm Cluster ARC1301-C0
ARC Lighting Corp. is designed to the customized intelligent lighting system for each customer. If you need further information, you are welcomed to contact us at
info@arclight.com.tw
Contact
ARC SOLID-STATE LIGHTING Joyce Chen TEL : +886-8227-8217#613
E-mail:info@arclight.com.tw
Web Site:www.arclight.com.tw