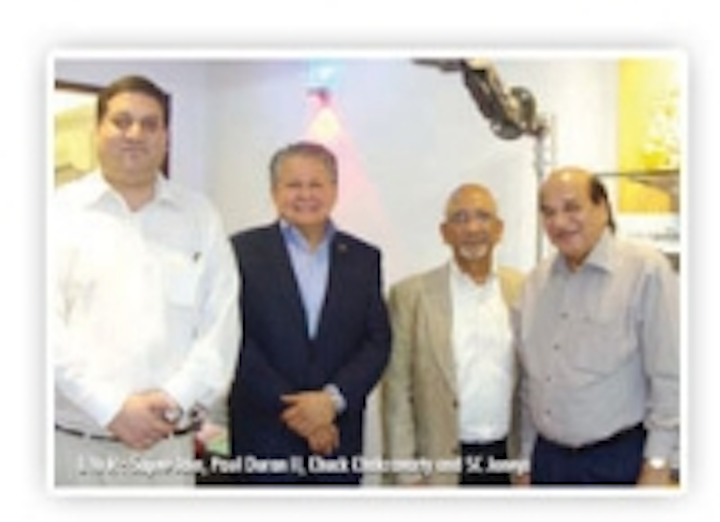 Date Announced: 18 Jul 2011
[This article is based in part on an article originally published in Sourcing Electricals & Lighting magazine. Author: Gunjan Piplani.]
After two years of successful growth in the Americas, Green Star LED now sets its sights in winning in Asia through a partnership with AMKA Lighting, a leading manufacturer and distributor of lighting fixtures in India.
Under the agreement, GreenStar's products will be branded as Amka GreenStar, and Amka will be responsible for their marketing in India. "This will be a great combination of GreenStar's technically sound products and Amka's experience in the Indian market," informs Prashant Chandra (prashantc@greenstarled.com), engineering director of GreenStar Products Inc's Indian subsidiary.
According to him, in principle, GreenStar will be supplying products to Amka. "At times, we will also be supplying just the components to Amka, which will be assembled at its Noida plant," he adds. "We have initially introduced two of our outdoor lighting products i.e. Galaxy and Solaris," says Chuck Chakravarty (chuckc@greenstarled.com), COO of GreenStar.
He elaborates that while Galaxy is appropriate for outdoor applications, Solaris is a canopy light which can be used at gas stations or warehouses. "All these products are tested at third-party labs, and carry fi ve to seven years manufacturer's warranty." According to him, there are plans to introduce one fi xture every quarter.
Amka will initially market these products to projects. "We have seen massive breakthroughs till date, which include Infosys, NEPZ, Ansal Builders, and have also got approvals from Central Ordinance Depot of Defence Ministry, Reliance and NDPL," informs Sajive Jain (sjain@amka.in), MD and CEO of Amka Lighting Pvt Ltd. Meanwhile, to increase presence and reach, there are plans to add one or two dealers in the 14 major cities of India by the year end. "In order to become a Amka GreenStar dealer, the entrepreneur should have an electrical background, and should be selling reputed brands through his shop," says Jain. He clarifies that the only investment the dealer will have to make is for buying samples, as supplies will be made on order to order basis in order to eliminate the need for inventory. "The trade margins would vary from 5-20% depending on the size of the project that they capture."
At the same time, Amka Lighting is planning to augment its capacity by setting up another assembling unit in Noida. "The new unit, which will be set up with an investment of over 50 million Rupees, will be spread over an area of 20,000 sft. We plan to employ 150 workers to produce 1,000 units of Galaxy street lights per month by the year end. GreenStar's share in this venture will be in the form of technical consultancy services on a continuous basis," unveils Jain.
Green Star LED is a leading designer and manufacturer of high efficiency LED lighting fixtures for indoor and outdoor use. It is headquartered in San Antonio, Texas, USA and also has offices in Monterrey, Mexico as well as Gurgaon, India. For more information please visit http://www.greenstarled.com/
AMKA Lighting Pvt. is an India leader in lighting fixtures manufacturing and distribution. For more information please visit http://www.amka.in/
Contact
Jarrick Cooper Green Star LED Marketing Manager Ph. +1-830-755-8103
E-mail:jarrick@greenstarled.com
Web Site:www.greenstarled.com