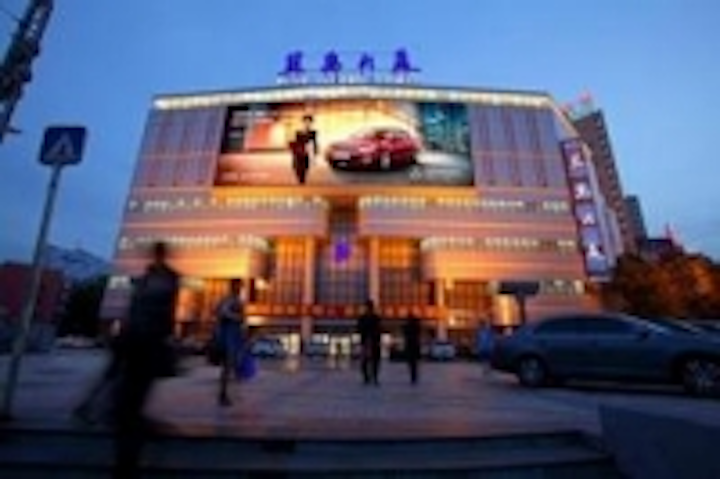 Date Announced: 08 Jul 2011
Shanghai, China - Barco LiveDots, a Barco company, has partnered with Beijing Fortune Investment Management Co. to embellish Beijing's Blue Island Tower with a new high-tech outdoor LED display. The 407 m2 screen is powered by the latest TF-20 outdoor display system, which produces excellent display effects while ensuring environmental protection and safety.
From display screen to processors, the TF-20 display system uses high-level 16-bit processing technology in addition to exclusive mask processing technology. The result is twice the clarity and vibrancy of colors and images that similar products can offer, providing the audience with a superior visual experience.
Optimal visibility
The base of Blue Island Tower's LED display is a full 32 meters above the ground, which requires an exceptional angle of visibility to allow viewing from close range. To meet this challenge, Barco LiveDots applied a world-exclusive LED encapsulation technology, tilting the LEDs downward towards the viewers. This technology gives the millions of LED lights a consistent downward angle of visibility and visual range, while also decreasing light pollution.
Barco LiveDots provided an integrated solution for Blue Island Tower's LED display, comprising the LED display, an optical fiber transmission system, a power supply system, and design and installation of the steel structure. Moreover, Barco LiveDots offers an XVS content management and broadcast system that enhances the efficiency of advertising billing and operation and yields the highest return on investment to customers.
Jiang Hailin, General Manager of Beijing Fortune Investment Management Co. Ltd, said: "Based on our positive partnership with Barco companies in the past, we again selected Barco to be our partner for the Blue Island Tower Project. Barco's products and project implementation capabilities have even exceeded our expectations. Blue Island Tower's LED display will give audiences a better viewing experience, and we are very pleased to provide potential advertisers with the ultimate display platform."
Mr. Tang Feng, Barco's Managing Director Sales & Service for Greater China, commented: "Working with Beijing Fortune Investment Management Co. again conveys the confidence and trust that our customers have in us. A Beijing landmark, Blue Island Tower's excellent geographical location reaches more people with the LED display audio-visual experience. As always, Barco provides its clients with the latest and most reliable integrated solutions – and we are grateful for their long-term support."
About Beijing Fortune Investment Management Co. Ltd,
Beijing Fortune Investment Management Co. Ltd is active in new outdoor advertising media, commercial real estate development and management, and refined oil retailing. In 2007, the company invested in Beijing Jing Xin Mansion's LED display. Today, this screen is an architectural landmark of outdoor advertising in Beijing.
About Barco
Barco, a global technology company, designs and develops visualization products for a variety of selected professional markets. Barco has its own facilities for Sales & Marketing, Customer Support, R&D and Manufacturing in Europe, North America and Asia Pacific. Barco (NYSE Euronext Brussels: BAR) is active in more than 90 countries with about 3,500 employees worldwide. Barco posted sales of 897 million euro in 2010. Barco LiveDots, a wholly owned Barco company, specializes in LED solutions for rental & staging, sports, corporate branding and Digital-Out-Of-Home (DOOH).
Contact
JP Tanghe Senior Vice President Barco nv Phone:+32 56/26 23 22 Fax:+32 56/26 22 62
E-mail:jp.tanghe@barco.com