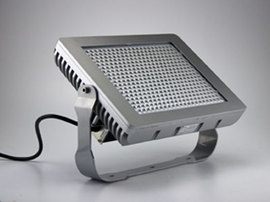 Date Announced: 10 Oct 2011
Jenoptik´s Business Unit Optoelectronic Systems displays the hall and high rack luminaire ´Lucid power high bay´ at efa, the trade fair for building systems, electrical engineering, air conditioning and automation in Leipzig.
In cooperation Jenoptik´s Business Unit Optoelectronic Systems and LEiDS GmbH & Co. KG developed the Lucid power high bay, the first of a new series of LED hall luminaires for the use in high halls and buildings. This new series of luminaires is serving the increasing commercial demand for cost efficient and low-maintenance LED lighting. Already in May this year both partners agreed to cooperate in the field of LED-lighting.
The new hall and high rack luminaire ensures an efficiency of more than 100 lumen/watt at a life time of up to 60.000 h and the low heat development and reduced energy consumption, which are typical for LED luminaires. The optimized 3-chip-LEDs combined with highly efficient lens arrays achieve a homogeneous illumination without scattering losses, and an increase in brightness by a factor of two. The enormous efficiency of this new series of LED luminaires promises short amortization periods of less than three years. This luminaire is suitable for new installations as well as for conversion and replacement projects.
The Lucid power high bay offers two variations based on specific application requirements. The first luminaire features a radiation angle of 60° and a circular light pattern and is especially suitable for industrial and sports halls, as well as for warehouses. The second type transmits an elliptical light pattern with a radiation angle of 30/60° and is therefore predestined for illumination of logistic halls and storage buildings with corridors. Customers can choose between four different color temperatures: cold-white, daylight-white, normal-white and warm-white.
The polycarbonate cover plate of the Lucid power high bay is impact-resistant and shatter-proof. The luminaire is cold resistant down to ca. -25° and is protected from overheating in warm environments with the aluminium heat sink. Both luminaire solutions meet the IP66 protection class.
Visit us at booth E38 in hall 5 on trade fair efa in Leipzig
from October 12th to the 14th, 2011.
About the Jenoptik Business Unit Optoelectronic Systems
The Business Unit Optoelectronic Systems, as part of the Jenoptik Optical Systems division, is provider of integrated opto-electronic system solutions. The business unit has competencies in development of optics, electronics and software, and owns manufacturing technologies for producing polymer-based optical and electronic components and modules as well as assembly technologies for complete devices. The Business Unit Optoelectronic Systems can realize all important stages of the value-added chain for system integration – from development and design to prototype production through supply chain management and series production.
With its Optical Systems division, the Jenoptik Group is one of the few manufacturers in the world to produce precision optics and systems designed to meet the highest quality standards. Besides offering systems, modules and assemblies, the Optical Systems division is a development and production partner for optical, microoptical and coated optical components - made of optical glasses, IR materials as well as polymers. It possesses outstanding expertise in the development and manufacture of optics and microoptics for beam shaping used in the semiconductor industry and laser material processing.
The product portfolio also includes systems and components for life sciences as well as lighting applications, modules and system solutions for digital image capture and processing as well as cameras for digital microscopy.
Contact
Mathias Goebel Key Account Manager Lighting JENOPTIK | Optical Systems JENOPTIK Polymer Systems GmbH Am Sandberg 2 07819 Triptis Germany Tel.:+49 36482 45-128 Fax:+49 36482 45-226
E-mail:lighting-oes.os@jenoptik.com
Web Site:www.jenoptik.com/oes_lighting