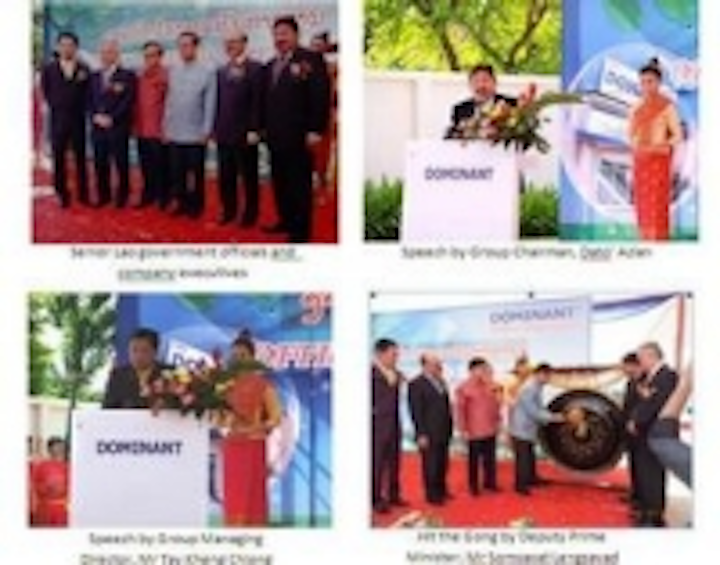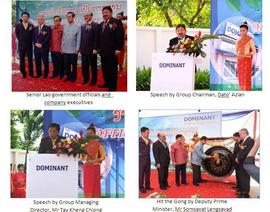 Date Announced: 18 Oct 2011
DOMINANT Opto Technologies, under D&O Green Technologies Berhad group, is publicly listed on the Malaysian corporation on a par with the world's leading LED manufacturer held a ceremony to open DOMINANT Semiconductors Lao, its first manufacturing plant outside of Malaysia and the first semiconductor manufacturer in Laos.
The plant is located at No 12, Phontong Avenue, Phontong Village, Chanthabuly District, Vientiane Capital. The ceremony was attended by Deputy Prime Minister Somsavat Lengsavad and senior officials from related ministries and the company.
Minister of Planning and Investment Mr Somdy Duangdy said "This is the first green, LED production technology in Laos so it will also be a centre of learning, which will contribute to human resource development, the economy and the national five years socio-economic plan. The relationship between Laos and Malaysia has grown over the years and there is more Malaysian investment in Laos. After this success, we will attract more Malaysian investors."
DOMINANT Semiconductors LAO will produce two additional products at the high quality performance plant. The first product is the common 3528 white LEDs, which are used for T8 light tubes and also downlight. The second is 5630, a unique product used for medium power lighting as well as television back lighting applications.
The plant is expected to be fully staffed with about 1,000 workers by next year. With a low workforce cost and high workforce availability, Mr Tay Kheng Chiong, The Group Managing Director of DOMINANT Opto Technologies strongly believe that DOMINANT can produce cost-effective LEDs that cater to the world lighting market.
While the hydropower, mining and agriculture sectors are the main contributors to Laos' economy, DOMINANT going to ensure that LED semiconductors represent a new era in Laos.
To further strengthen the LED lighting component, DOMINANT will continue to invest heavily in human resources, research and development, distribution infrastructure and expanding capacity including the construction of a second component manufacturing facility on Laos.
About DOMINANT Opto Technologies
DOMINANT Opto Technologies is a dynamic Malaysian company belonging to the world-leading SMT LED manufactures. It has an excellence–driven organization and offers a comprehensive product range for all kind of lighting needed in the automotive, consumer, communications and industrial market segments. With extensive industry experience and relentless pursuit of achieving the highest quality combined with state-of-the-art manufacturing, innovation, research and testing capabilities DOMINANT has become a trusted and reliable brand across the globe. More information about DOMINANT Opto Technologies, a QS 9000, ISO/TS 16949 and ISO 14001 certified company, can be found under http://www.dominant-semi.com.
Contact
Marketing Communication Tel: +606 2833566 Fax: +606 2830566
E-mail:sales@dominant-semi.com
Web Site:www.dominant-semi.com