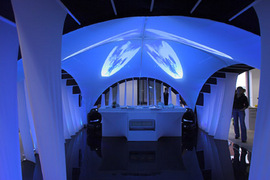 Date Announced: 25 Oct 2011
Anolis and Robe exhibited at the designblok11 in Prague, a dynamic high profile expo highlighting creative ideas and innovative concepts across all areas of the design world – from street furniture to fashion, interiors to theatre sets, architecture to furniture.
The six day event was staged at the Futurama Office Park in Karlin, one of the liveliest and most vibrant areas of Prague.
Jiri Baros, Anolis & Robe's marketing and communications manager says, "It was really good for us to be represented amongst the top designers from all over Europe. designblok is not just about the products, it's about the design and look of the stand as well as the future of aesthetics and visual communications. Many leading designers from all disciplines visit the show and it's absolutely bang-on in terms of a target group for Anolis."
Anolis and Robe commissioned design students Filip Dobias and Jakub Petr to produce a booth concept - with some fabulous results.
The structure had to fit into a space with limited headroom and contend with daylight conditions for most of the event's open hours. A selection of options were proposed, and one selected by Anolis's Petr Kolmacka and Jiri Baros.
The booth featured an arched shaped ceiling made out of white stretched fabric, with the exterior walls delineated by a series of stylish white stretched Spandex [nylon] fins set at angles. This allowed people to see through the booth and simultaneously provided ideal colour and texture changing surfaces for the lighting.
The fins were up-lit with the new Anolis ArcLine Outdoor 40 MC battens (outdoor versions). The interior of the booth superstructure – clad in black inner and white outer scrim material, was illuminated with a combination of ArcSource 12s and interior ArcLine 40 MCs. Five ArcPower 144s were used to drive all the Anolis fixtures.
At each corner of the striking black Plexiglass floor was a Robe DigitalSpot 7000DT. All four of these were programmed up with a loop of eye-catching bespoke kinetic animations that were projected onto the ceiling, creating a big visual impact and impressing many visitors to the booth.
The DigitalSpots are just one of a number of 'crossover' products from Robe, which breach architectural, design and entertainment worlds.
There was a constant stream of people and a real buzz and vibe throughout the whole exhibition. Visitors to the Anolis booth included many students and young people as well as designers – from architects and interior specialists to those working in theatre and television on sets and scenic elements as well as lighting. "We had a great overall interest in all the products and also had the chance to spend time with many upcoming and new young designers, which is always refreshing" comments Kolmacka.
He adds that there is an increasing awareness of green issues and the need for designs of all types to be more eco-friendly, and also an even greater understanding of how good quality LED lighting can be an advantage.
In its capacity as official supplier to designblok11, Anolis supplied a spectacular architectural lighting scheme for the main courtyard space and entrance, comprising eight Robe CitySkape Xtreme fixtures and four CitySkape 96s. The immense power and smooth even wash qualities of these lightsources had no difficulty in illuminating the red brick facades with dense, rich colours.
In Prague city centre, Robe and Anolis fixtures were again used for another installation, this time onto the front of the Sporkovsky Palace building on Hybernska Street, which hosted the second complete designblok11 exhibition site. This was achieved using another two CitySkape Xtremes and three 96s.
Contact
Louise Stickland +44 (0)1865 202679/+44 (0)7831 329888 o Robe + 420 571 751 510 Anolis www.anolis.eu
E-mail:louise@loosplat.com
Web Site:www.anolis.,eu