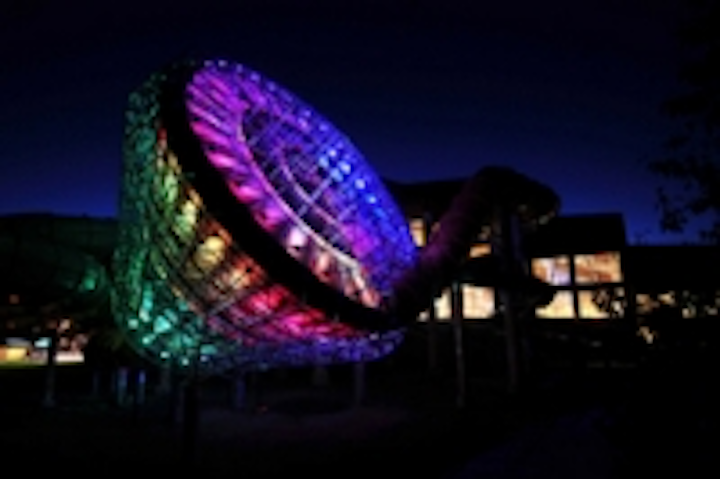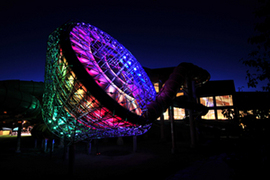 Date Announced: 20 Oct 2011
Grand Mound, WA - The ProSlide Tornado at Great Wolf Lodge water park is more than just a thrilling water slide that takes riders on a 45° drop through a winding tunnel at a heart-stopping 20 miles per hour. This 60'-diameter funnel-shaped structure is a "billboard advertisement" to thousands of motorists who see it aglow in changing colors every night as they drive along a stretch of US-5 Pacific Coast Highway in western Washington State.
Chase patterns, rainbow effects and brilliant washes in every color under the sun (or moon, in this case) make the Tornado a landmark roadside attraction. The slide has become one of Great Wolf Lodge's most effective forms of advertising, a beacon that draws customers and curiosity seekers alike.
Lighting up the water slide was an intuitive marketing move for Great Wolf's management, according to John Machnik of Electro-Works Inc. (Poynette, WI), who installed and programmed the LED fixtures used on the Tornado. "Basically you have a five-story billboard sitting there. You have this huge ride that you've spent a lot of money on, so rather than having no one see it at night, for a relatively small amount more you can turn it into an amazing attraction."
Machnik did just that, outfitting the slide with 80 ELAR ExFlood RGB LED flood lights from Elation Architectural, which are controlled by Elation's CompuLive 1024 PC-based DMX software and AR-32 512-channel architectural recorder/playback system. The ELAR ExFlood is a high-output color-changing fixture, powered by 216 x 10mm LEDs (red, green and blue). It is outdoor rated at IP65, signifying its ability to withstand the inevitable "splashing" that occurs on a water ride. The ELAR ExFlood also features variable-speed strobing and 0-100% electronic dimming, and it comes with its own internal power supply.
Machnik used 32ELAR ExFloods to light the exterior cap section of the Tornado. An additional 32 units were beamed down into the interior of the slide, while the remaining 16 units illuminate the back of the funnel. The ExFloods were clamped directly onto the slide's Triodetic® metal support frame, with the units being spaced at just under 6' apart.
According to Machnik, the key to producing the Tornado's high-impact traffic-stopping effects was to use a large number of lights and to install them directly on the slide, rather than lighting the structure from the exterior. "I know of one water slide that's illuminated with six big bright lights on the ground," Machnik said. "That can give you good flash, but it doesn't produce the same kind of cool-looking effect as what we did, which was to actually light the structure itself, rather than just shining lights up at it.
"Another advantage of using more lights was that you get much greater resolution than you would with just a few big fixtures. This allowed us to create all these really cool patterns, which is something you couldn't do with six big lights." explained Machnik, who also did the programming for the Tornado as well as for two previous water slides. Describing the effects he created, he said, "Chases always work well on water slides. More definition, higher contrast light shows work very well. You want to give a sense of movement."
The ELAR ExFlood's narrow 40° beam angle was ideal for this application, he added. "We're essentially using (the ExFloods) as wall washers, where we don't want to waste a lot of LED light. So the narrow beam angle worked to our advantage."
Other reasons the ELAR ExFlood was chosen were its affordable price and durability. The ExFlood is a "very robust fixture," said Machnik, that stands up well to the challenges of a very humid and chlorinated environment. The LED-powered unit's low maintenance requirements and energy efficiency are other big advantages in a water park setting.
Elation's AR-32 playback/recorder, which is used by Great Wolf employees to operate the Tornado's lights, has also proven perfect for the park's needs. Typically, Machnik pointed out, the maintenance people at a water park are "'pool and pump guys' who aren't necessarily familiar with lighting, so the systems must be designed to be as easy to operate as possible." Basically, he said, staffers just turn the AR-32 on and the programs will run automatically. But the AR-32 also gives them the added option of being able to light the Tornado thematically. "During holidays, for example, they can go in and easily change to Christmas or Valentines Day colors – or even school colors for a big football game."
Contact
Elation Professional 866-245-6726 Electro-Works Inc. 608-225-5158
E-mail:abby@fucinipro.com
Web Site:www.elationlighting.com