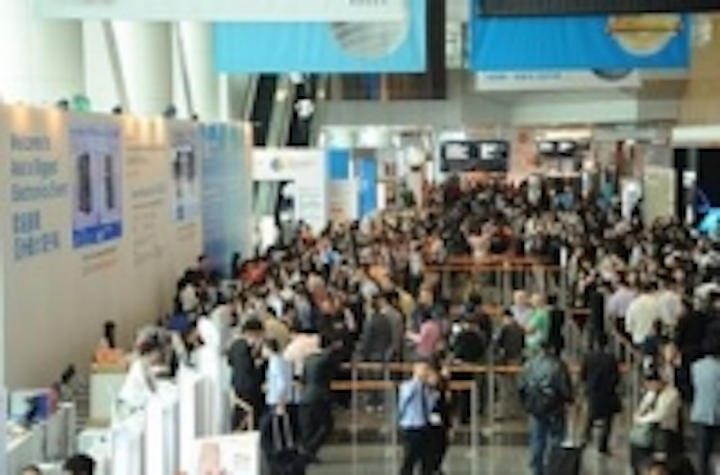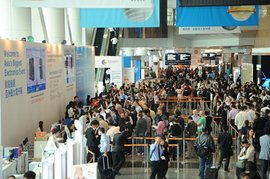 Date Announced: 27 Oct 2011
More than 2,100 exhibitors from 31 countries and regions – a new fair exhibitor record – are taking part in the HKTDC Hong Kong International Lighting Fair (Autumn Edition), which opened today and continues through 30 October at the Hong Kong Convention & Exhibition Centre (HKCEC). Exhibitors from the Cayman Islands, Finland and Sweden are participating for the first time.
The fair also welcomes more than 70 buying missions from 60 countries and regions, representing over 5,530 buyers and such companies as: Colinter from France, Daewoo International Corporation from Korea, Elektrika from Russia, and Hogarlux SL and Lumen's from Spain.
Bright Lights
Fair highlights this year include the Hall of Aurora, featuring close to 400 brands from 31 countries and regions. They include: ASFOUR, Bridgelux, BJB, Citizen, CREE, EGLO, Everlight, Fulham, Fumagalli, MEGAMAN, Midea, Neo-Neon, OPTILED, Osram, Panasonic, Philips, RICOH, Seoul Semiconductor and Viri Bright.
The LED & Green Lighting zone, which caters to the strong demand for LED, energy-saving and other environmentally friendly products, has attracted more than 780 exhibitors. Not to be missed are the Lighting in Style product display, at the hall 1C and 1D entrance, and the World of Table Lamps, in the Chancellor room. Other popular zones are Commercial Lighting, Household Lighting, Outdoor Lighting, Lighting Accessories, Parts & Components, Lighting Management, Design & Technology, and Trade Services & Publications.
Light Talk
Buyers and exhibitors have numerous opportunities to discuss industry issues and trends in seminars and conferences. These events cover such topical issues as the latest LED lighting application trends, as well as LED lighting regulations and standards, and market and design trends. Speakers at the Hong Kong Solid State Lighting Industry Conference – The Road Ahead (29 October), will discuss developments in Hong Kong's solid-state lighting industry.
Designer Showcase
Winning entries in the fifth Hong Kong Lighting Design Competition are on display at Hall 1A Concourse during the fair. More than 180 entries were received for the open group and student group categories, under the "Dazzling Light" theme. In addition, the entry that best reflects eco-friendly elements in its design, including concept, use of materials and production process, will be presented with the Eco Design Award.
Alongside the lighting show, the HKTDC is hosting Sports Source Asia (27-29 October), the HKTDC Hong Kong International Building and Decoration Materials & Hardware Fair (27-29 October), and Eco Expo Asia (26-29 October), all at AsiaWorld-Expo. A free bus service will shuttle fairgoers between the HKCEC and AsiaWorld-Expo throughout the fairs.
Next year, the HKTDC will present the Hong Kong International Lighting Fair (Spring Edition) as a stand-alone show, 6-9 April, to allow more exhibitors and buyers to attend.
Fair Websites
Lighting Fair: www.hktdc.com/hklightingfair
Eco Expo Asia: www.ecoexpoasia.com
Building and Hardware Fair: www.hktdc.com/hkbdh
Sports Source Asia: www.sportssource-asia.com
Photo Download http://202.64.102.92/hktdc/download.php?fid=_phpgluR7p
About the HKTDC
A statutory body established in 1966, the Hong Kong Trade Development Council (HKTDC) is the international marketing arm for Hong Kong-based traders, manufacturers and service providers. With more than 40 global offices, including 11 on the Chinese mainland, the HKTDC promotes Hong Kong as a platform for doing business with China and throughout Asia. The HKTDC also organises trade fairs and business missions to connect companies with opportunities in Hong Kong and on the mainland, while providing information via trade publications, research reports and online. For more information, please visit www.hktdc.com.
Follow us on Twitter @HKTDC
Contact
New York- Carol Kwok Tel: (1) 212 838 8688 Hong Kong- Joe Kainz Tel: (852) 2584 4216
E-mail:carol.lm.kwok@hktdc.org
Web Site:www.hktdc.com/hklightingfair